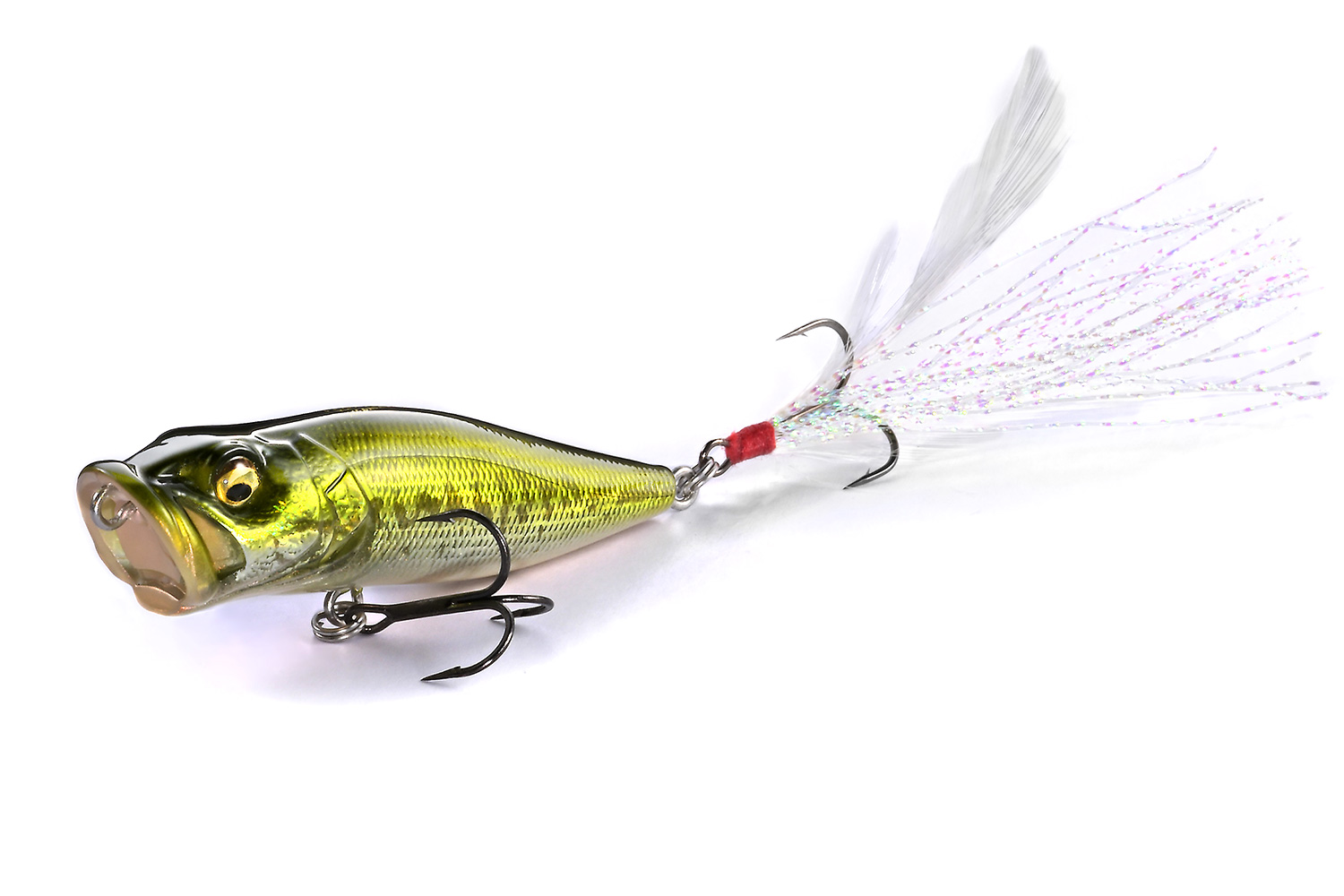 POPXの登場によって、トップウォーターの世界は変貌してしまいました。ユニークなカップ形状が生み出す独特な水押し波紋、きれいにまとめあげる、スピットアウトスプラッシュ、そしてなによりも、繊細なロッドワークに敏感に反応し、ネチネチと首をふる、あの独特のローリングドッグウォークは、もはやPOPXならでは、ともいうべきもの。こうしてPOPXは、およそ10パターンにおよぶ多彩かつ、オリジナルな機動性を誇っています。POPXは、タフコンディション下でスプークするモンスターにスイッチを入れてしまう世界最強のキルム・ベイト。伊東が考案、製作し、日本のアングラーと釣り文化によって育てあげられたPOPXは、世界のフィールドに向けて日本が誇りを持って発信できる、真のジャパンオリジナルなのです。
※画像はプロトタイプです。
Introduced in 1996,POPX continues to dominate the high-end top-water bait markets of both Japan and the United States. Equipped with MEGABASS original SIDE-STEPPING BALANCER(PAT),POPX walks a rolling dog-walk unlike any other poppers, and the WATER DUCTS(PAT)which imitate the bubbly water coming out of gills and help create a natural"bio-sound", not an ordinary popping sound. POPX also spits, not splashes, quite a distance. Currently 16 colors are available."GG"stands for GUANIUM GHOST, the most shad-like finish, "PM"PEARL MICA(including SG CRACKED finish)and "GP"GUANIUM PHANTOM(including GP CRACKED finish),a see through phantom finish.
SPEC
Other.1

Hook : #6 + #6 (TEASER HOOK)

Price

メーカー希望小売価格
1,750 円 (税別)
TECHNOLOGY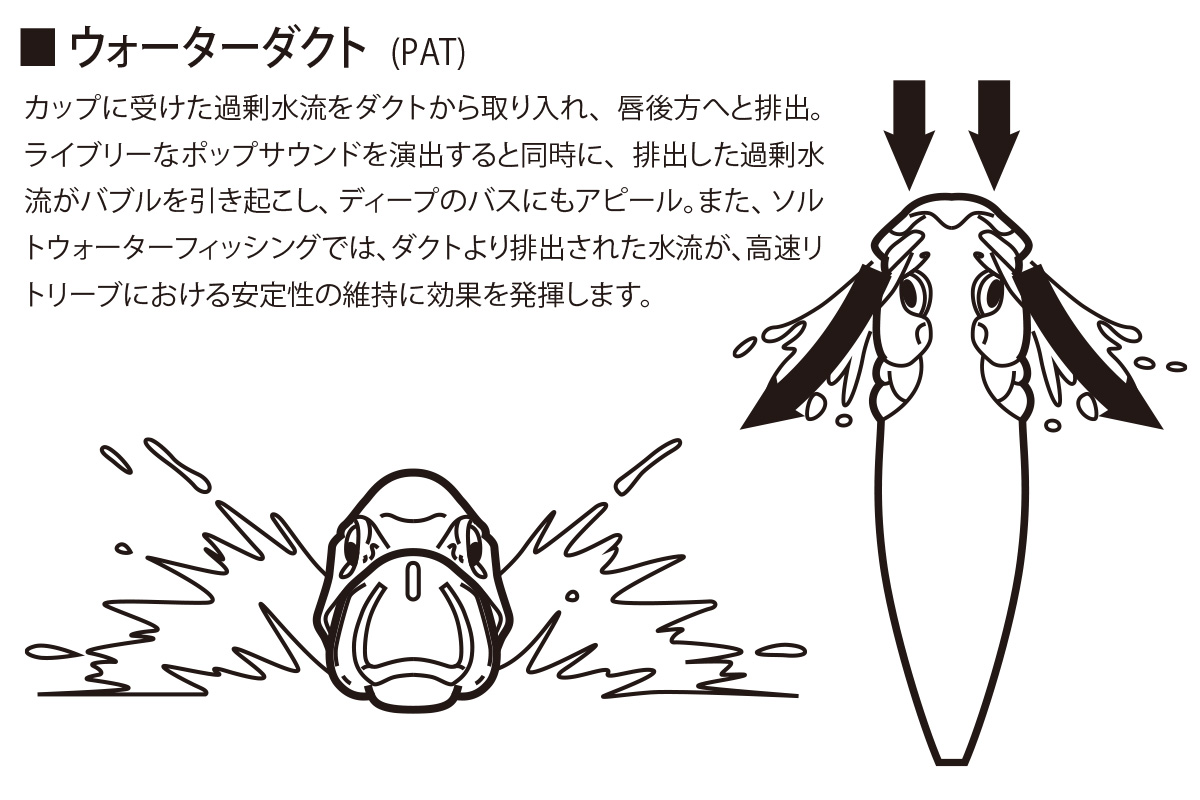 POPX TECHNOLOGY
POPX TECHNOLOGY
HYDRO-CUP & WATER DUCT PAT.
HYDRO-CUP & WATER DUCT PAT.
POPXのナチュラルなサウンドと、独特な動きを生み出すために追求したハイドロカップには、ウォーターダクトが設けられています。POPX独自の生物的サウンドは、カップがうけた過剰水流をダクトから取り入れ、かつ唇後方へと逃すことにより実現。また、ダクトの整流効果は安定したドッグウォークを生み出すだけでなく、ソルトウォーターでも威力を発揮。ソルトウォーターでの高速リトリーブでもルアーがひっくり返りにくく、優れた安定性を実現させています。
The POPX has a large impact and presence for its size, capturing the attention of fish below the surface. The body is constructed with a custom resin tuned to the same density as wood, for an exceedingly natural presentation. This is evident by examining its behavior in the water, namely its wake and its responsive movements. Not only for dawn and dusk, the POPX will perform excellently even under the midday sun.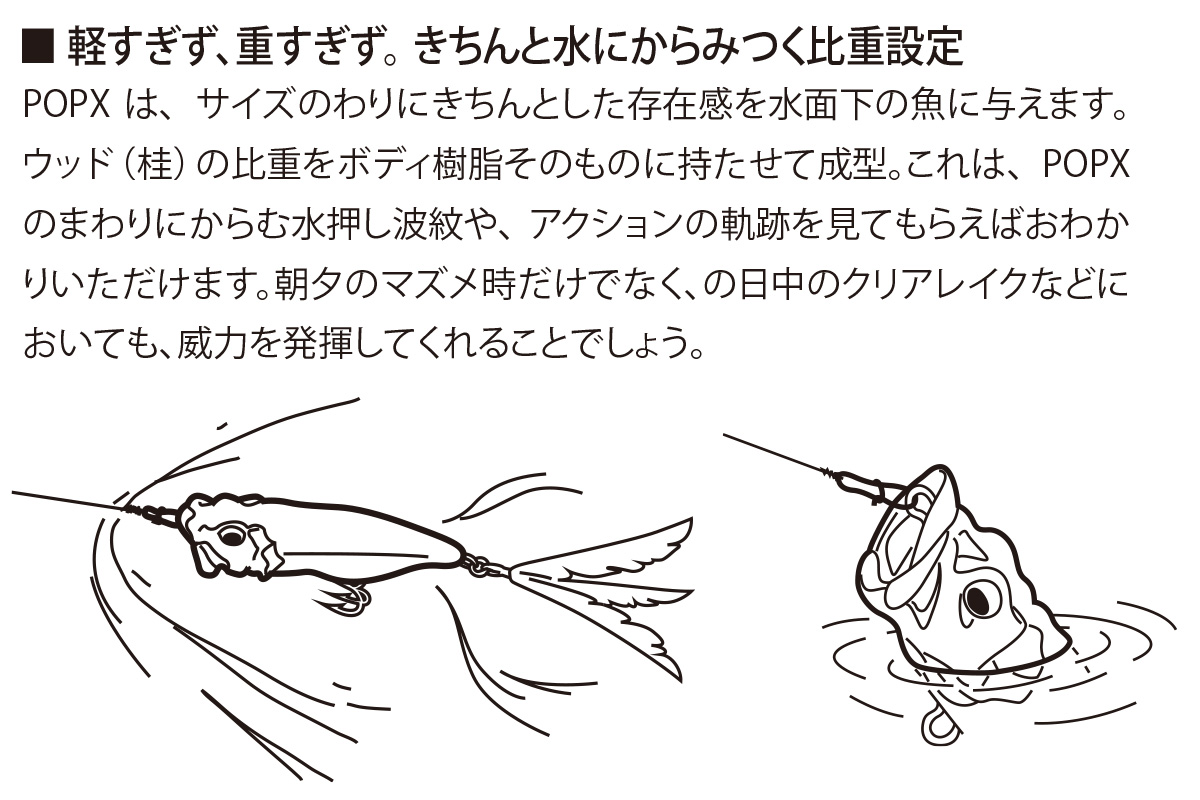 POPX TECHNOLOGY
POPX TECHNOLOGY