GENMA85S
Megabass / SALT WATER / MINNOW 

Price

メーカー希望小売価格(税別)2,050

円

Main Specification
Length
85mm
Weight
13g / 17g
Type
Sinking
Other
Hook : #6 x 2pcs
発売日 : 2020年7月末頃予定
ゲンマ85Sは、食わせの釣りを更に細分化。シーズン早期や、ベイエリア・河川・運河等の小場所、ターゲットが稚鮎・ハク・カタクチ等の小型ベイトを偏食する状況により適応したモデルです。ゲンマシリーズ最大の特徴は、頭部前面に縦方向に設けたスイミングプレート。
①「アクションの動き出しによる始動性」
②「スイム時の安定性」
③「コントロールの加減がつかみやすい、適切なスイム抵抗感」
を実現しました。ロングディスタンス・キャスタビリティを引き出す独自の重心移動を搭載。さらに、用途やレンジなど使用法に応じた2タイプを用意。
システマティック・シンキングペンシル、ゲンマの卓越した釣果をお楽しみ下さい。
13g は流れや潮に乗せた揺らぎアクションで、セレクティブなターゲットを一撃。
17g は飛距離や着底感度、レンジコントローラビリティに優れたモデル。
※写真はプロトです。
The GENMA85S helps you target specific fish holding to tight areas. The specialized 85mm model is ideal for fishing early in the season, in areas like bays, rivers and canals, and when your target favors smaller bait like young ayu, mullet, or Japanese anchovy.
The most distinctive feature is the vertical swimming plate on the front of the head section.
1. Superb action start-up.
2. Stable swimming performance.
3. Intuitive controllability and optimal swimming resistance.
A patented moving balancer ensures long-distance castability. Two weight options are available, depending on desired use and range.
If you want to catch serious fish, look no further than the GENMA85S systematic sinking pencil.
The 13g model is great for drifting action, perfect for hooking more selective targets.
The 17g model excels at flight distance, bottom contact, and range control.
* The photograph is a prototype.
Technology
ルアーの性能を引き出す "スイミングプレート"
The swimming plate draws out the performance of the lure.
アクションの始動性・安定性の向上。コントロール性を高める適切なスイム抵抗感。
Optimal swimming resistance that boosts action start up, stability, and controllability.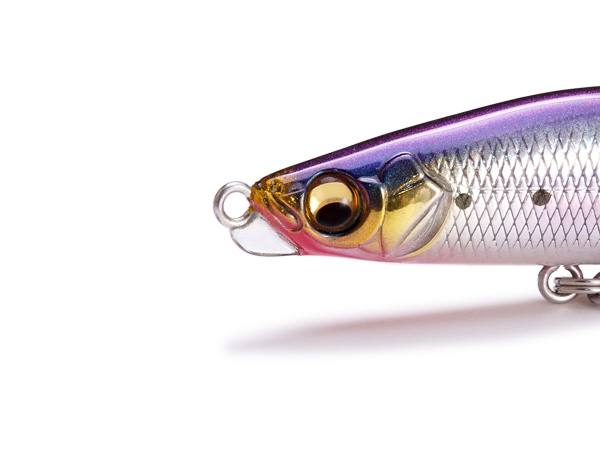 飛距離とアクションの始動性を兼ね備えたウエイトシステム
Weight system that boosts both casting distance and action start up performance.
絶妙な軌道を描く、独自の重心移動システムを搭載することにより飛距離とアクションの始動性を両立。
By incorporating a custom moving balancer system, both improved casting distance and excellent action start-up are achieved.