「ローリングスライド」で、どデカシーバスを喰わせろ。
X-140SW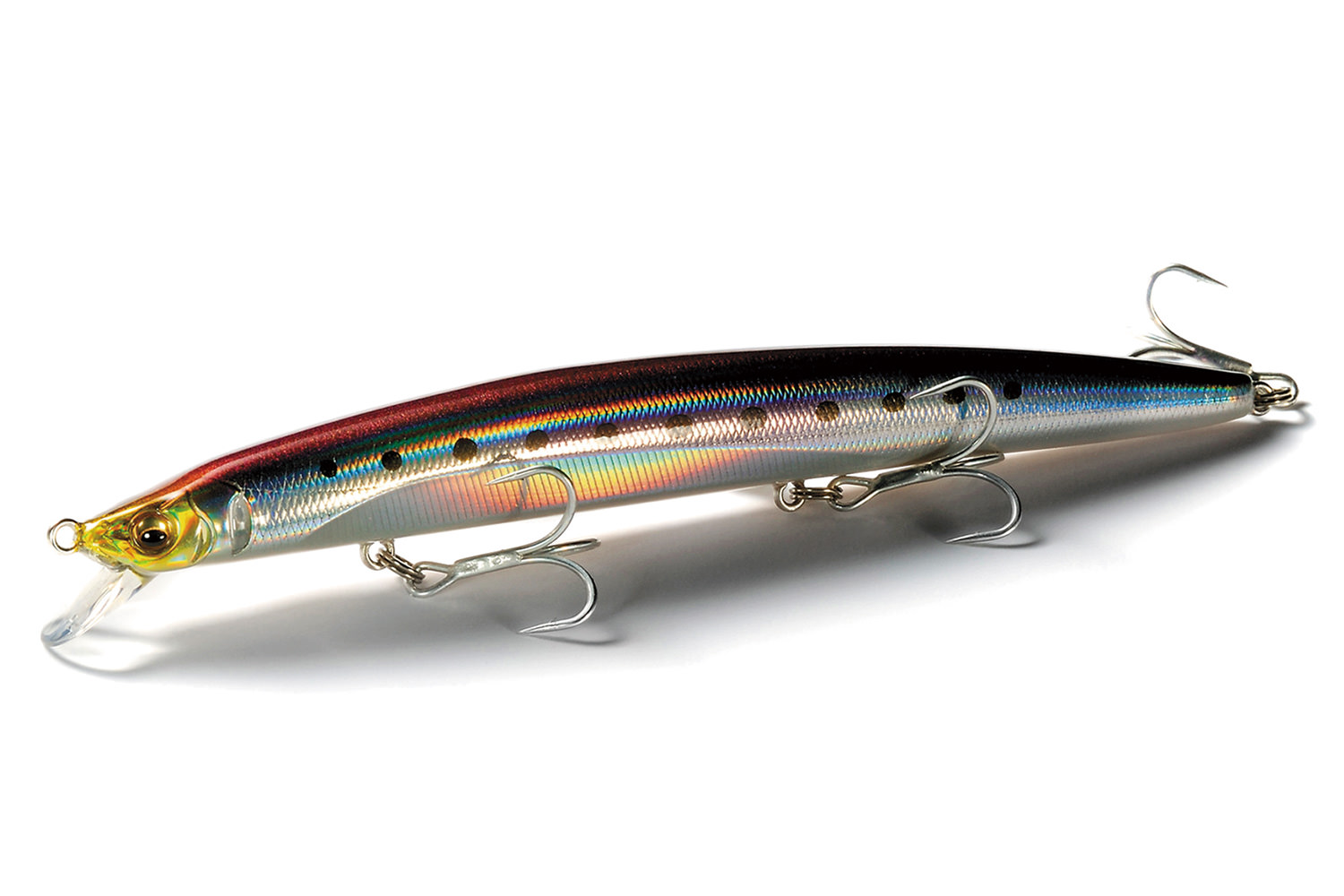 X-140swは、動きが緩慢になりがちなビッグミノーの常識を覆す、新次元のハイレスポンスミノー。メガバスの「匠のミノー作り」の成果を、フィールドでお確かめください。
ストレートリトリーブでは、タフなニュートラルフィッシュを刺激する「ハイピッチ・ロールアクション」でリアルに明滅アピール。メガバスが追求した、X-140swの極めて繊細でナチュラルな挙動は、狡猾なモンスターに狙いを絞り込むビッグフィッシュハンター達が長年に渡って求めて続けてきた「匠のアクション」です。
X-140swの真骨頂は、カレント(潮流)の変わり目に差した時、瞬時にみせる独特なダートアクション。メガバス独自のひねり形状を与えた「エアロボディ」が重心移動と連動し、ヒラを打ちながら脱軌道する「ローリング&ダート」で、瞬間スライド!ルアー泳層よりもはるか下層に落ちて回遊するモンスターフィッシュを果敢に喰い上げさせる、異次元のフィーディングを誘発します。
X-140swがすべてのテスターたちを驚愕させた「低空・超長距離弾道」性能は、内臓されたメガバス独自の超高比重タングステンバランサーと、整流効果を発揮する計算されたエアロボディによるもの。従来ミノーよりも、さらにロングディスタンスでモンスターに挑むことができます。
X-140 SW is a hi-responsive new generation minnow that overturns ordinary large-profile with dull swimming. Experience the Megabass' master craft of jerkbait.
Produces "Hi-pitch rolling action" with lively flicker, stimulating spooky fish. X-140SW's extremely natural action, Megabass closely pursued, has achieved what the big fish hunters have wanted for many years.
The best value of X-140SW is the unique and quick, dart action when it gets into the gap between currents. Megabass' unique "Aero Body" with twisted shape gets suitably connected with the moving balancer, producing "Rolling and Dart" with sliding off its track, which triggers feeding bites from the fish hanging out further down in the deep water.
With that all the anglers who got involved in this bait, the "low-altitude, ultra long distance castability" is derived from the two technologies, Megabass' unique hi-density tungsten and the aero body designed for the best swimming effect. X-140SW exceeds conventional jerkbaits in casting ability, allowing you to challenge the Monster at a great distance.
SPEC
Price

メーカー希望小売価格
2,200 円 (税別)