圧倒的な飛距離を誇るMARINEGANGに新サイズ登場!!
Introducing new additional sizes to incredible casting missile MARINEGANG series!
MARINEGANG 120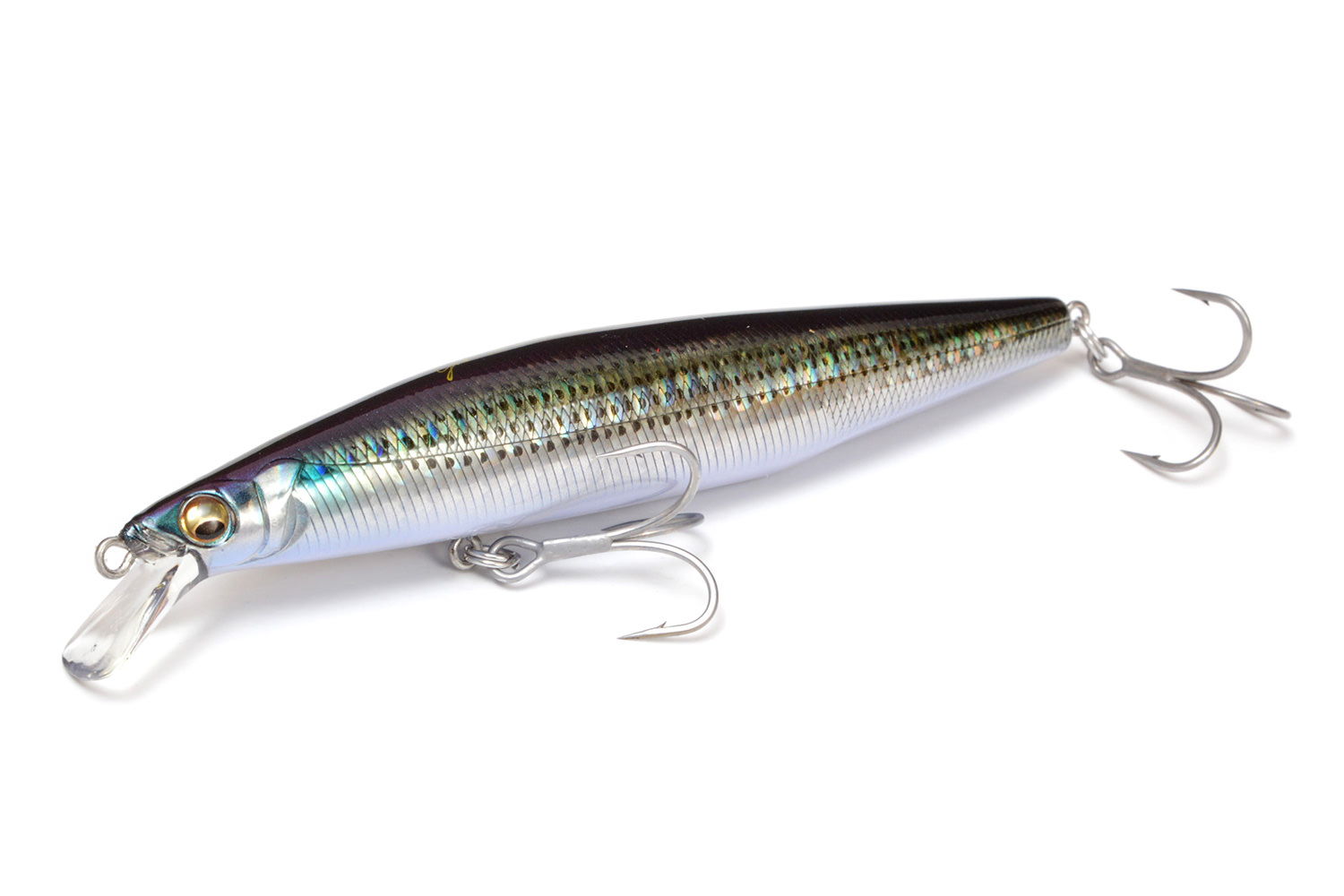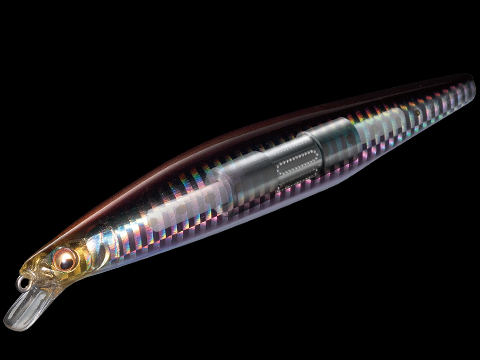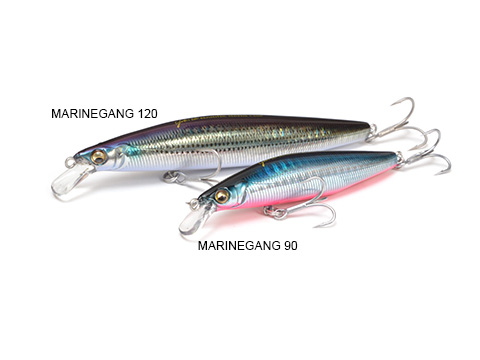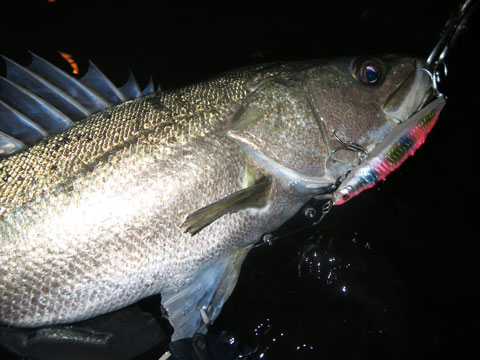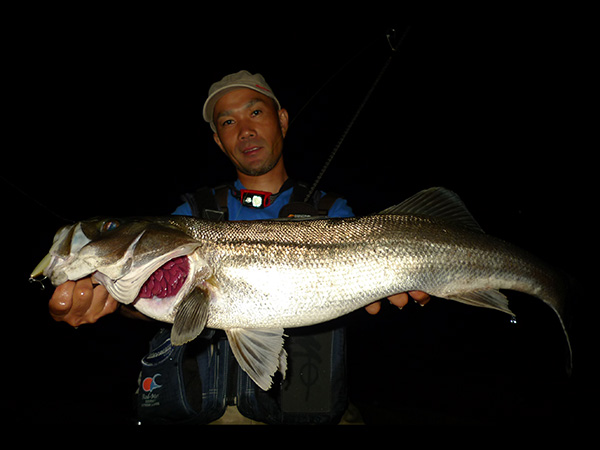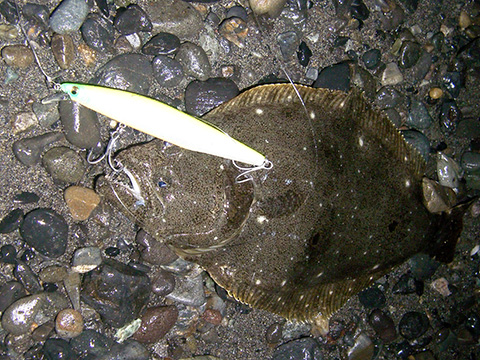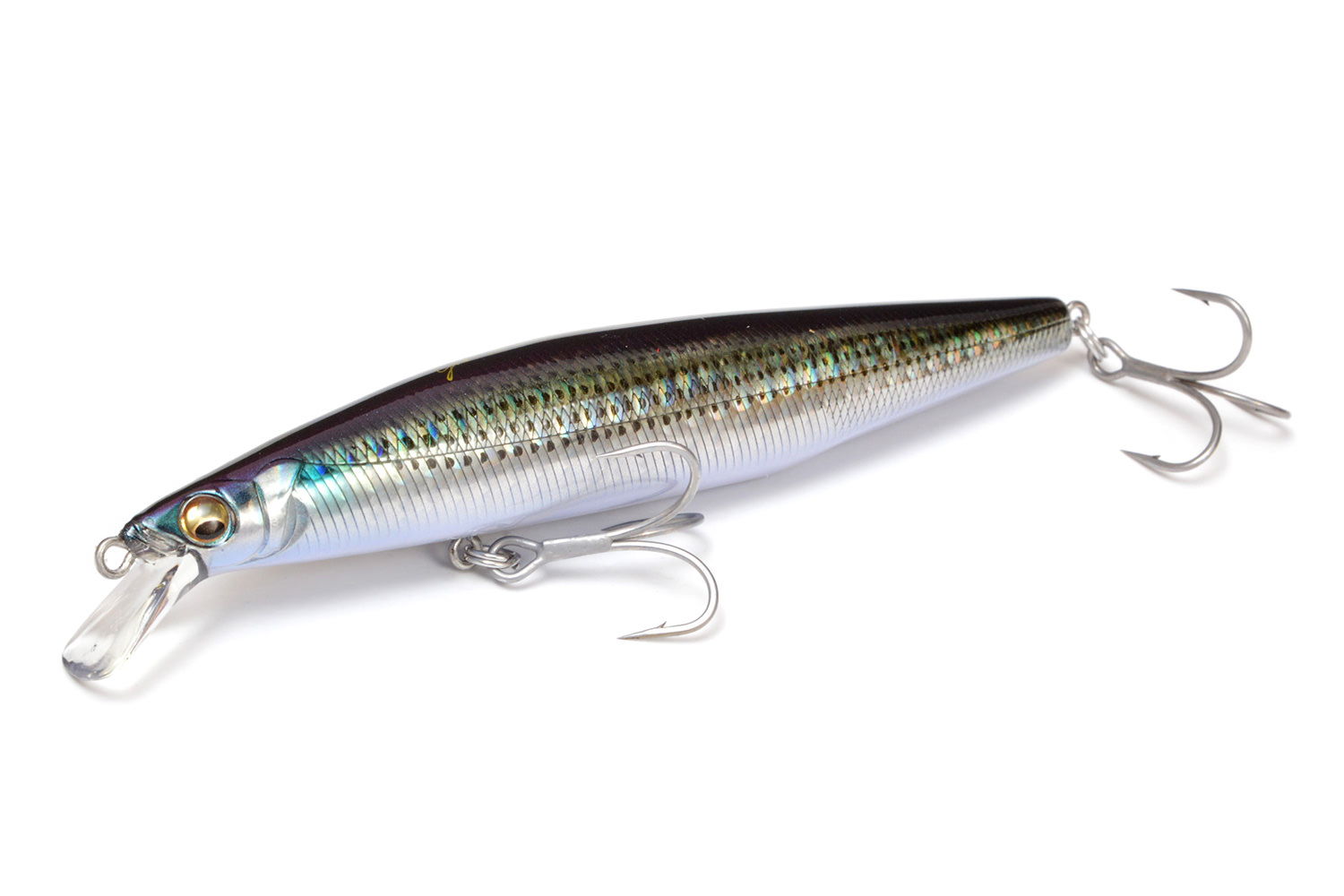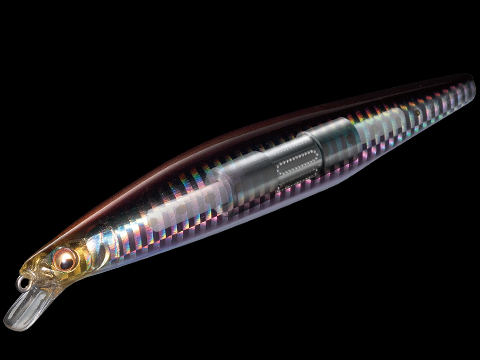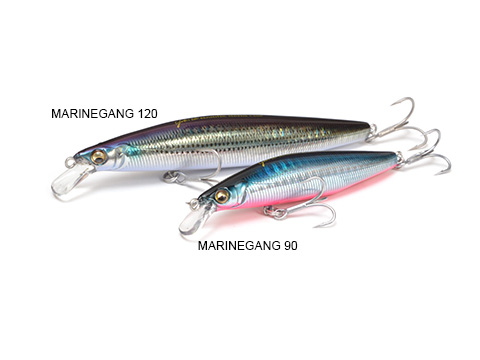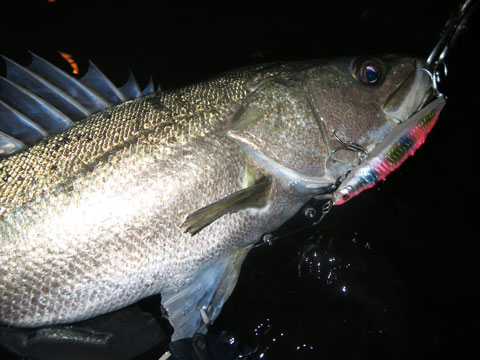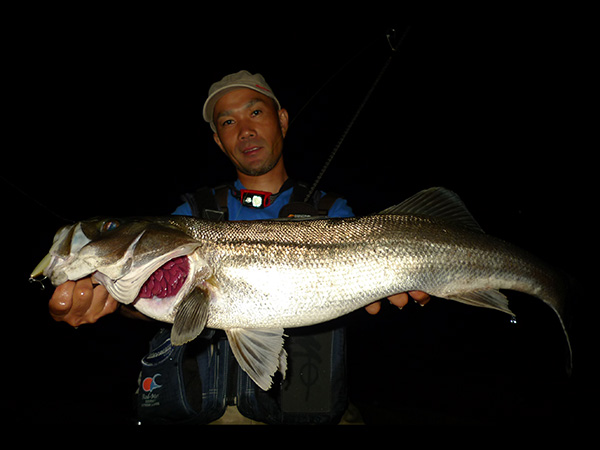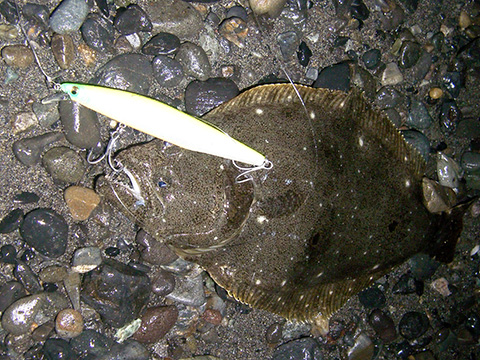 マリンギャングに搭載したのは、新開発・驚異のLBOシステム(PAT.)。重心移動時に発生する摩擦抵抗を極限まで軽減化させる「ベアリング内臓ブッシュ」によるシャフトバランサーが、重心の「瞬間移動」を実現。瞬間移動したバランサーが発生させる、「瞬時の慣性インパクト」がもたらす強大な「推進力」によって、逆風を突き抜ける異次元の弾道性能を発揮します。
リトリーブ開始と同時に、ネオジム磁界によってベアリングブッシュは瞬時に誘導され、適切なスイム可動ポジションへと移動し密着。圧倒的な泳ぎ出しの良さは有効トレースゾーンを拡大し、強大なカレントやラフウェーブの中でも暴れずに卓越したアクションで泳ぎ切ります。
マリンギャングのアクションは、適切なロール角とウォブリング幅を突き詰め、重心移動軸とロールアクション軸を巧みに一致させた、シンクロナイズド・リアルアクション(PAT.)。本物指向のスズキ釣り師たちに使っていただきたい、ハイスペックサーフミノー。マリンギャングが、シーバスゲームの新境地を切りひらきます。
MARINEGANG is tuned for sea bass connoisseurs, and equipped with the newly developed LBO System (PAT.) to unleash destructive casting distance.
The LBO System (PAT.) is designed with a system of ball bearings to virtually eliminate friction, allowing for maximum transfer of energy during casts. Furthermore, the LBO System features a magnetic front mount for optimal stability during retrieve, and improved casting. The magnet holds the weight forward as you load the rod for your cast, building up energy until it is unleashed as you launch MARINEGANG towards the ocean, weight slamming into the tail section to power devastating casts even in windy conditions.
MARINEGANG's exclusive SYNCHRONIZED ・REAL ACTION (PAT.P) is built upon the wildly potent and precise mixture of optimal roll-angles, wobbling width, rolling action, and the central linear axes of the LBO System (PAT.) to usher a truly devastating sea bass weapon into the world.
SPEC
Type

Floating : 20.0g
Sinking : 22.0g

Other.1

Depth : 0 - 1.4m
Hook : #4 x 2pcs

Price

メーカー希望小売価格
2,200 円 (税別)
TECHNOLOGY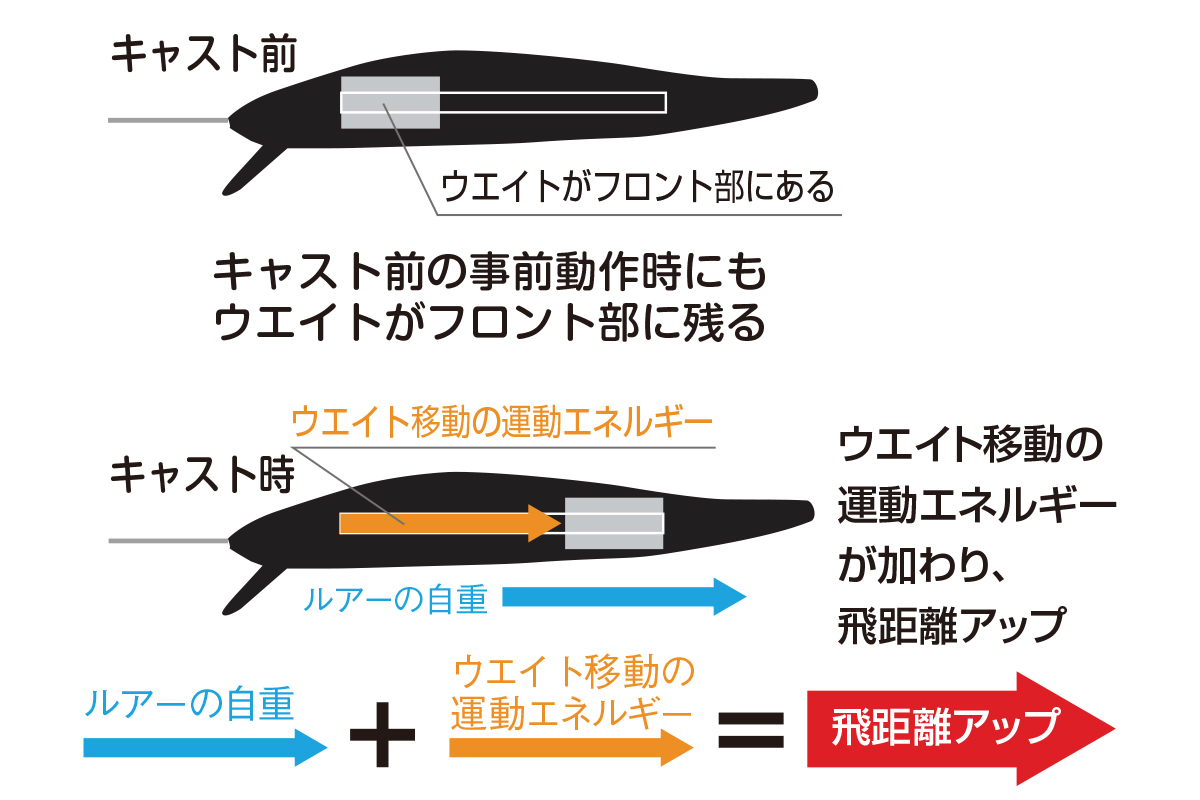 ウエイトの可動抵抗を大幅に軽減
ルアーに内蔵されているウエイトの内側には、直径0.8mmの無限循環運動するボールが88個設置されており、ウエイトとシャフトの摩擦抵抗を大幅に軽減。従来のシステムでは摩擦係数0.1のところ、LBOを採用することにより、摩擦係数0.01という低抵抗を実現しました。その結果、キャスト時にウエイトの運動エネルギーをルアーの初速に加えることができ、脅威的な飛距離を実現しました。
Megabass was able to conquer the adjustable resistance from traditional weight transfer system by applying medical equipment technology. Introducing the smoothest, trouble-free innovative new weight transfer system.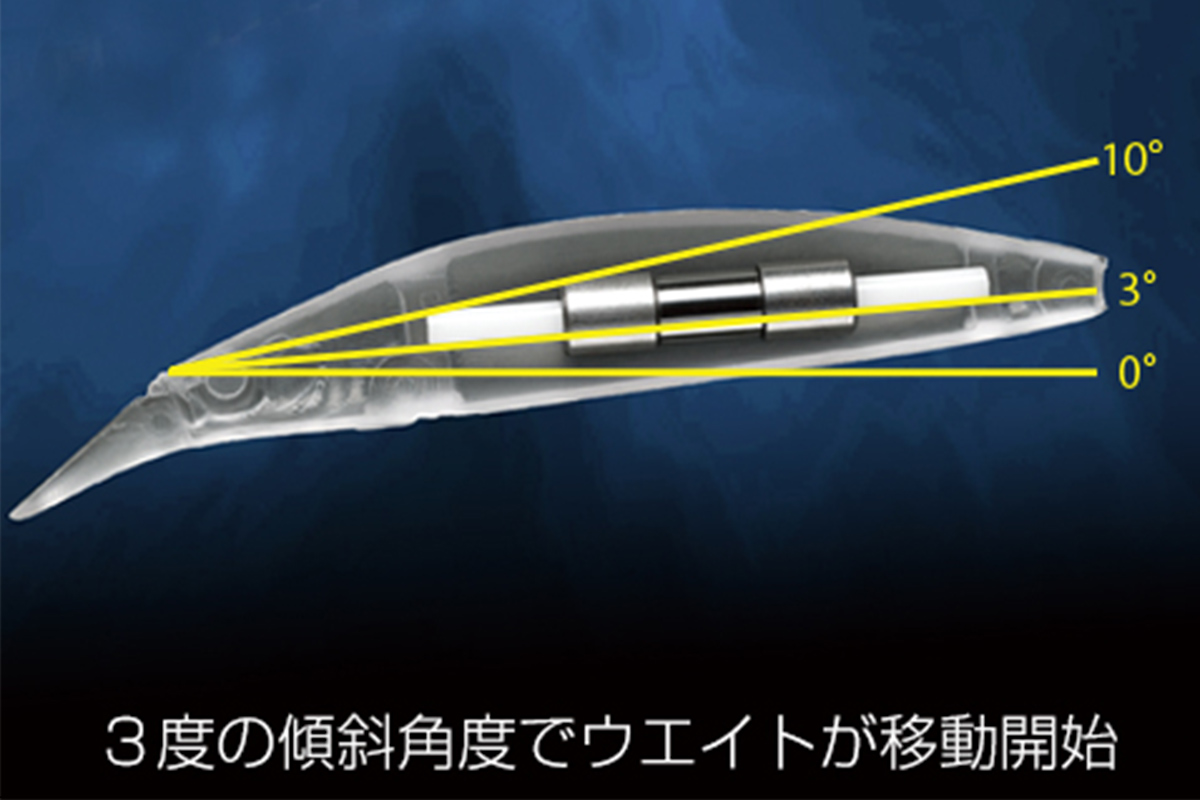 リトリーブで瞬時に泳ぎ出し
ルアー着水後、リトリーブを開始した瞬間、ウエイトが瞬時に前方向へ移動。一般的なシステムでは、10度以上の傾斜角度でウエイトが移動開始するのに対しLBOでは、3度の傾斜角度でウエイトが移動。アクションエラーが無くリトリーブできます。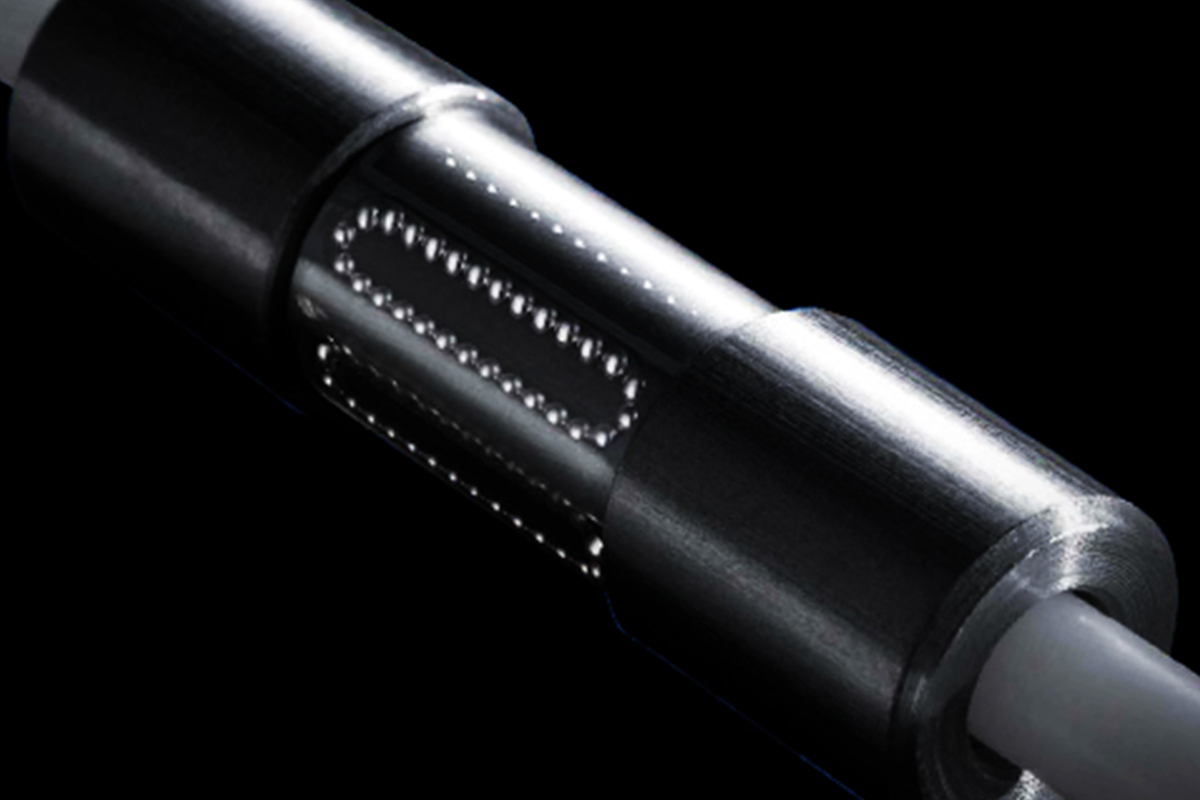 トラブルレス構造
ウエイトの中央を貫通する樹脂製シャフトは、公差精度が高く軸ブレがないため、タフな使用においてもトラブルが発生しません。構造的にはおよそ1億回のキャストも可能な堅牢性を誇ります。