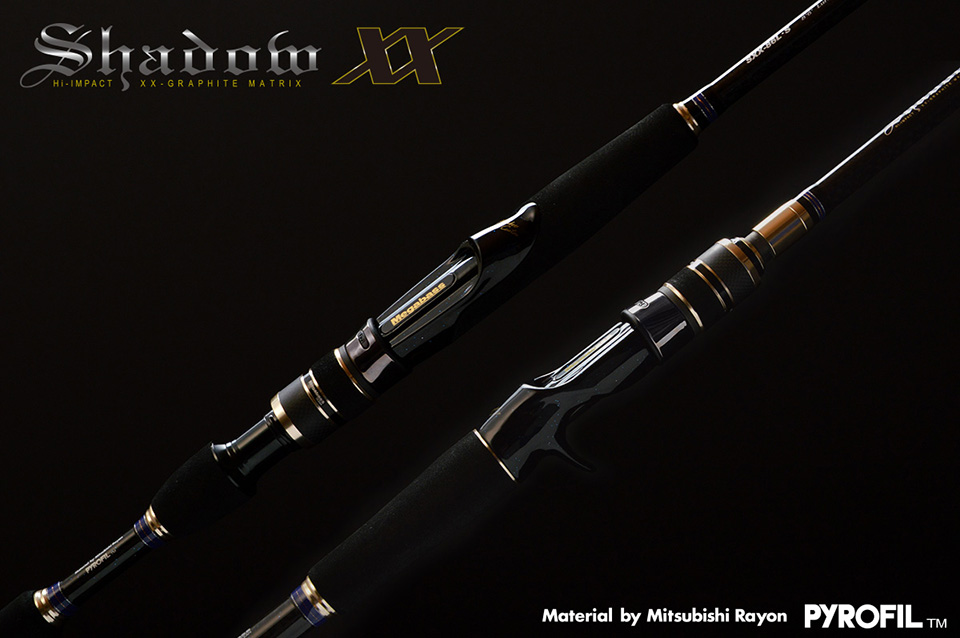 シャドウが、シーバスゲームを劇的に変えている。
メガバス独自のブランクスマトリクステクノロジー、XX(ダブルエックス)を纏ったシャドウXX。ベイエリアで多用される小型・軽量のミノープラグを、ルアー自重とテイクバックモーションだけで圧倒的な瞬発力へ転化。逆風を切り裂く驚異的なロングキャスタビリティを発揮。また、強靭なバット剛性はハチマルオーバーのシーバスにも主導権を与えることなく徹底コントロール。先端のシーバスフィッシングを追求する、求道者のためのシーバスシャフトです。
Incorporating Megabass' custom XX blank matrix technology, Shadow XX isdeigned for casting performance, feel, and enjoyment. With a carefully patterned and rolled multi-axis blank, the Shadow XX loads smoothly even with smaller Seabass lures, building up surprising energy to power ruthlessly long casts.
High-power and high torsional rigidity of the butt section takes full control of lunker Seabass, leaving no doubts throughout the fight.
Built for anglers who pursue the latest technological advantage, and seek to find joy in every cast.
SPEC
| Item | Sub name | Length | Action | Lure capa | Line capa | Weight | 継数 | カーボン含有率 | Bearings | Gear Ratio | Line /Handle Turn | Drag Max | Type | カラー | 入数 | Other.1 | Other.2 |
| --- | --- | --- | --- | --- | --- | --- | --- | --- | --- | --- | --- | --- | --- | --- | --- | --- | --- |
| SXX-78L | | 7'8" | MEDIUM FAST | MAX 20g | MAX 10lb. (PE 1.0) | 129g | 2本 | 99% | | | | | | | | | |
| SXX-96ML | | 9'6" | MEDIUM FAST | MAX 30g | MAX 15lb. (PE 1.5) | 162g | 2本 | 99% | | | | | | | | | |
| SXX-100M | | 10'0" | REGULAR | MAX 40g | MAX 20lb. (PE 2.0) | 181g | 2本 | 99% | | | | | | | | | |
| SXX-110M | | 11'0" | MEDIUM FAST | MAX 40g | MAX 20lb. (PE 2.0) | 188g | 2本 | 99% | | | | | | | | | |
| SXX-86L.S |   | 8'6" | REGULAR | MAX 16g | MAX 1.0PE | 146g | 2本 | 99% | | | | | | | | Closed Length : 129.54cm | |
| SXX-87ML |   | 8'7" | MEDIUM FAST | MAX 28g | MAX 16lb. (PE 1.2) | 157g | 2本 | 99% | | | | | | | | Closed Length : 130.81cm | |
| SXX-80HC |   | 8'0" | REGULAR | MAX 70g | MAX 3.0PE | 183g | 2本 | 99% | | | | | | | | Closed Length : 209cm | グリップジョイント |