Drive me Crazy!
Drive me Crazy!
VIBRATION-X ULTRA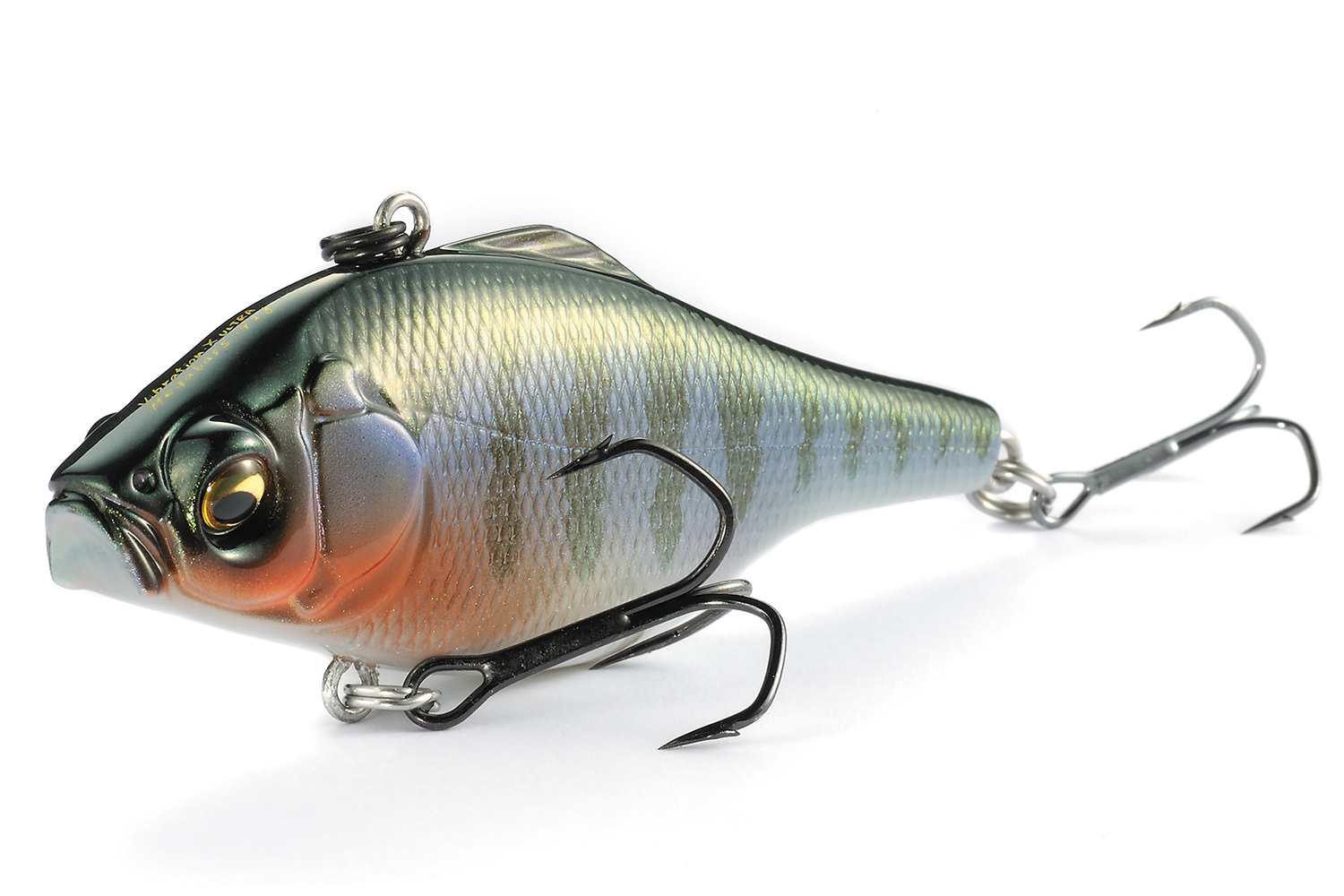 ウルトラには、従来バイブレーションルアーに見られたフラットヘッドが存在しません。リップレスベイトで実用化したメガバス独自のバランスベクトルによってアクションするハイドロディフュージングボディフォームを採用しています。ウルトラは一定層のキープコンタクトを可能としただけでなく、従来のバイブレーションがトレースできなかった、より未知の深層に対するキープコンタクトを実現。超高速ローリングアクションは極めてシャープな振動を生み出すだけでなく、水を撹拌して生まれるウォーターディスプレースメントを異質なものとしています。また、ウルトラ・ローリングアクションは、ボディ表面に波打つトーン変化を生み出し、その視覚効果を最大限引き出します。
サウンドについても、一般的なラトルイン・ルアー達が通常、3KHzの周波数帯の音を発生させるのに対し、ウルトラは、この帯域のトーンバンドをハズしてサウンドチューンすることにこだわり、開発が進められました。実際のサスペンディングフィッシュ達が日常的に捉えやすい周波数帯域のサウンドのみに焦点を当てた、メガバス技術推進室の意欲作です。
The flat forehead which acts as a lip, was necessary to give that vibration to a vibration bait up until now. No longer. VIBRATION-X ULTRA's vibration is based on the principle of balance, nothing to do with the shape of the forehead. We used this new approach for the first time in our LIP-LESS BAIT. Try slow-rolling it just above any weed bed which is usually beaten by spinnerbait. You will soon find out that no spinnerbait can match ULTRA's super-realistic presence.
SPEC
Type

Rattle In (11/16oz.)
Silent (5/8oz.)

Other.1

Hook : (F) #4 + (R) #6

Price

メーカー希望小売価格
1,680 円 (税別)
TECHNOLOGY
TRIPLE MIXING SOUND
TRIPLE MIXING SOUND
ウルトラは、「釣れる」音質の検証を重ね、ラトルブースをデザイン。3種類の異なる組成のマテリアルをコンポジットし、ミキシングサウンドを発生させています。通常のリトリーブでは、先代バイブレーション-Xと比較して劇的に抑えられたサイレントサウンド。そして、ウィードに掛かり、これをハズした瞬間にトーンアップ。この瞬間にバイトが集中します。