「しゃきっ」としようぜ。
Titanium swimming spine
SPINE-X 190F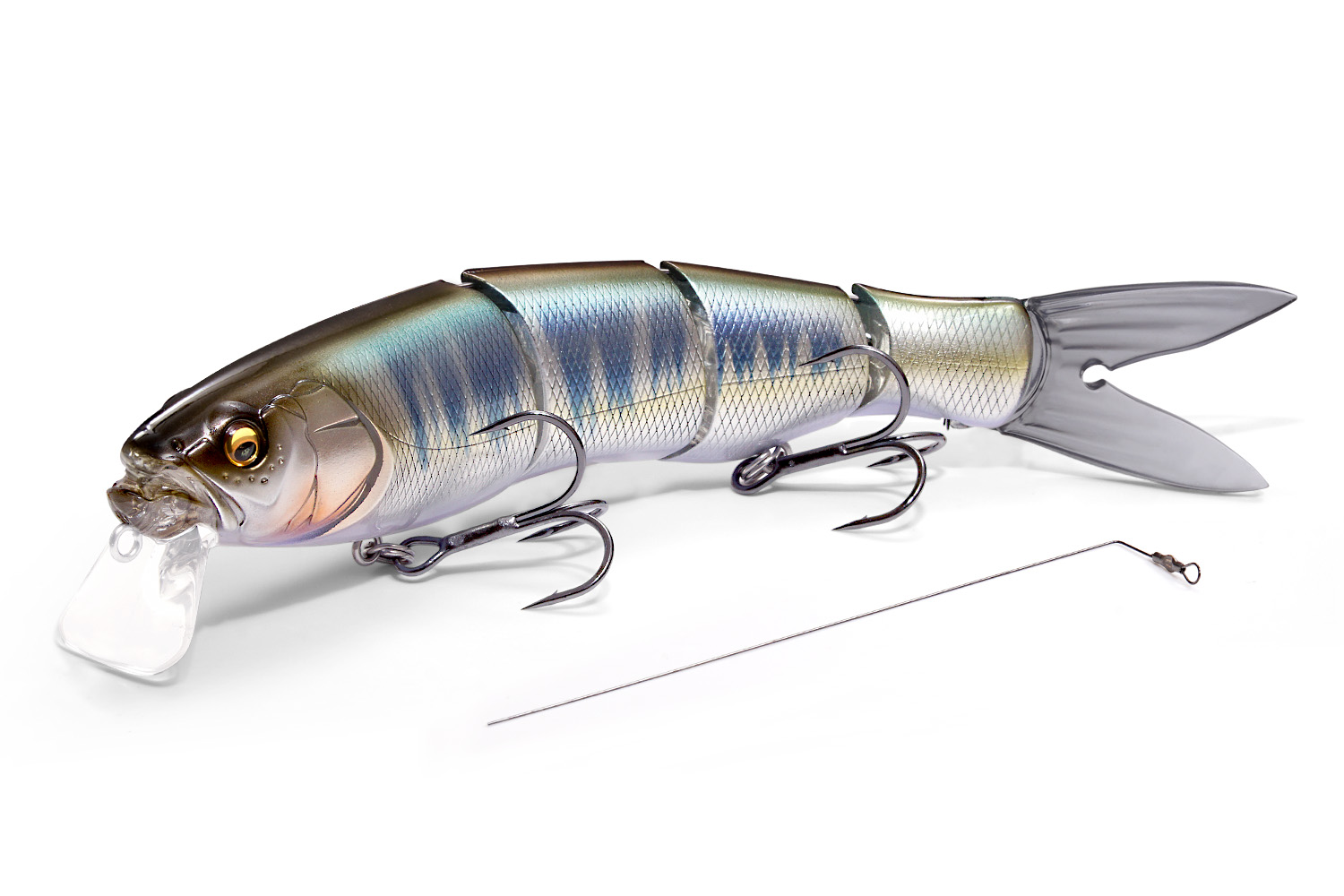 SPINE-Xは、新発想のLIVE-WIRED-SYSTEM(PAT.P)を搭載した新機軸スイムベイト。
LIVE-WIRED-SYSTEMは、動き過ぎてしまう傾向にあった従来のジョインテッドルアーの各ボディ部位の非連動した不可解な動きを制御。形状記憶チタン製のスパイン(背骨)をボディ背部に挿入し、ワイヤーの本数、線径などを組み替えることで、ボディのしなやかさを好みに応じてチューンできる新技術です。
形状記憶スパインを組み込むSPINE-X 190Fのボディは、本物のベイトのごとくしなやかで自然な張りをもたらし、まさに硬骨魚類が背骨と筋肉によって水の中を推進していくナチュラルな遊泳形態を再現。クリアウォーターにおける目の肥えたビッグフィッシュゲームをきわめて優位に展開、見切られないバイトが倍加します。 通常のリトリーブ時の艶めかしさも圧巻ですが、トゥイッチやジャークによってしなったボディが復元する際、エラストマー製テールと連動して自泳する連結ボディの動きは、まさしくライブベイトそのもの。
スパインの組み替えにより、リトリーブ速度や、トゥイッチ、ジャーク等のメソッド、対象魚やフィールドなど、状況や表現したいアクションに応じてボディのしなやかさ、張り具合を調整することができます。SPINE-Xが、閉じたモンスターのビッグマウスを確実に開かせます。
SPINE-X is a segmented subsurface swimbait equipped with an innovative user-controlled wire-through titanium spinal system to deliver dynamic action. Megabass' LIVE-WIRED SYSTEM(PAT.P) leverages the shape-memory properties of titanium wire to add layers of customizable control to SPINE-X's swimming movement. Included with three titanium "spines," anglers can add multiple wires at a time for tighter "s" swimming and a faster recovery rate between segmented joints. By changing the number of titanium wires, anglers can adjust the suppleness and tension of SPINE-X to perfectly match angler input and target preferences. This not only enables situation-specific tuning but adds a dynamic element of internal tension to the swimbait's movement, contributing to its lifelike appeal.
Developed to target those exceedingly discerning trophy predators, SPINE-X swims with sinuous flash and sends twitches and jerks shuddering from tip to tail with unsurpassed realism.
SPEC
Other.2

Titanium wire x 3pcs

Price

メーカー希望小売価格
5,000 円 (税別)
TECHNOLOGY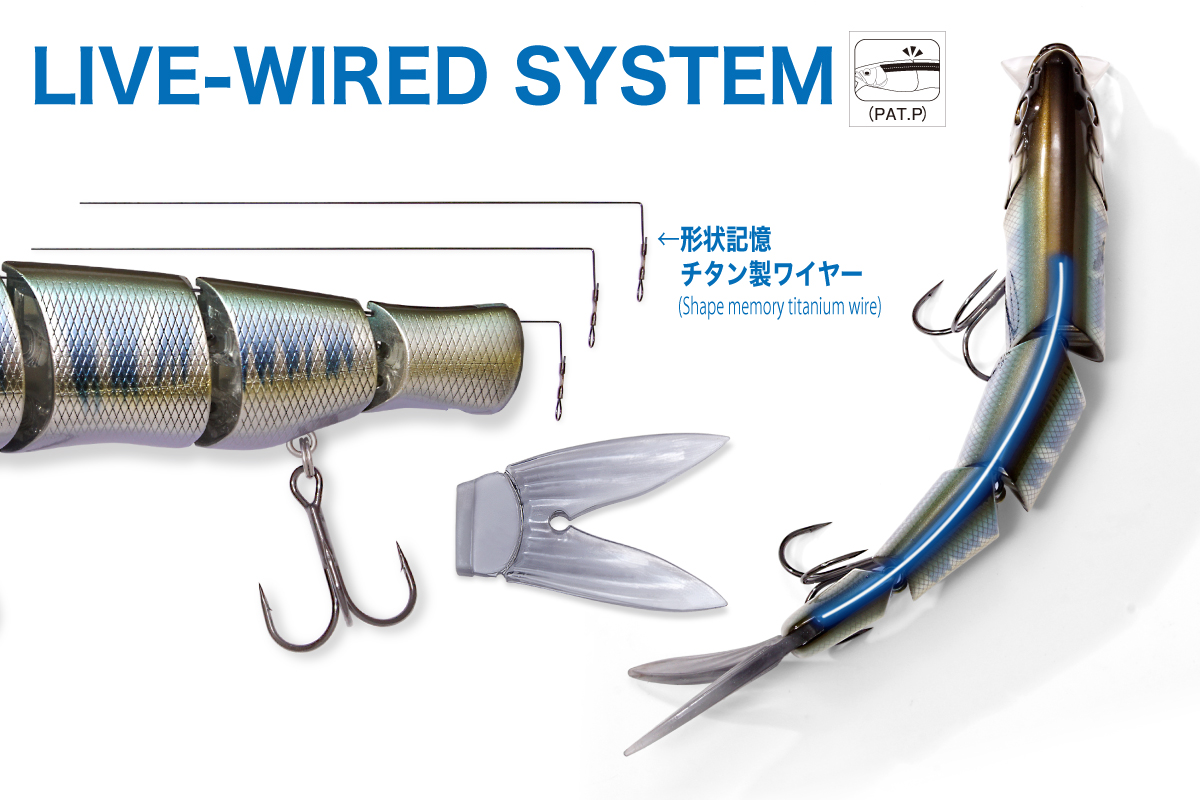 LIVE-WIRED SYSTEM(PAT.P)
LIVE-WIRED SYSTEM(PAT.P)
形状記憶チタン製のワイヤーをベイトの背骨(スパイン)として機能させる画期的チューニングシステム。状況に応じて、挿入ワイヤーの本数、線径などを組み替えることでボディアクションをリアルベイトの弾性に富んだリアルな泳ぎへアップデート&チューンができます。独立した部位が各々動いてしまう連結ボディに自然な張りをもたらし、硬骨魚類が背骨と筋肉によって推進する本来の遊泳形態をリアルに再現。 クリアレイクにおいてジョイントルアーを見切った百戦錬磨のモンスターを高確率でバイトさせた驚異のシークレットチューニングがついに解禁。
A breakthrough tuning system that harnesses titanium wires to add spinal tension to the movement of segmented lures. Connecting each joint with titanium's shape memory properties adds an additional layer of tension and joint recovery to the lure's swimming motion, resulting in compelling realism. Wires can be added or subtracted to fine-tune the swimming motion to the situation, enabling precise alignment to predatory tastes.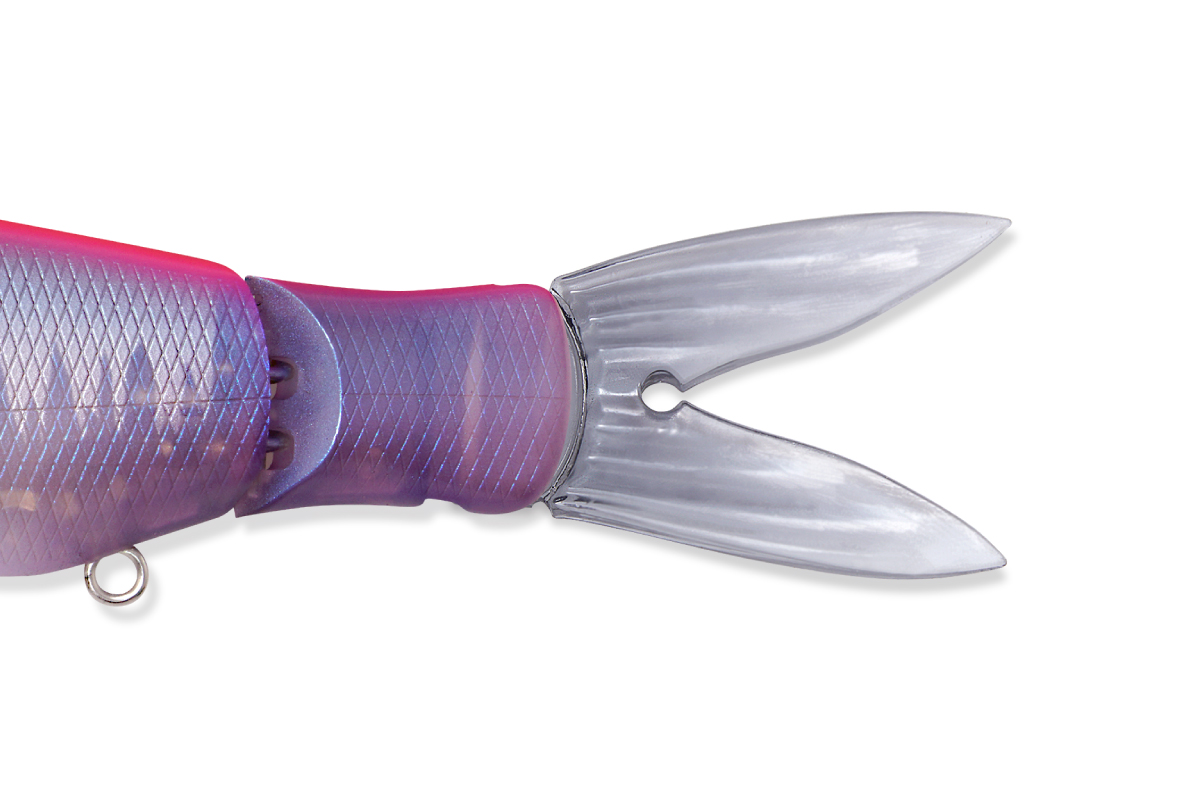 SPINE-X ORIGINAL TAIL
SPINE-X ORIGINAL TAIL
The tail of the SPINE-X is made of elastomer material carefully formulated for supple swimming performance. Designed to facilitate retrieve speeds from dead-slow to extra-fast, the tail dynamically flexes to keep SPINE-X swimming with tight appeal, exhibiting a lifelike action reminiscent of hasu and ugui.
What to do in case of deformation:
(1) Use tongs to submerge in hot water at 90°C to 100°C for 30 seconds to 1 minute, being careful not to let the tail touch the sides of the pot.
(2) Take it out of the water and carefully straighten the tail further if required and let it cool it on a flat surface for 2 to 3 minutes.
※When storing SPINE-X, remove the tail from the body and store it safely so it does not get bent.