遥か彼方へ。
Reach into the depths.
KANATA +1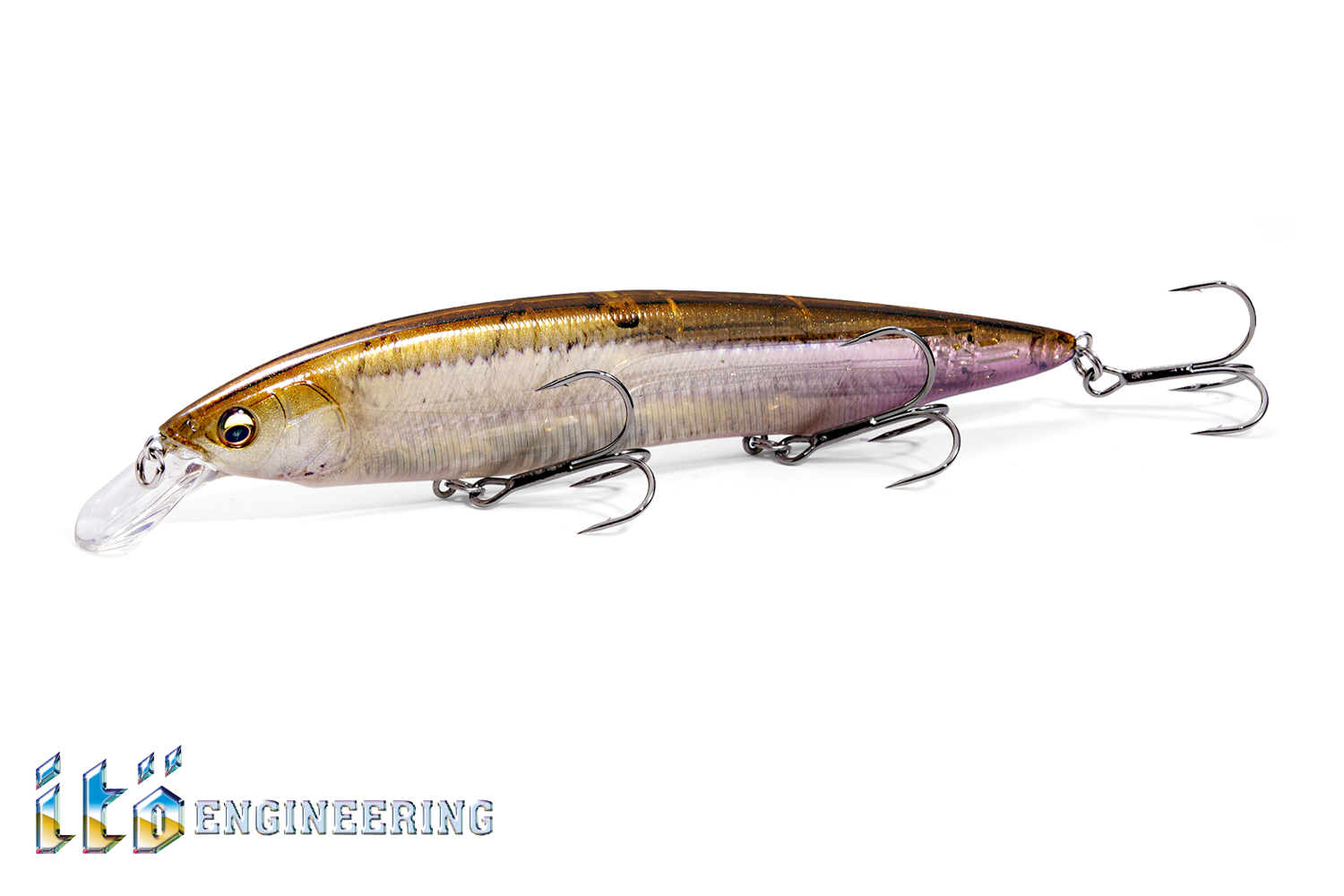 カナタ+1(プラスワン)は、カナタ・オリジナルの潜行深度よりも1m深く、最大潜行深度「3.2m」を実現したフラットサイドミノー。カナタ同様、160mmのサイズにも関わらず、その引き抵抗感は極めて軽快。F5(MH)クラスのロッドでテンポよく広域エリアのブレイクゾーンをサーチ&コンタクトできます。磨きをかけたハイピッチ・ロールアクションは、ビッグボディにはおよそそぐわない極めてナチュラルなタイトアクションと、広域レンジに拡散して放つ高い明滅効果を生み出してターゲットを誘引。極限までスリム化したベイトフィッシュライクなフラットサイドフォームに内蔵した、独自の「タングステン・トリプルオシレートシステム(PAT.)」は、逆風をものともしない圧巻の超ロングディスタンスキャストを実現しています。圧倒的な存在感とターゲットの捕食本能をとことん刺激するナチュラルなインパクトを両立させたランカーハンティングミノー、「カナタ+1」がより広く、より深くモンスターに迫ります。
KANATA+1 (Plus One) is a roll diving model with a maximum diving depth of 3.2m, 1m deeper than the original KANATA's diving depth. Like the original, despite its big size (160mm) and 1.1/8oz weight, the +1 has surprisingly light retrieve resistance, enabling high-tempo searches with F5 (Medium Heavy) class rods.
The KANATA's high pitch roll action produces an extremely natural and tight action that is not found in other large body jerkbaits, as well as a flickering effect that spreads over a wide expanse. The ITO Tungsten Triple Oscillating System (PAT.) built into the lure's slim, flat-sided form allows for impressive cast distance, even in headwinds.
The high-impact minnow KANATA+1 has an overwhelming presence combined with a natural swimming action, a contrast that stimulates the predatory instinct of target fish at greater depths and distances.
SPEC
Price

メーカー希望小売価格
2,300 円 (税別)
TECHNOLOGY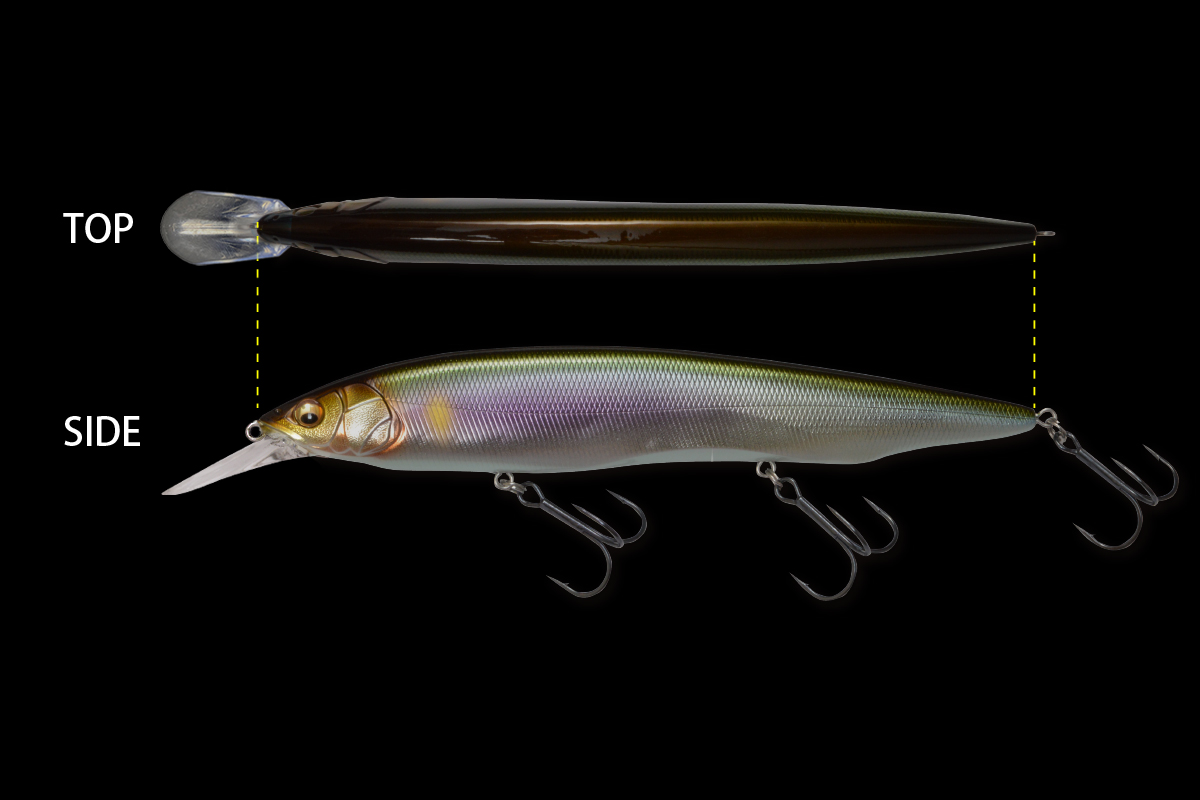 10mmの細身のボディがキレの良いダートアクションを生み出す
Slim 10mm body for sharp darting action.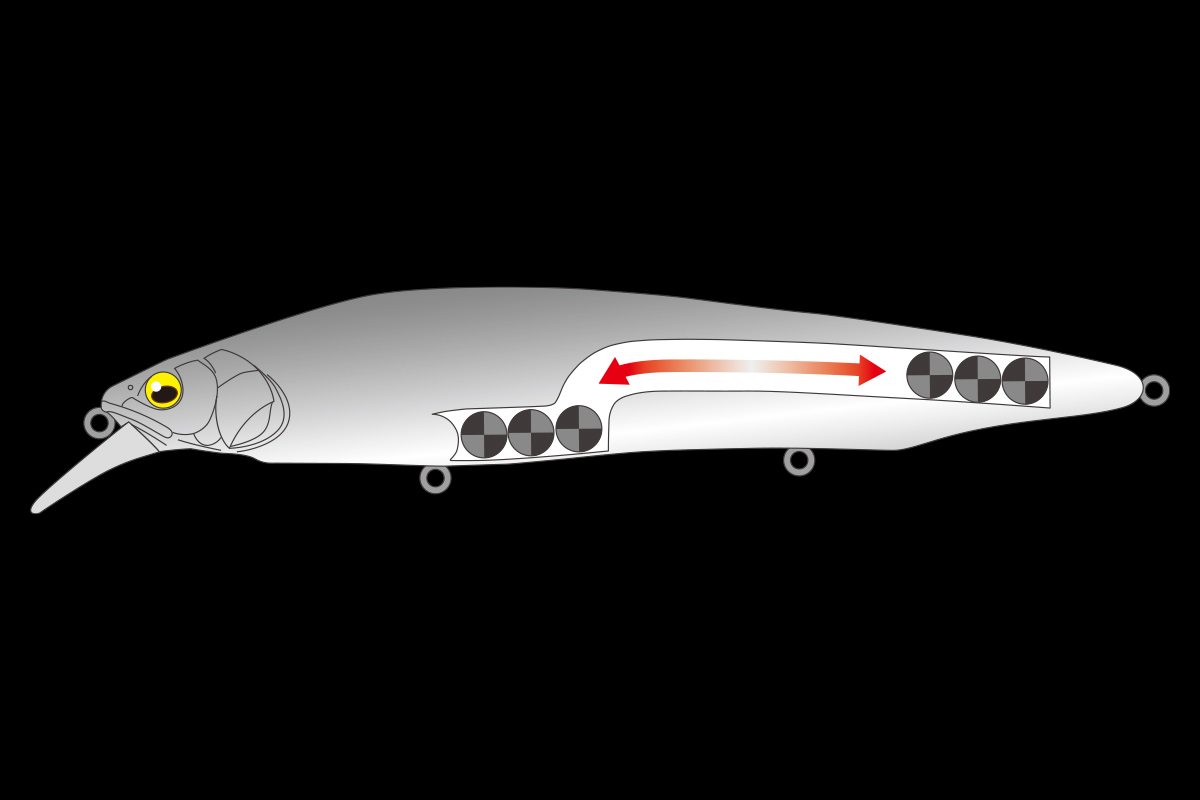 Tungsten Triple Weight Oscillation System(PAT.)
Tungsten Triple Weight Oscillation System(PAT.)
キャスト時に、3 つの超高比重・小径タングステンバランサーが生みだす「比重× 慣性」のインパクトが、圧倒的なロングキャスタビリティを実現。釣れる"リアルボディ"をターゲットの鼻っ面へと運びます。
When casting, the impact of "specific gravity × inertia" created by three ultra-dense tungsten spherical balancers achieves overwhelming cast distance, reaching new targets.