「宇宙の木」。 ゴーラムが、タフをフィーディング劇場に変える。
Turn a tough bite into a frenzy.
GORHAM 147F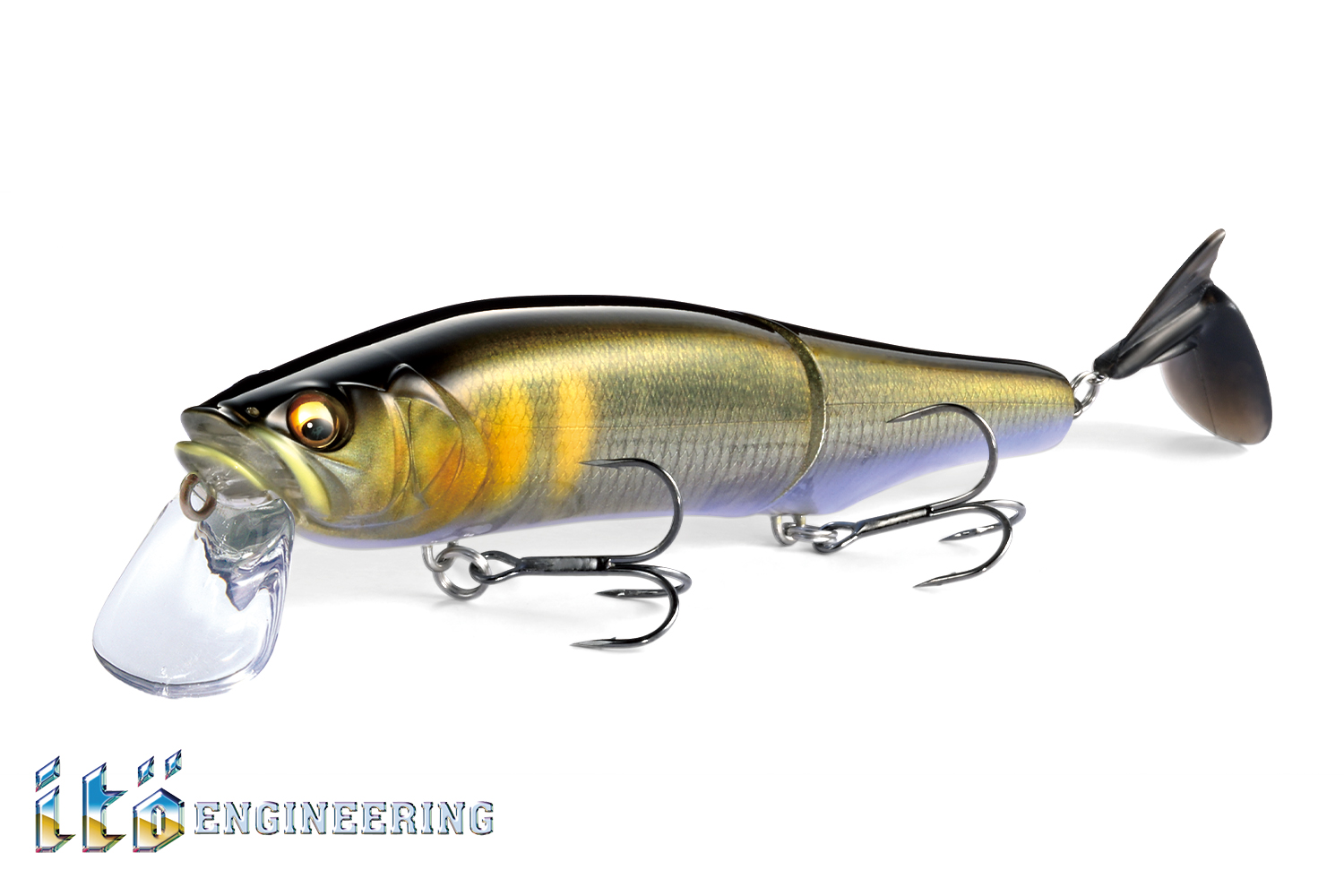 「宇宙の木」ともいわれるゴーラムは、遠く離れたニュートラルなターゲットに摩訶不思議なフィーディングの覚醒をもたらす新感覚のフィーディングベイトです。
ゴーラムの連結ボディには、シンクロナイズする2基のLBOⅡシステムが搭載。従来のジョイントルアーの姿勢変化が招く飛距離の失墜や分離ボディによるアクション始動時のディレイ感など、すべて解決。これまでのジョイントルアーの常識を覆すダイレクト感あふれる超ロングディスタンスゲームを実現。攻撃範囲を圧倒的に拡大化させる未知の超広域サーフェスゲームは、反応するターゲットの数を倍加させます。独特なランブルテールがもたらすライフライクなディスプレースメントは、水面アタックを躊躇するニュートラルなターゲットの闘争本能を煽ります。満を持して送り出すビッグゲームの守護神「ゴーラム」は、タフな水面に挑むアングラーをドラマティックな結果で救う、異次元の釣果へと導く御神木かもしれません。
SLOW RETRIEVE
ジョイントボディによるナチュラルなテールスイングと、ツインスパークLBOと同軸・同期化したローリングアクションによるフラッシング、水面で発生させる撹拌水流と引き波の相乗効果により圧倒的なフィーディングインパクトを発揮。
FAST RETRIEVE
水面まで魚が出きらない状況や、ミッドレンジに落ちた魚にアプローチ。クルージングフィッシュに迫ります。ファストリトリーブによる誘いやトゥイッチによるレスポンシブなローリングダートは、ニュートラルフィッシュのリアクションバイトを誘発。
GORHAM is a jointed waking and subsurface bait with a mysterious presence that awakens distant neutral targets.
GORHAM's articulated body is equipped with two synchronized LBO II(PAT.) systems in each section. This patented moving balancer system significantly improves flight posture and cast distance, while providing optimal swimming balance for immediate action startup. As a result, GORHAM's attack range is dramatically increased, bringing far-off targets within easy reach.
A dynamic, ultra-wide rolling wake action calls targets to GORHAM from greater distances, inspiring frenzied surface attacks. The unique RAMBLE TAIL provides an erratic disturbance that triggers the instincts of hesitant surface feeders.
GORHAM opens the door to new topwater potential, triggering bites from otherwise dormant targets.
SLOW RETRIEVE
With a slow retrieve, GORHAM's natural tail swing paired with the movement of its jointed body create an ultra-realistic, sinuous flashing wake action on the surface.
FAST RETRIEVE
With a fast retrieve, GORHAM dives into the shallow subsurface range, moving with a large flashing and rolling action that generates bulging water displacement, triggering the active feeding instincts of targets who lurk in search of a fleeing meal. Work in a twitch to incite bites from targets hot on the trail.
SPEC
Length

147mm(テール装着時:200mm)

Price

メーカー希望小売価格
4,800 円 (税別)
TECHNOLOGY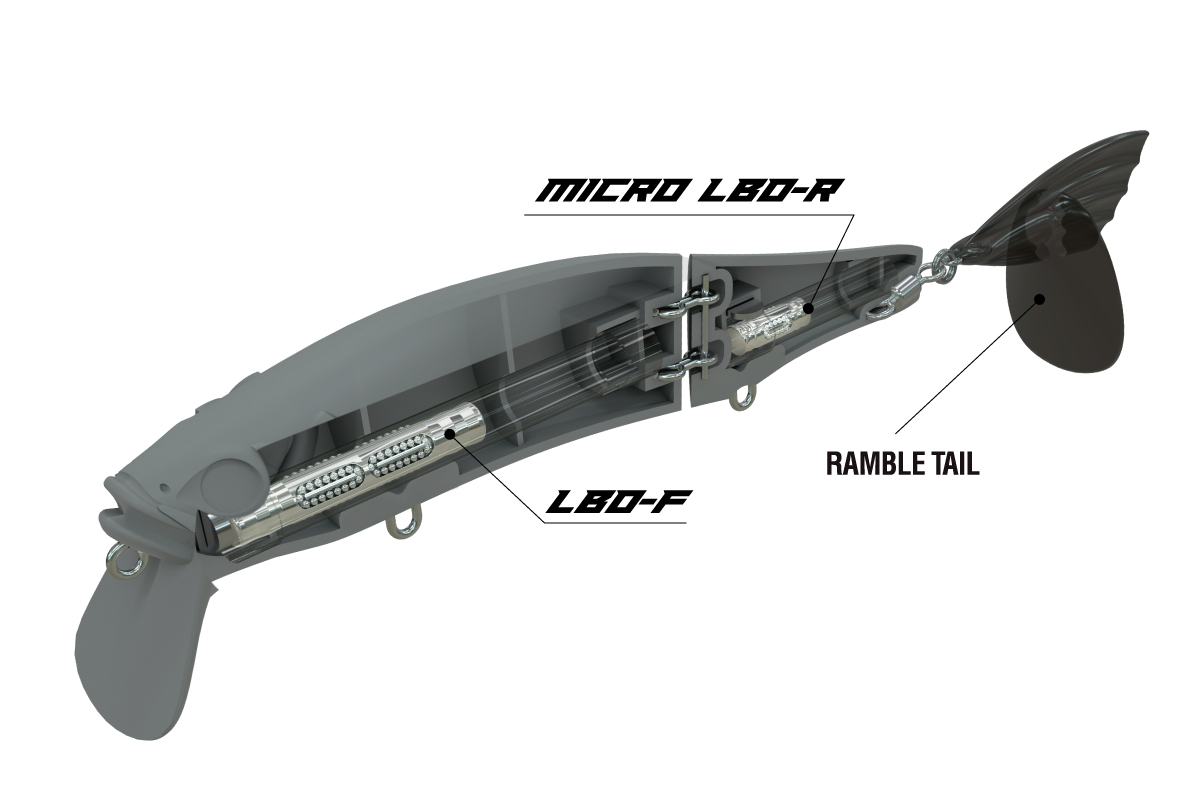 TWIN SPARK LBO (PAT.)
ツインスパークLBO(PAT.)は、連結ボディの双方にLBOⅡを搭載。2基の重心瞬間移動がもたらすキャストインパクトが驚異的な推進力を発揮し、これまでのジョイントルアーの常識を覆すスーパーロングディスタンスゲームを実現しています。さらに、2基のLBOがシンクロし、リールハンドルに手をかけた瞬間から即座にアクションを始動。同軸・同期化されたウエイトマウントはラフウォーターでも破綻のない優れたアクションのスタビリティを生み出します。
RAMBLE TAIL
横方向へ不規則なグラインド&フラッタリングを発生。後方にはスプラッシュ&バブリング・サウンドを発する、GORHAMのオリジナルランブルテール。3番目のジョインテッドパーツとしてしなやかにアクションに追従。アイティオーエンジニアリングのハイドロダイナミクスからデザインされた、ライフライクなアクションとアピールを生み出す集魚効果に優れたティーザーパーツです。
TWIN SPARK LBO (PAT.)
The TWIN SPARK LBO (PAT.) is equipped with an LBO II moving balancer system in both segments of the lure. The impact brought about by the instantaneous movement of the twin balancers provides incredible propulsion, translated into long distance casts that overturn the preconceived notions of helicopter-cast jointed lures. In addition, the two LBOs synchronize and start the action immediately from the moment the retrieve begins, eliminating dead water. The coaxial and synchronized weights generate excellent action stability, even in rough water.
RAMBLE TAIL
GORHAM's original ramble tail emits a splashing and bubbling sound as it erratically kicks behind the bait, acting almost like a third joint for additional movement. Designed with ITO Engineering's hydrodynamics in mind, this teaser tail has an excellent fish-calling ability with lifelike action and appeal.