次世代のスイムベイト。
The MAGDRAFT, a next generation swim bait, awakens!
MAGDRAFT
マグドラフトはスロー、ファストどちらでも、安定したリトリーブが可能なスイムベイト。アクションはウォブンロールを基本に、一般的なスイムベイトよりもややハイピッチに動きます。また、ベリー部のスリットとメガバス独自のマグホールドシステムでフックをボディへ密着。フックの存在感をカモフラージュし、魚への違和感を解消しています。
※画像はプロトタイプです。
■ Designed to draw in predators with both slow and fast retrieves.
■ Megabass' exclusive MAGHOLD SYSTEM (PAT.P) and belly slit will secure hooks in place to minimize the visual presence of unnatural treble hooks.
* The photograph is a prototype.
SPEC
Type

10inch (175g)
8inch (88g)
6inch (1.1/4oz.)
5inch (3/4oz.)

Other.1

10inch : ¥3,100
8inch : ¥2,600
6inch : ¥1,400
5inch : ¥1,350

Price

メーカー希望小売価格
1,350 ~ 3,100 円 (税別)
TECHNOLOGY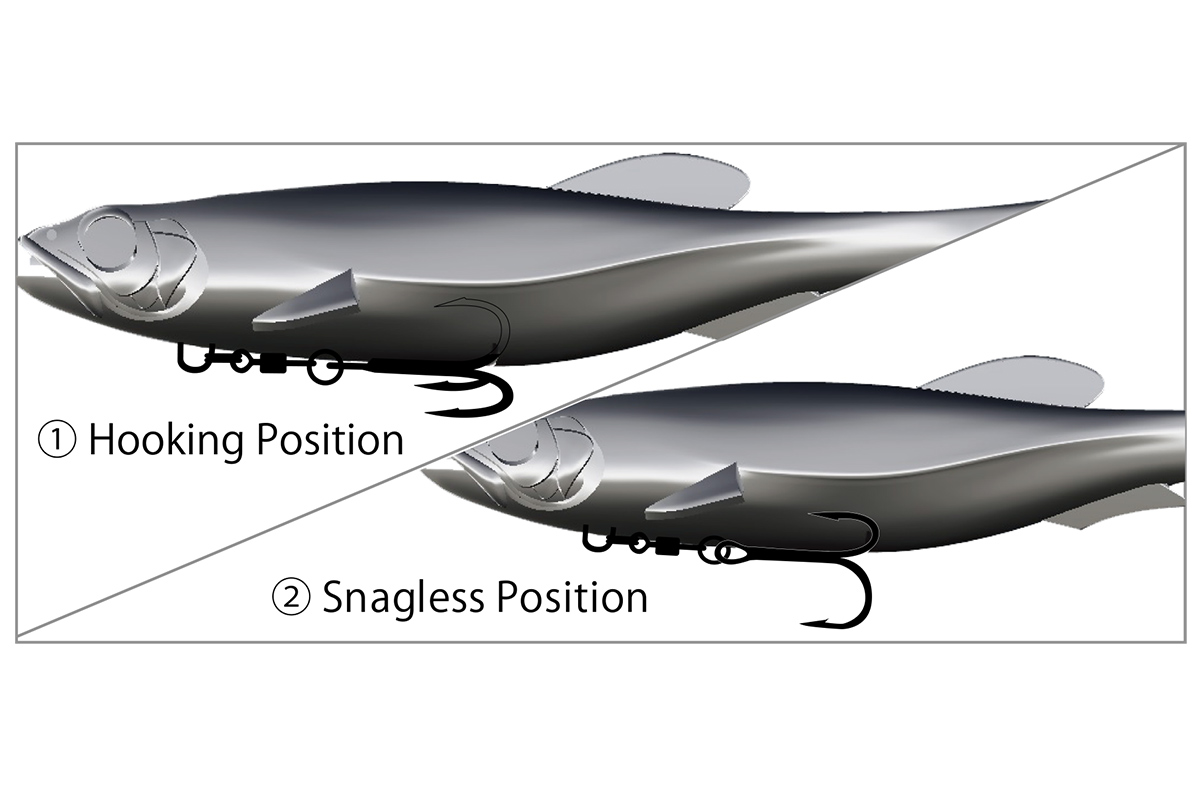 マグホールドシステム(PAT.P)
MAGHOLD SYSTEM PAT.P
ボディないに内蔵されたネオジウムマグネットが、
水圧のかかる水中環境でも強力な磁界を発生させてフックを適切なポジションへと誘導し密着。フック(3つのゲイプ)にかかる水流抵抗を軽減化したうえで、マグネット自重自体もボディバランスを生み出すバランサーパーツのひとつとして構成され、スムーズでナチュラルなアクションを生み出します。ボディに密着したフックは、魚のショートバイトレベルで解除。
ルアーがアクションしている際の進行方向に対して水平付近に維持されるため、
フックが踊りブレることがなく、タイムラグのない的確なフックセットを実現します。
The internal neodymium magnet creates a powerful magnetic field that guides and holds the hook in the optimal position, even under high water pressure. While reducing the water resistance of the hook, the magnet itself is also an important balancing component of the body that helps to create smooth and natural actions. The hooks positioned tightly against the body are released with the level of contact of a short bite. Since the hooks are kept in-line with the direction of the lure's movement, they do not cause the lure to waver, allowing for speedy hook ups.