メガバスが提案する
タコのハイブリッドゲーム
Megabass' hybrid octopus fishing solution
TACO-LE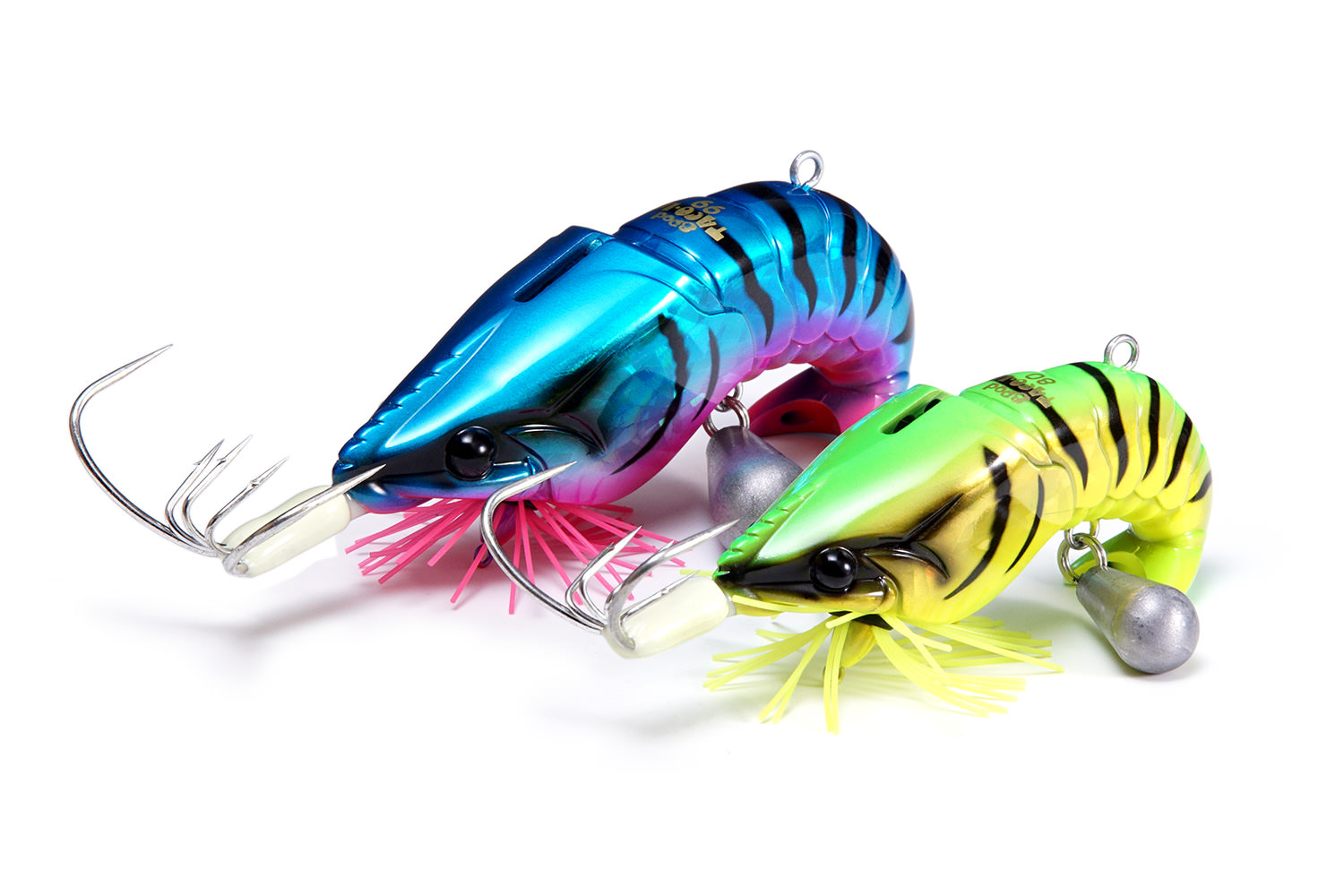 近年、全国的な盛り上がりを見せるタコゲーム専用ルアーとして、メガバスがイチから設計を行い、タコ釣り師の要望を徹底的に盛り込んで完成したTACO-LE(タコーレ)。ヘッド&テールの浮力調整により、ボトムのずる引きの際にも常時フックが底を離れ、フックの根掛かりを防ぎます。また、エビの逃げ腰を模した独自のテールバンパーがオモリ部の岩やスリット等へのスタックを防ぎつつ、ボトムの種類や形状を敏感に感じ取るセンサーとなってアングラーの手元へと伝えます。
フックは、大型のバーブレスフック2本と小型のアウトバーブカンナ4本の組み合わせによるツインホールドフックを搭載。ボトムにへばりつくタコを強制的に引き剥がす強度を確保しつつ、ファイト中やランディング時のバラシを徹底軽減させた、驚異のキャッチ率を誇るオリジナルフックシステムです。
ボディ上部には Φ4.5mm×37mmの発光体ホルダーを設けており、発光体を装着することによりタコへのアピール追加が可能です。さらにボディ上部はフラット形状としており、ルアーだけでは食い渋るような場合は、ヘッドにエサを載せて輪ゴムで巻き止めればフローティングテンヤとして使用することも可能となります。ボディ下部には水流によるナチュラルな誘いを生み出すスカートを標準装備。スカートアームの先と腹部の2か所にはおまかせアイを設置しており、ブレードやティンセルなど、アングラーの好みでタコへのアピールパーツを追加していくことができます。わがままなタコ釣り師の要求を最大限に受けとめる、究極のタコルアーの使い心地をフィールドで体感してください。
※ナス型オモリ標準装備
※画像はプロトタイプです。
In recent years, the excitement surrounding octopus fishing has been increasing nationwide in Japan. The TACO-LE is a specialized octopus lure built from the ground up to meet the demands of octopus anglers. By adjusting the buoyancy of the head and tail, the hook stays elevated even when being dragged along the bottom, avoiding snags. The tail bumper mimics the fleeing posture of a shrimp and prevents the weight from becoming stuck on rocks and in between slits. It also acts as a sensor, transmitting information about the bottom directly back to the angler's hands.
The TACO-LE uses two large barbless hooks and four small barbed hooks that make up its distinct twin hold hook design. This design allows for the user to apply the amount of strength needed to rip an octopus free, while avoiding losing the target once it's hooked. This original hook system boasts a formidable catch rate.
The top of the body features a 4.5x37mm glowstick holder, opening up the possibility of making the lure even more enticing to targets. The top of the body is flat, allowing for the placement of bait secured by a rubber band, making the lure act as a floating tenya, for when you need that extra something to hook your targets. The underside of the body features a skirt that creates enticing, natural movements with water flow. There are two attachment eyes on the belly and skirt arm that allow for anglers to accessories of their choosing, such as blades and tinsel.
* The photograph is a prototype.
SPEC
Length

TACO-LE99 : 99mm
TACO-LE80 : 80mm

Weight

TACO-LE99 : 70g(オモリ含む)
TACO-LE80 : 40g(オモリ含む)

Other.1

TACO-LE99 : ¥830
TACO-LE80 : ¥770

Price

メーカー希望小売価格
770 ~ 830 円 (税別)
TECHNOLOGY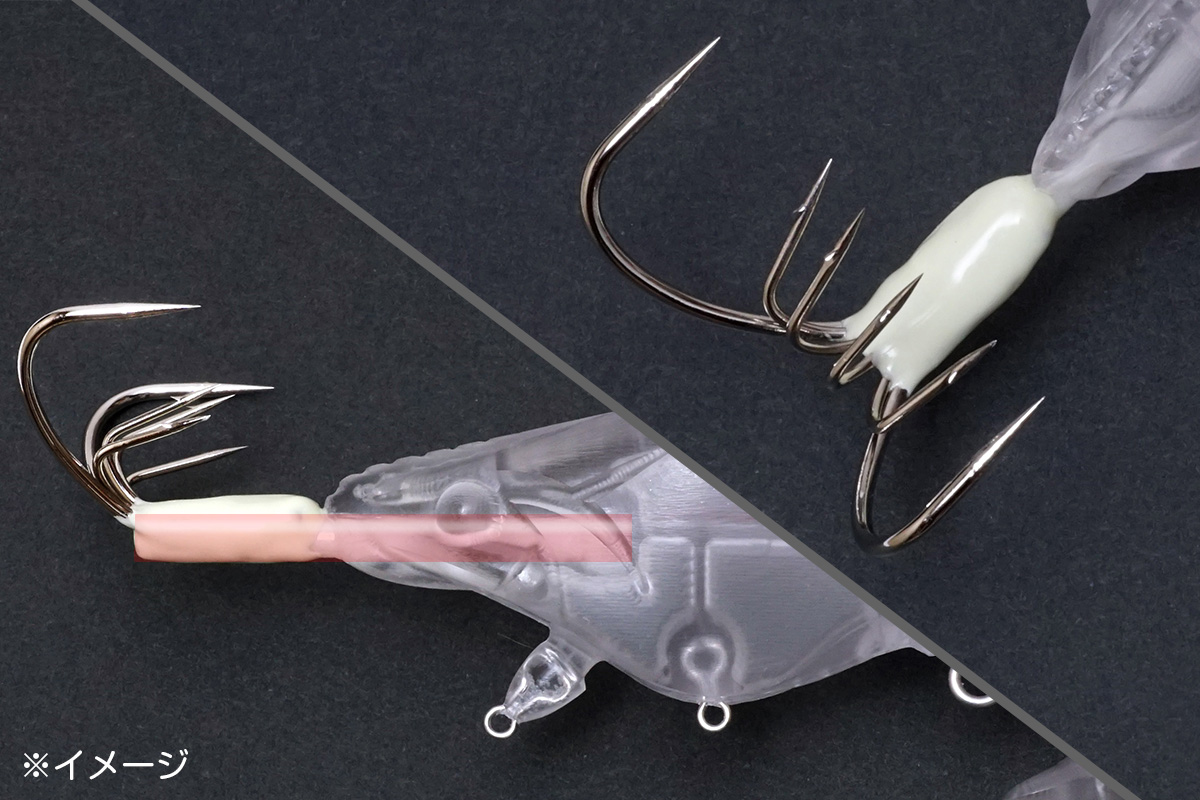 オリジナルフックシステム
Original hook system
大型の太軸のバーブレス2本とアウトバーブカンナ4本の計6本のフックのオリジナルフックシステム搭載。
高負荷が掛かるシュチュエーションが多いタコゲーム用に極太のグラスファイバーシャフトで折れを軽減。
Two large barbless hooks and four small barbed hooks for a total of six hooks that will reliably secure your target!
For the high loads experienced during octopus fishing, the strength of the shaft is of the utmost importance. The super-thick glass fiber shaft reduces the risk of breakage.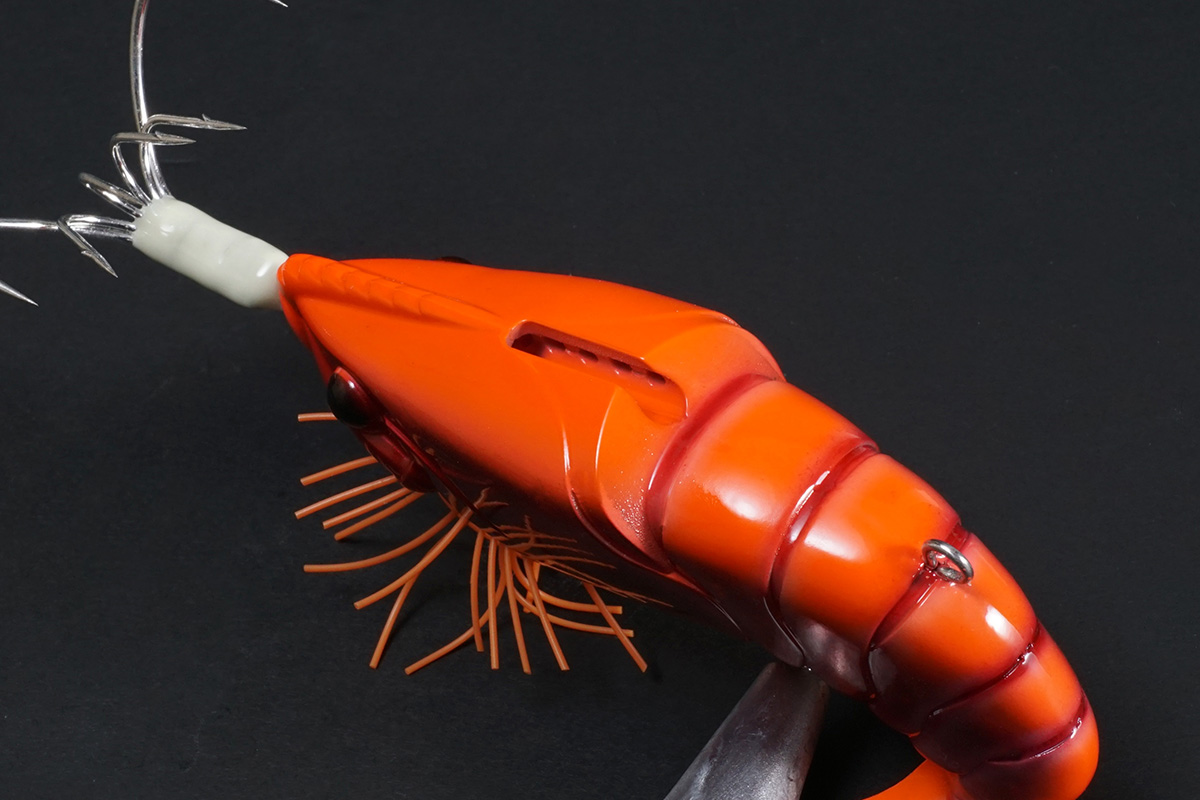 発光体ホルダー
Glowstick holder
ボディ上部にはΦ4.5mm×37mmの発光体が装着できるホルダーを搭載。
アピール力の向上に一役買います!
The top of the body features a 4.5x37mm glow stick holder.
Further increases the lures appeal!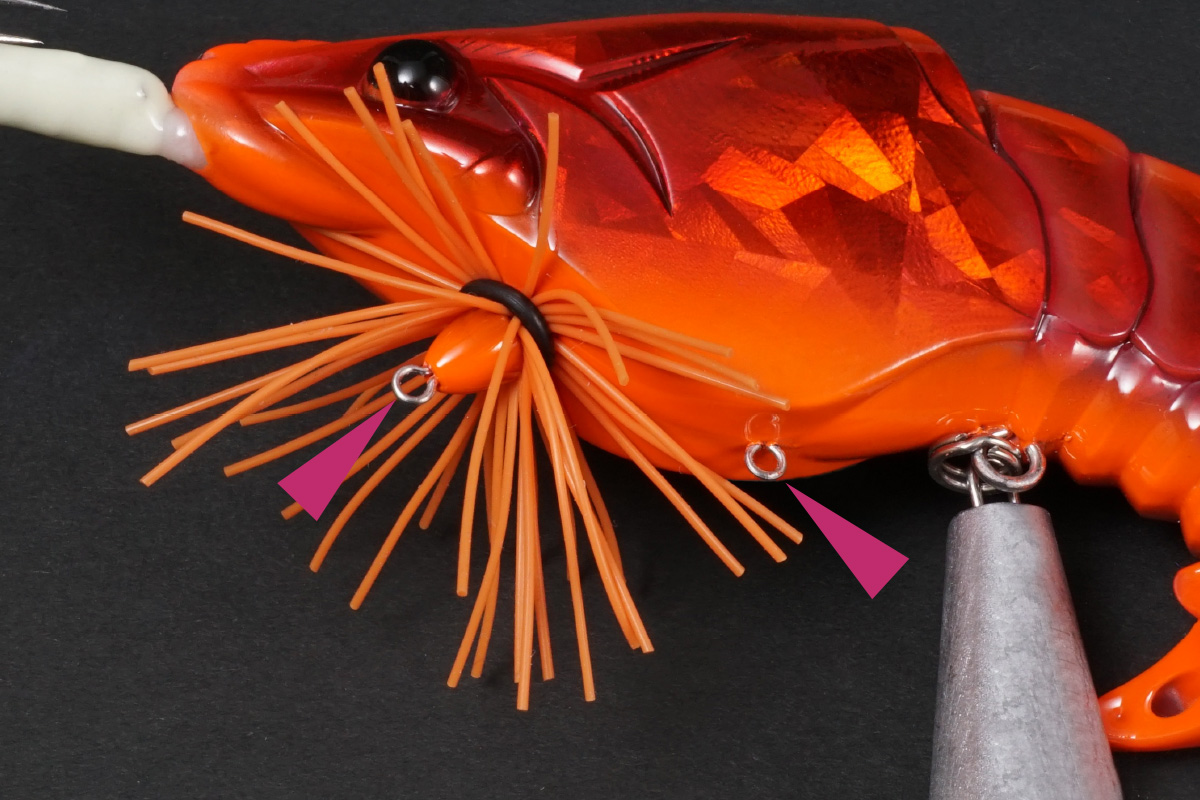 様々なカスタマイズを可能にする「おまかせアイ」
The customization eye that allows for many different customizations
別売りのオプションパーツなど、お好みに合わせて装着するためのアイ「おまかせアイ」。
ラバーを装着してリアルさの向上、ブレードを装着してアピール力向上など組み合わせ無限大!
Using accessories sold separately, adjust the lure to your liking using the customization eye.
Attach Rubber for more realism, or Blade for more flashiness. The possibilities are infinite!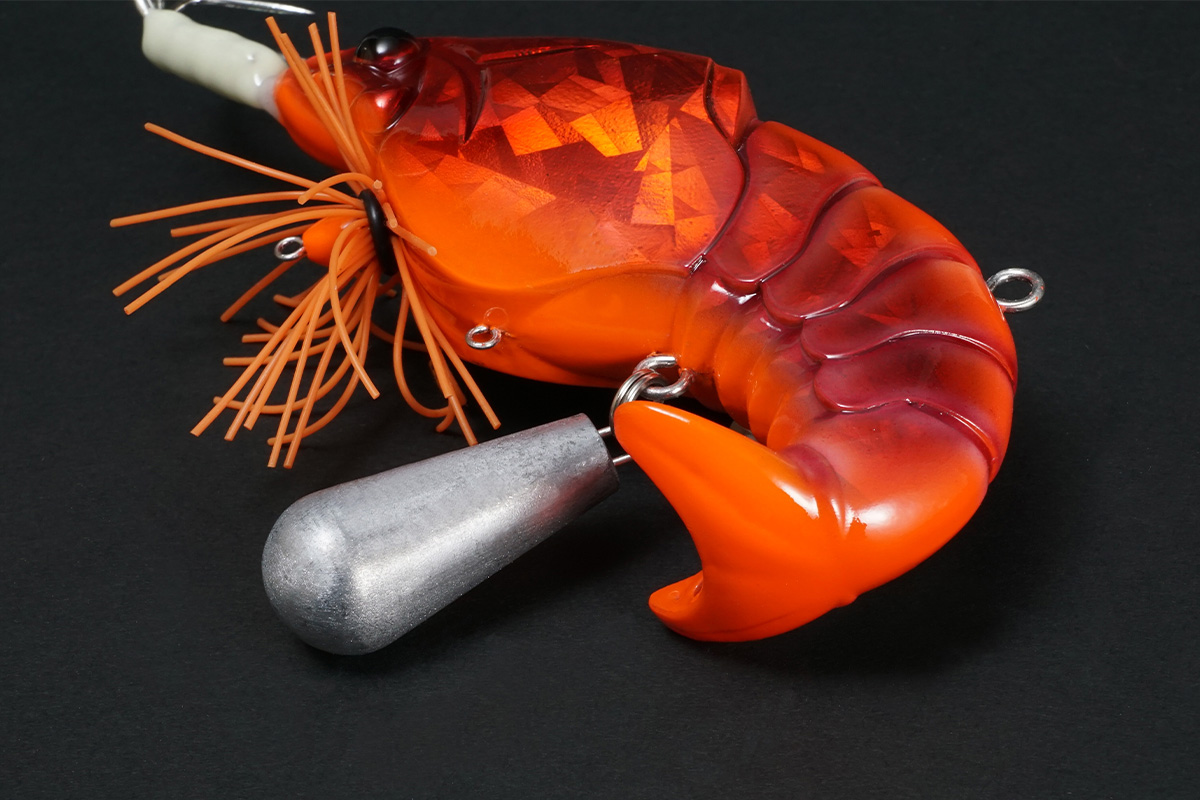 スタッグを防ぐテールバンパー
The tail bumper helps prevent snags
オモリを岩やスリットなどへのスタッグを軽減するバンパー。
※ナス型オモリ(TACO-LE 80:5号、TACO-LE 99:10号)標準装備。状況によりお好みのオモリに付け替えてください。
The bumper helps reduce snags on rocks and slits.
*Eggplant-shaped weight standard equipped (TACO-LE 80: No.5, TACO-LE 99: No.10) Please use your preferred weight according to the situation.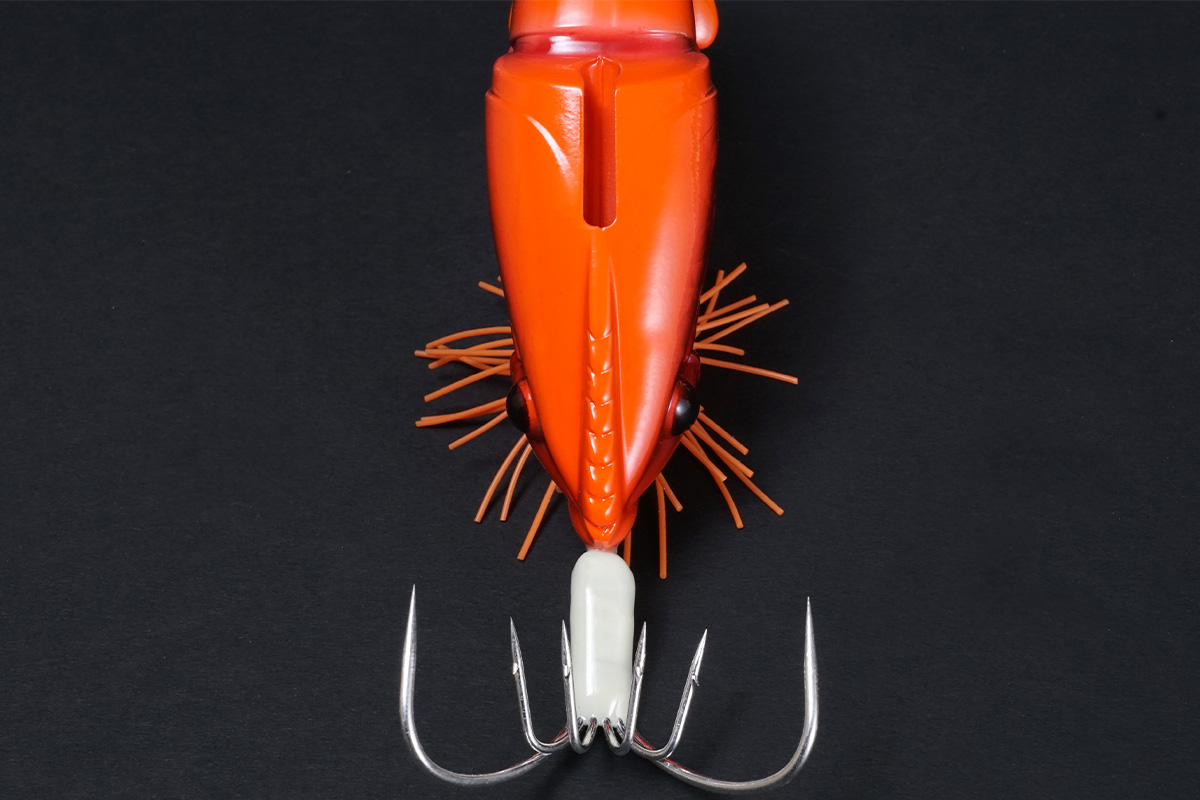 エサが装着可能なフラットなヘッド形状
Flat head design that bait can be attached to.