タコゲームのニューウェポン
TACO-LE SHAKE
TACO-LE シェイク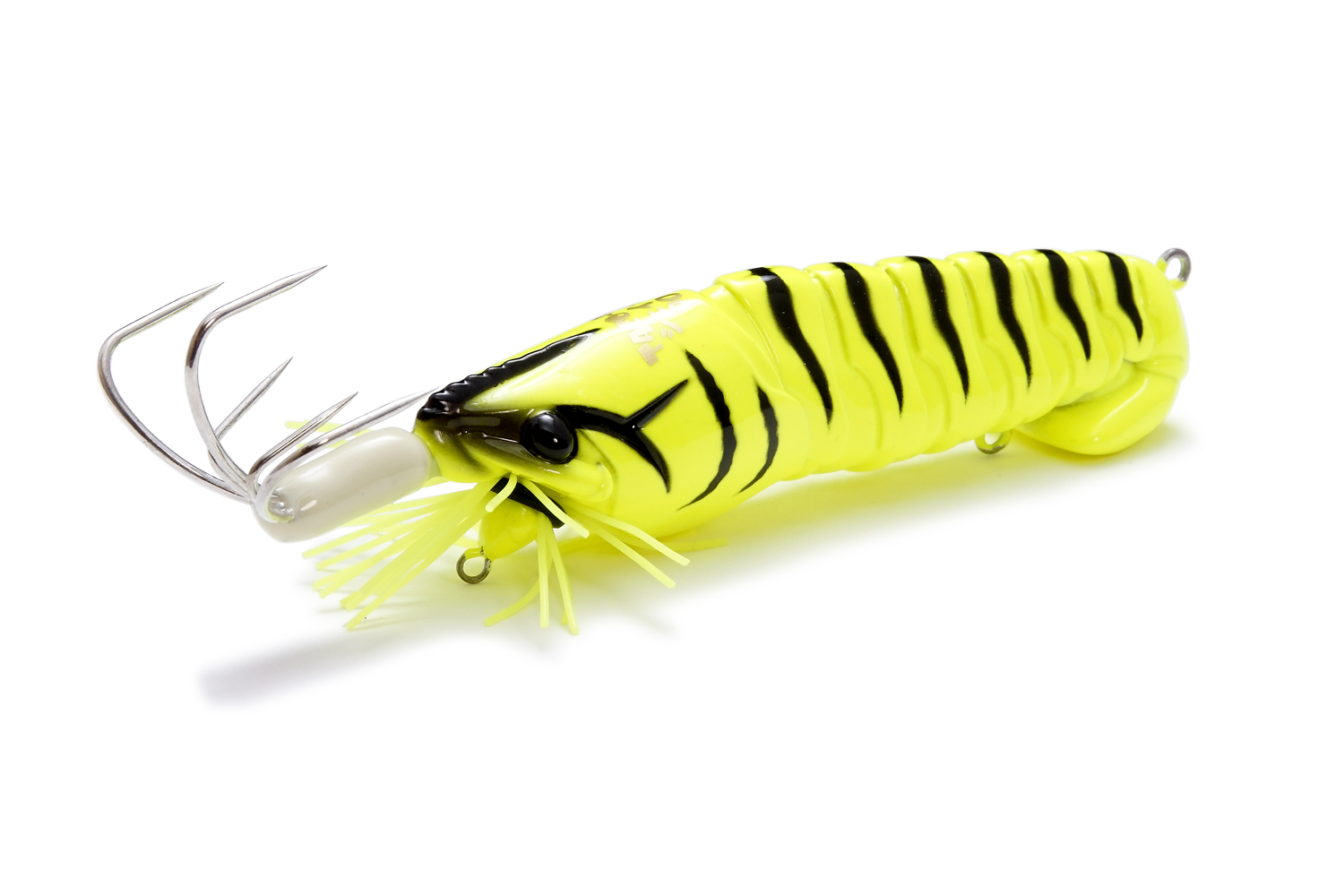 タコーレシェイクは水切りが良く倒れにくいスリムなテール・デザイン。
船タコゲームで多用される2本付け仕掛けに対応し、わずかなロッドワークにレスポンスよく反応。デルタボディから発せられる強烈なフラッシングと、大小のラトルボールから発せられるラトル音によって、遠くにいるタコまで引き寄せます。また、タコーレシェイク専用に本数や線径・強度を再設定した、大型バーブレスフックと小型バーブレスフックの組み合わせによるツインホールドフックは、バラシを徹底軽減し驚異のキャッチ率を誇ります。さらに、オリジナルモデル同様前後に2ヶ所設けられた"おまかせアイ"を使えば、腹部にナス型オモリをつけてキャスティングゲームにも対応。アームの先にブレードやティンセル等のパーツを追加するなど、様々なカスタマイズをお楽しみいただけます。
※画像はプロトタイプです。
The TACO-LE SHAKE has a slim tail design, making it hydrodynamic and giving it the stability to stay upright. It is suited for the double-lure setup commonly used on boats, and responds well to even the most delicate rod work. The intense flashing emitted from the delta body and the rattling emitted from the large rattle ball draws in distant octopuses. The twin-hold hook that combines large barbless hooks with smaller barbless hooks has been redesigned for the TACO-LE SHAKE with revised hook diameters, hook strength, and number of hooks in order to achieve the most reliable hooking rates without letting targets escape. If you use the two customization eyes also present on the original model, you can attach a teardrop-shaped weight and adapt it for casting. You can also add various customizations, such as blades or tinsel to the tip of the arm.
* The photograph is a prototype.
SPEC
Price

メーカー希望小売価格
780 円 (税別)
TECHNOLOGY
SPEC
SPEC
カスタマイズパーツを取り付ける、おまかせアイを2つ装備。
(専用ブレード、ティンセル、ラバー、フラッシャー別売りです。)
強靭な大型バーブレスフック3本と小型のバーブレスフック2本搭載。
Features two customization eyes used to attach custom parts.
(Blades, tinsel, rubbers, flashers sold separately.)
Equipped with 3 large barbless hooks and two small barbless hooks.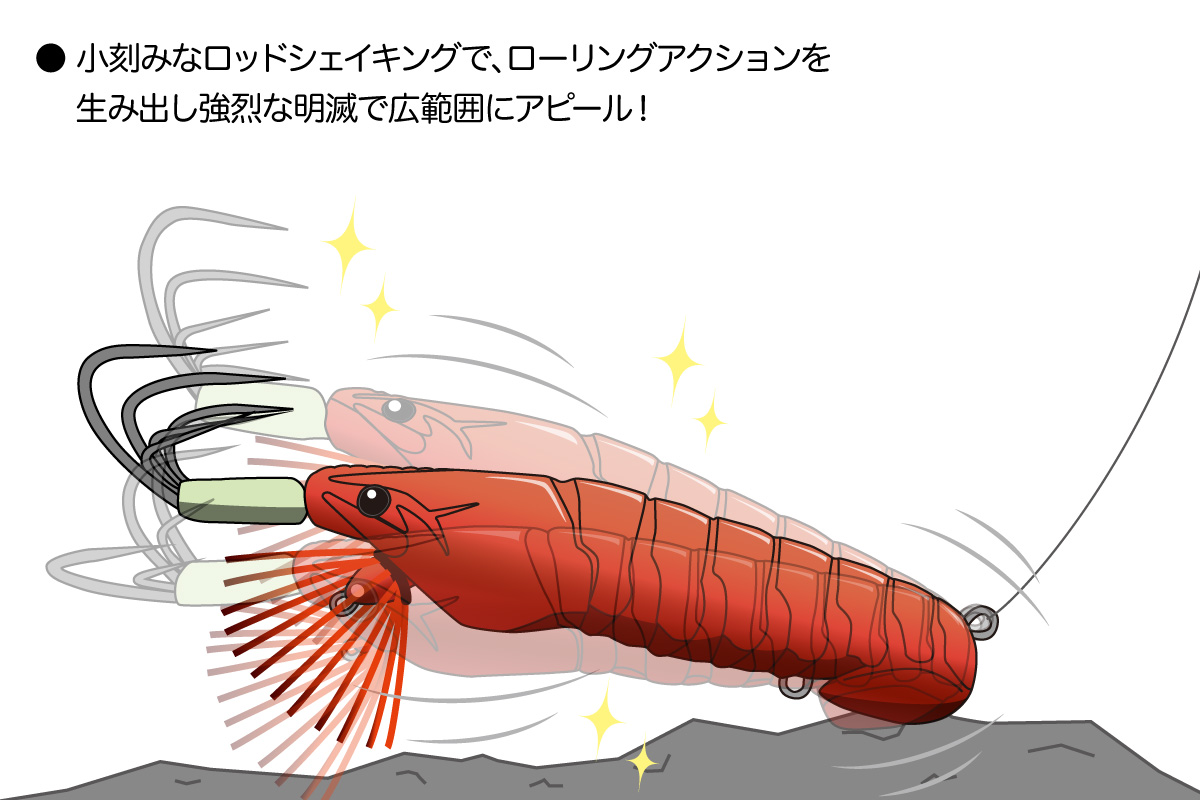 ACTION
ACTION
小刻みなロッドシェイキングで、ローリングアクションを生み出し強烈な明滅で広範囲にアピール!
Gentle rod shaking creates a rolling action that emits intense flashing, drawing in targets from across a wide area.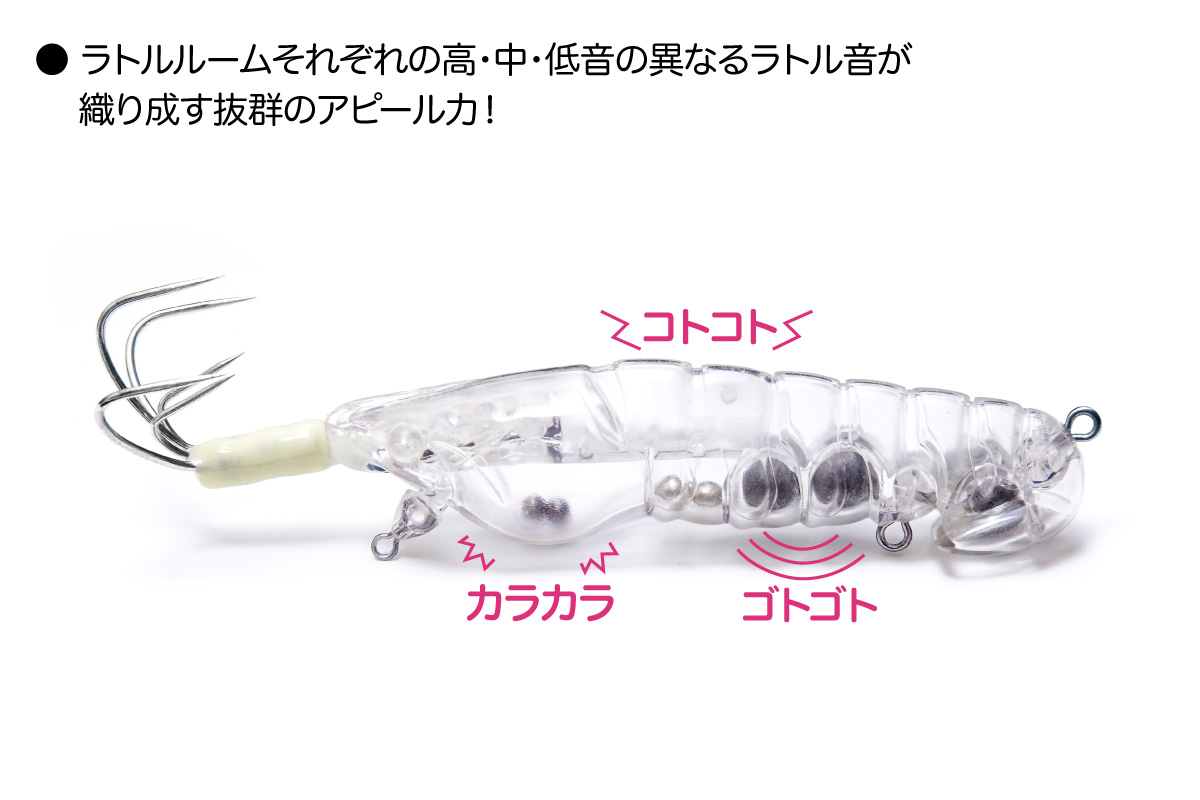 ハイアピールラトルシステム
Sound System
ラトルルームそれぞれの高・中・低音の異なるラトル音が織り成す抜群のアピール力!
Generates high range, mid range, and low range rattle sounds for maximum appeal!