破壊革命。新・ハカイ王が、破壊王を破壊する。
Revolution brings destructive change. This DESTROYER is king of them all.
Brand New DESTROYER

KIRISAME
F1st-66XS
5Dグラファイトシステムで製作する「キリサメ」シリーズのNEWベーシックが、F1st-66XS「キリサメ」です。ライトなフィネスリグをオールマイティに使いこなし、開発陣のテスティング評価では、フィネスロッドとしてあらゆる要素についてバランスがとれたパフォーマンスチャートを記録。抜群の使い勝手の良さを誇ります。追従性に優れたエクストラファストティップとベリーセクション間におけるベンドシフトの際の段付き感を失くし、歴代の霧雨モデルを遥かに上回る圧倒的なハイトルクを生み出すバットセクションまで、スムーズに荷重を移動させることにこだわりました。結果、先調子ロッドとしてはあり得ない「投げやすさ」、「スムーズなスウィープフッキング」、「強靭なリフティングパワー」を実現。フィネススピンとして、新時代のグローバルベーシックを目指しました。
※画像はプロトタイプです。
The F1st-66XS KIRISAME is the new standard KIRISAME of the 5-D Graphite era. With a STINGER TIP and upgraded blank, KIRISAME is a master of light finesse rigs, scoring highly across all finesse benchmarks throughout its development. The extra fast tip displays excellent "give," absorbing light bites and imparting tantalizing action alike. Improved cut-patterning and layering process of the 5-D GRAPHITE SYSTEM ensures an impossibly smooth taper transition into the mid-section, where the blank's tenacious torque enables long casts, strong lifting power, and decisive sweeping hooksets. The KIRISAME is the new global standard of finesse utility.
※The photograph is a prototype.
SPEC
Price

メーカー希望小売価格
36,500 円 (税別)
TECHNOLOGY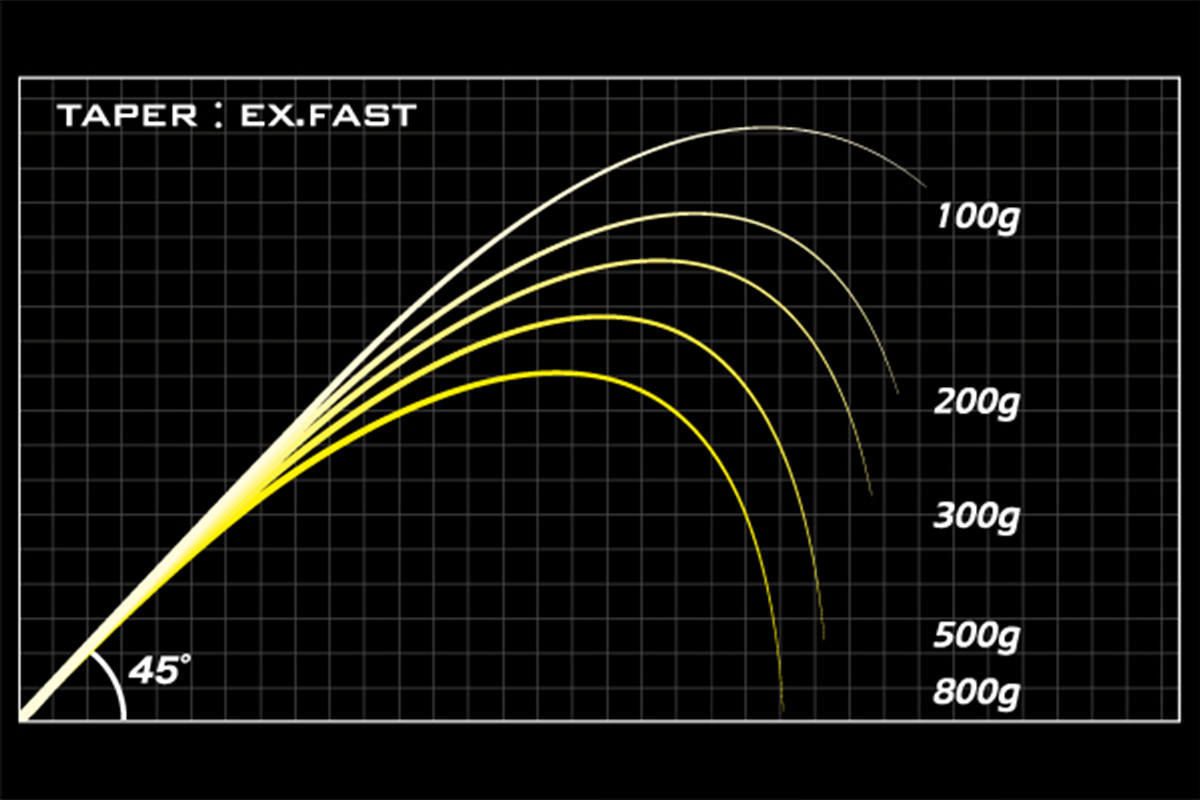 BENDING CURVE
BENDING CURVE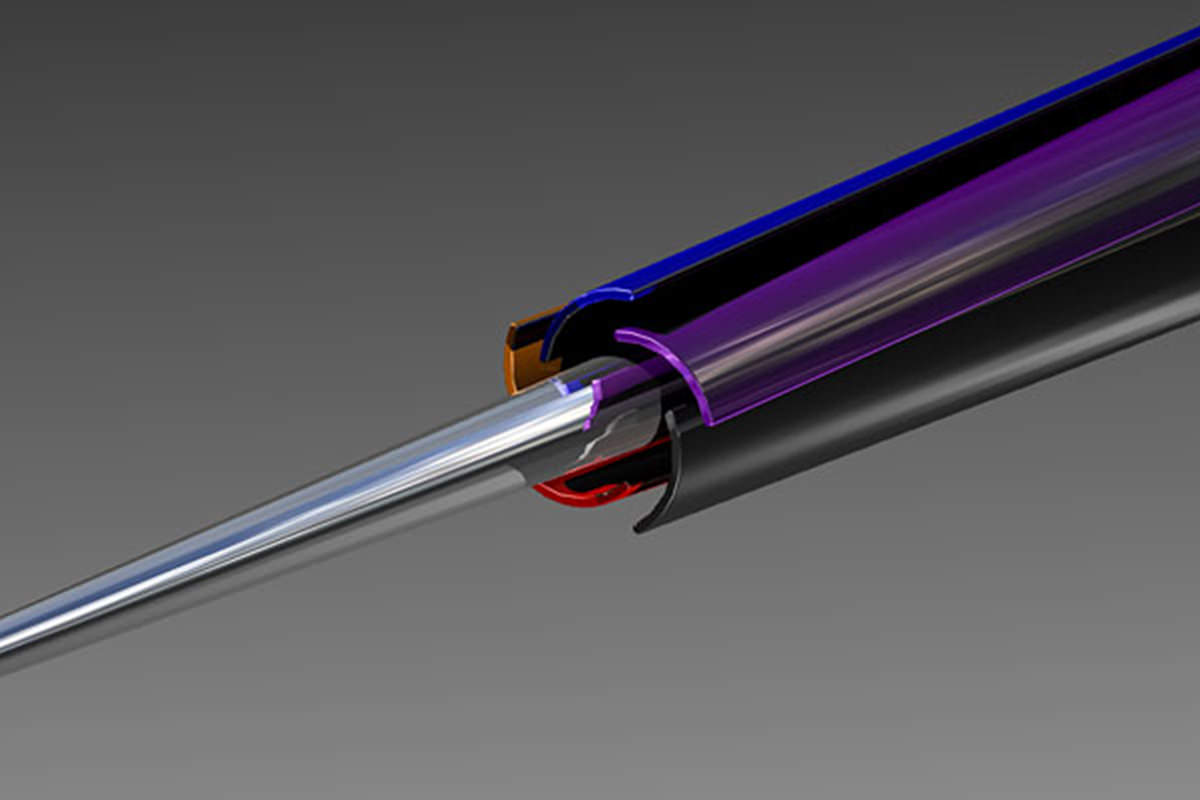 5-D GRAPHITE SYSTEM
5-D GRAPHITE SYSTEM
プロジェクトLAIHAの実験過程で新たに確立したシャフト構造テクノロジーが、5Dグラファイトシステムです。その構造名が示す通り、5つのエレメント(タテ方向、ヨコ方向、斜角方向、伸度、弾性)にそれぞれ特化させて独自設計された5つのプリプレグ・カッティングパーツを、あたかもパズルワークのように組み合わせ、1シャフトへとプレス融合。これまでのレイヤードシステムがもたらしたプリプレグのオーバーラップ(重ね巻きによる重複)を低減化させることに成功しました。低レジン製法に加え、過剰なグラファイトレイヤーが無いため、最大のロッドパフォーマンスを最小のマテリアル使用量で実現。同質のロッドパフォーマンスを最軽量のシャフトが発揮するNEWデストロイヤーが、新次元のバスロッドパフォーマンスを示します。
The blank technology newly developed through the experimental LAIHA project is the 5-D GRAPHITE SYSTEM. As the name implies, this blank construction methodology leverages five prepreg patterns to best address five elements—vertical axis, horizontal axis, oblique axis, elongation and elasticity—and combine each in a painstaking puzzle matrix to maximize the application-specific performance of every blank. The cohesiveness of each completed puzzle enables a fusion of disparate parts, reducing the unnecessary prepreg overlap of traditional patterning and layering. This not only reduces material waste; it allows for a more precisely smooth taper and seamless load transition for truly intuitive performance.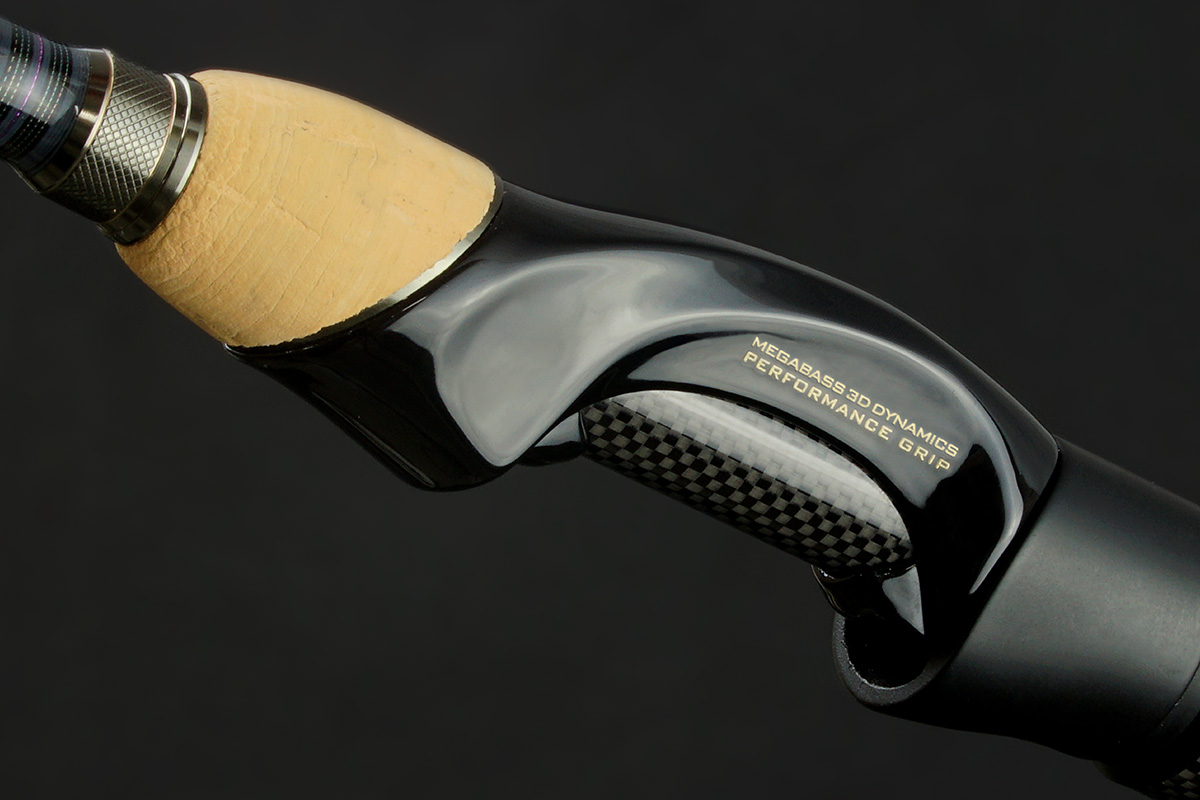 MBCS (MEGABASS BRIDGE CONSTRUCTION SEAT)(D.PAT)
MBCS (MEGABASS BRIDGE CONSTRUCTION SEAT)(D.PAT)
日本最古のアーチ型石橋として知られる、長崎県中島川に架かる「眼鏡橋」の屈強な構造からインスピレーションを得た伊東由樹がメガバスファクトリーチームと共に最新のストロングスピニングシートを生み出しました。さらに進展させた独自のC型アーチ構造を持つブリッジコンストラクションでデザインされたMBCSは、ファストバックするブリッジのリブがパーミングハンドに深くフィット。シャフトの振り抜き方向を正確に保持する精度の高いプレシージョンアングルによるキャスタビリティを発揮します。多面Rの融合で構成された独自のカッティングデザインが、最小の体積で最大の強度を実現し、操作時にはブランクスシャフトとダイレクトに指がタッチ。エリートシリーズで戦うプロスタッフ達のフィネスフィッシングで要求される、リニアな「直感性能」を発揮します。超軽量フィネスリグのボトムタッチなど、ディープコンタクトにおける感度の解像度を高めています。
Drawing strength from the robust structure of the Megane-bashi in Nagasaki, known as Japan's oldest arched stone bridge, Yuki Ito channeled time-tested design into the development of the MBCS spinning reel seat. Featuring a curved shape that is a marriage of structural integrity and human form, MBCS rises from the blank to fit perfectly into the palm. This ergonomic fit not only increases grip and leverage for rod work and fighting fish, it transmits feedback by maximizing contact points between angler and equipment. Further, the palming grip encouraged by the MBCS is an anchor against torsional force, enabling greater control. 
The exquisite contours of the MBCS are reinforced by an internal structure that ensures maximum strength and rigidity with minimal weight, allowing the full benefits of the reel seat's arched shape to be realized without excess material. Exposed blank section, palming contact and next-level control deliver the kind of intuitive feel required by finesse fishing in the toughest tournaments, carrying angling awareness into the depths.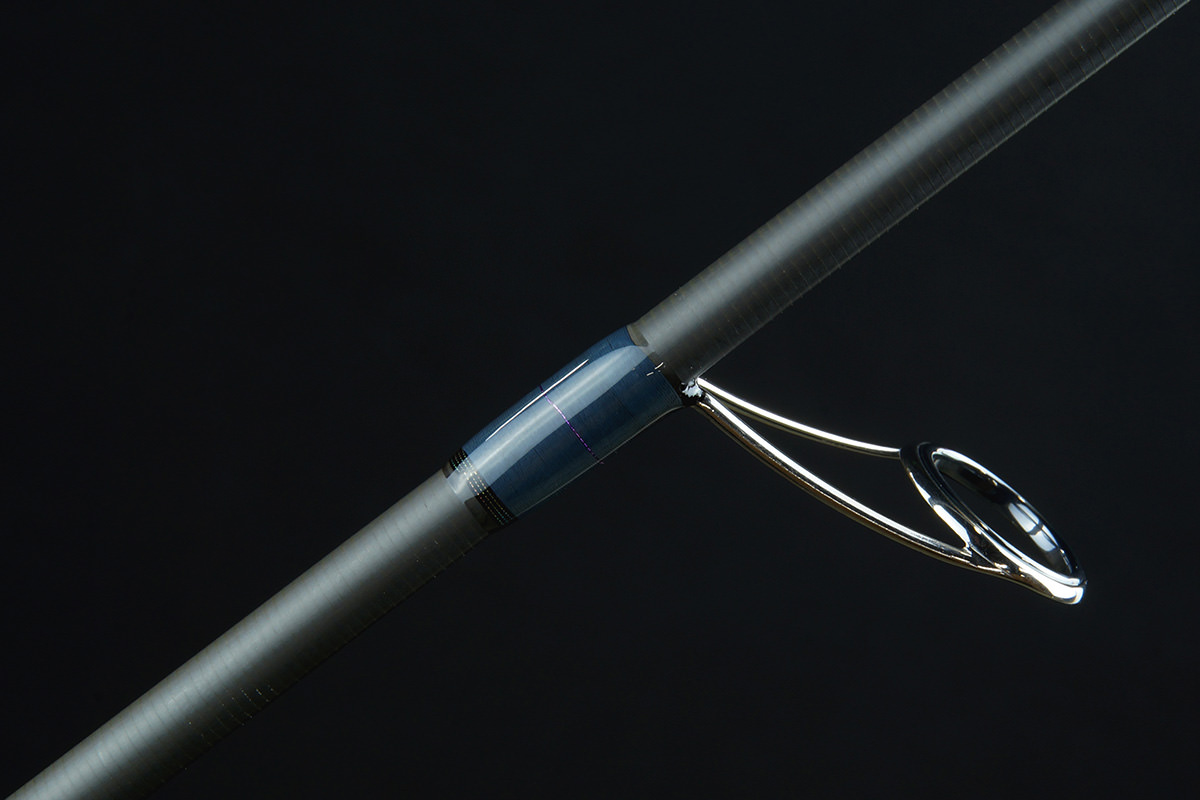 デストロイヤー オリジナル・タイトスレッディング
Fuji チタンフレーム・SiC-Sガイド DESTROYER ORIGINAL TIGHT THREADING
Fuji TITANIUM FRAME SiC-S GUIDE
ブランニュー・デストロイヤーでは、ガイドフットの長さを最小限の長さで最大限プロテクトするスレッド(糸)使用量について、極限まで低減化。ガイドまわりのオーバーラップコートによるシャフト自重の増加をとことん抑え、シャフトのたわみが発生させる揺れ戻し、スプリングバックの収束性を早め、スムーズなロッドベンディングをもたらすこだわりのマイスターハンドラッピングです。特殊繊維を採用したNEWスレッドは、通常のスレッドよりも線径が細く、ガイドとブランクスの密着性を高め、ブランクスの曲がりによる密着強度を向上化させています。
To further reduce unnecessary weight and improve performance, the Destroyer® utilizes a smaller-diameter thread made of special fiber, which allows for tighter, more effective guide wraps. This not only minimizes the wrap area and associated epoxy to reduce weight—it minimizes any negative impact that hard epoxy guide wraps can have on the natural bend-curve of the blank. The result is a smoother, more intuitive blank with minimalistic threading for maximum strength and performance.