破壊革命。新・ハカイ王が、破壊王を破壊する。
Revolution brings destructive change. This DESTROYER is king of them all.
Brand New DESTROYER

MAD BULL
F5-70X
ディープクランクやバイブレーション、中型スイムベイトをこれまでのヘヴィアクションロングロッドの基準を変えてしまう圧倒的な軽量シャフトで快適にこなす「マッドブル」のハンドリングは、快感です。初代デストロイヤーと比較すれば、当時のF4-63Xよりも軽快なロッドで、さらに2スペック上のサイズのルアーを使用する釣りを実現しているからです。驚異のパワーウエイトレシオを実現させた5Dグラファイトシステムは、これまでの重量級ファストムービングテーパーよりも、さらに胴に乗る、テンションを高めた「レギュラーベンディングテーパー」を実現。ラフアタックが多発する状況下のスイムジグやスピナーベイトゲーム、マットカバーのポケットで繊細に操るフロッグゲームまで、グローバルなコンタクトを快適に展開します。
※画像はプロトタイプです。
The F5-70X MAD BULL comfortably corrals the hard-charging action of deep crankbaits, vibrations and medium-sized swimbaits, and subdues recklessly fighting fish with the surprising strength of its 5-D blank. Regular taper design, supercharged with the 5-D's high-tension construction, provides a wellspring of readily available power, enabling confident angling even in mat cover pockets requiring subtle precision.
※The photograph is a prototype.
SPEC
Price

メーカー希望小売価格
39,000 円 (税別)
TECHNOLOGY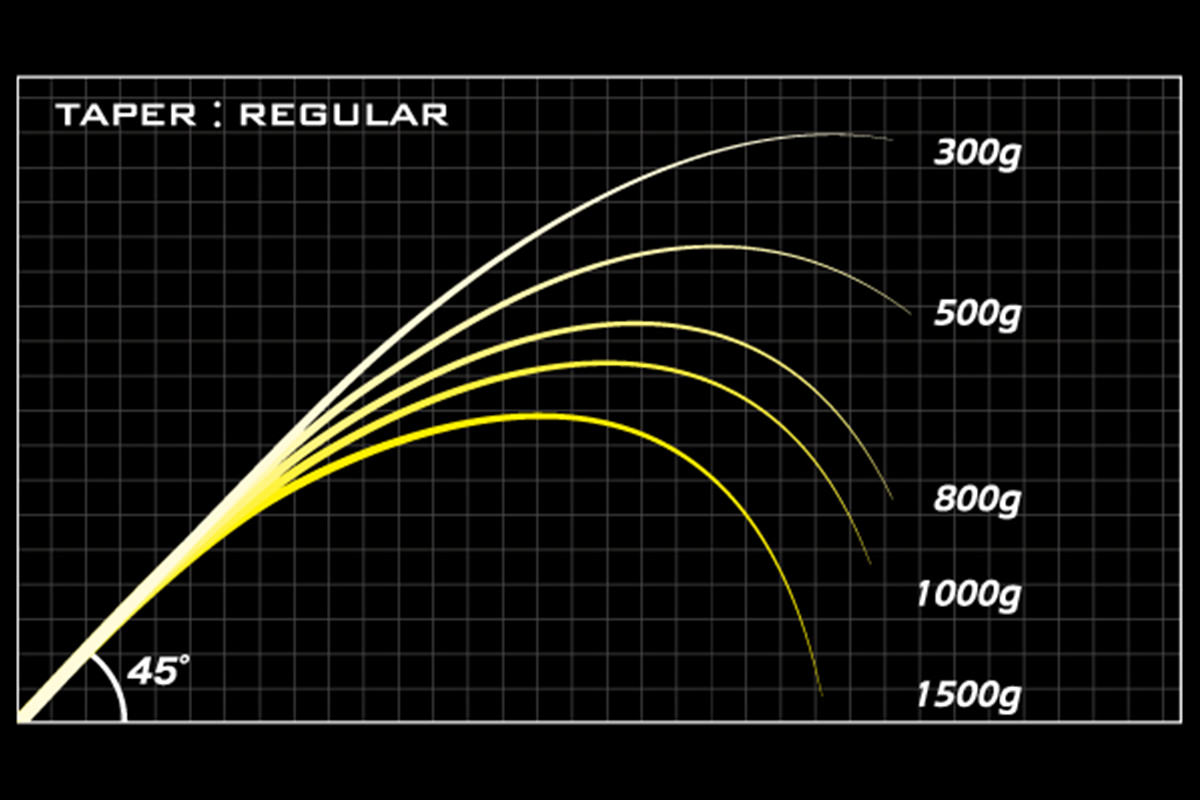 BENDING CURVE
BENDING CURVE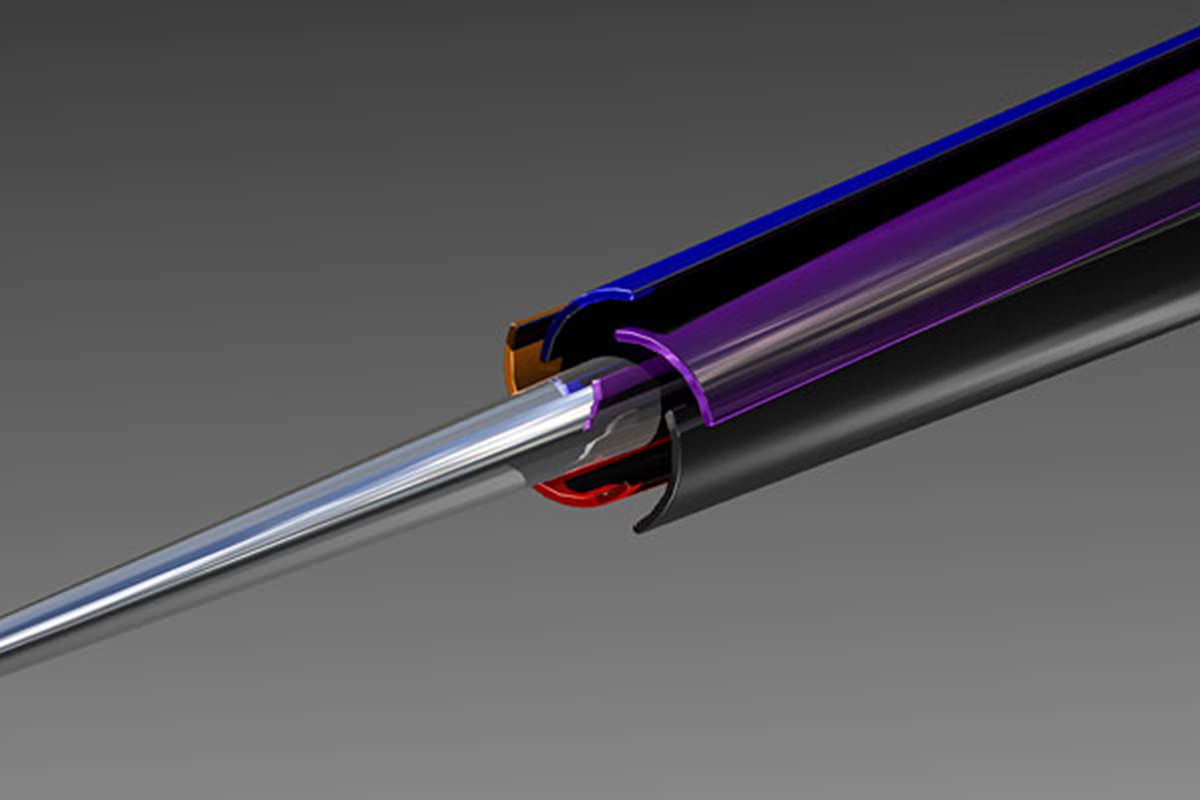 5-D GRAPHITE SYSTEM
5-D GRAPHITE SYSTEM
プロジェクトLAIHAの実験過程で新たに確立したシャフト構造テクノロジーが、5Dグラファイトシステムです。その構造名が示す通り、5つのエレメント(タテ方向、ヨコ方向、斜角方向、伸度、弾性)にそれぞれ特化させて独自設計された5つのプリプレグ・カッティングパーツを、あたかもパズルワークのように組み合わせ、1シャフトへとプレス融合。これまでのレイヤードシステムがもたらしたプリプレグのオーバーラップ(重ね巻きによる重複)を低減化させることに成功しました。低レジン製法に加え、過剰なグラファイトレイヤーが無いため、最大のロッドパフォーマンスを最小のマテリアル使用量で実現。同質のロッドパフォーマンスを最軽量のシャフトが発揮するNEWデストロイヤーが、新次元のバスロッドパフォーマンスを示します。
The blank technology newly developed through the experimental LAIHA project is the 5-D GRAPHITE SYSTEM. As the name implies, this blank construction methodology leverages five prepreg patterns to best address five elements—vertical axis, horizontal axis, oblique axis, elongation and elasticity—and combine each in a painstaking puzzle matrix to maximize the application-specific performance of every blank. The cohesiveness of each completed puzzle enables a fusion of disparate parts, reducing the unnecessary prepreg overlap of traditional patterning and layering. This not only reduces material waste; it allows for a more precisely smooth taper and seamless load transition for truly intuitive performance.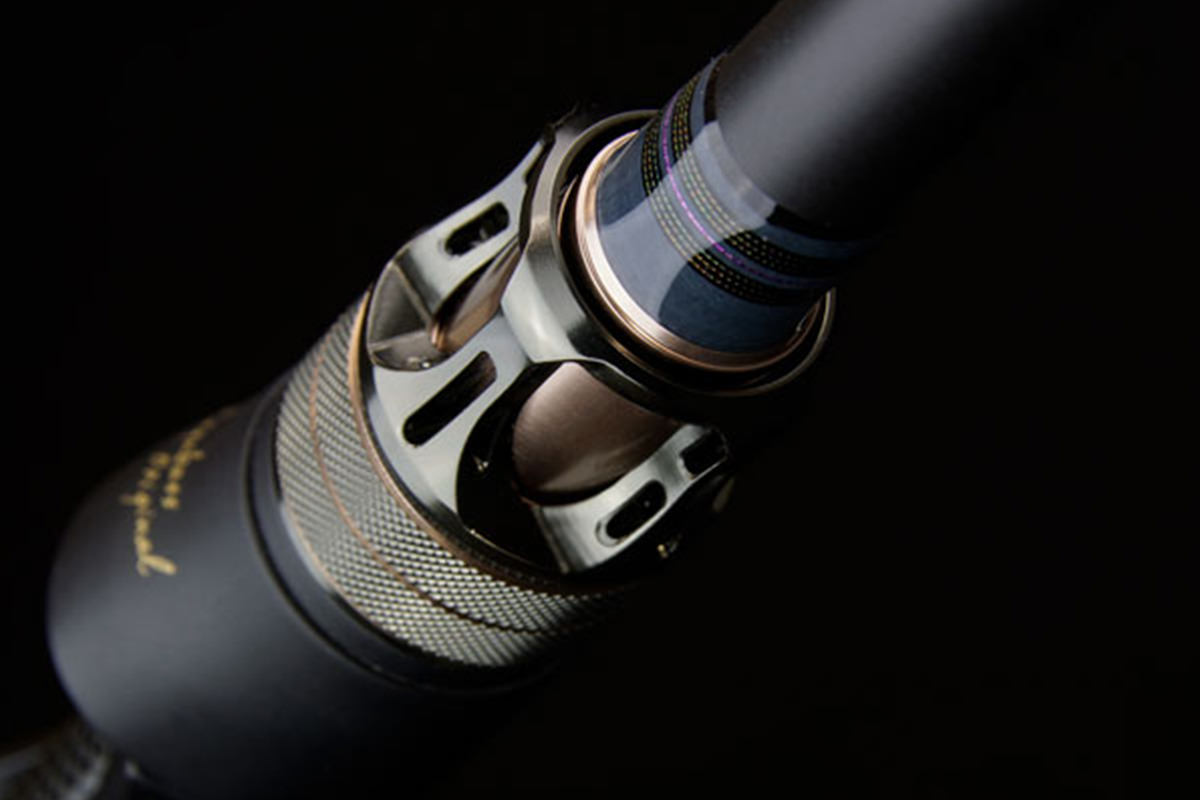 デストロイヤーヘッドロッキングシステムⅢ (PAT.)
DESTROYER HEAD LOCKING SYSTEM 3 (PAT.)
プロジェクトLAIHAによる無垢のアルミブロックから削り出すヘッドロッキング構造をベースに、プロダクションロッドパーツとして最適化してデザイン。リール装着時のブランクスバットの支軸剛性アップと振動の共振性を高めるため、歴代デストロイヤーのうち最も軽量化された構造です。支軸接点をこれまでよりも、よりエンド方向へと移動させ、一層のダイレクタビリティを追求しています。
Based on the machined-aluminum head-locking structure developed in the LAIHA concept project, the new Destroyer® HEAD LOCKING SYSTEM 3 is optimized for production status. The structure is the lightest of all Destroyer® series to-date, minimizing any potential interference in blank resonance and vibration transmission through the reel, in addition to highlighting the purpose-built elegance of each rod model.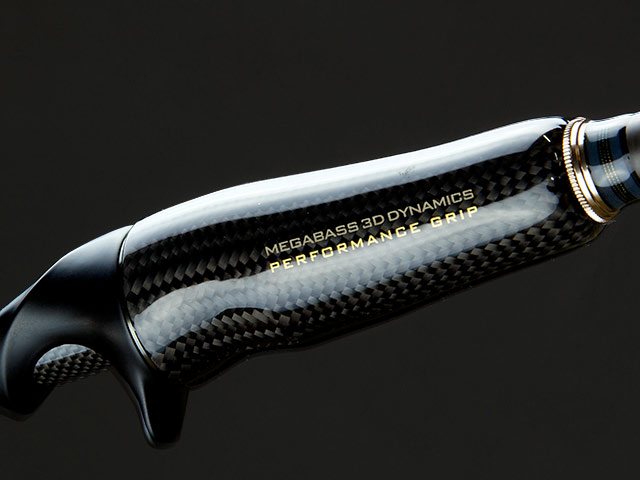 MEGABASS 3D DYNAMICS PERFORMANCE GRIP
MEGABASS 3D DYNAMICS PERFORMANCE GRIP
世界で最も歴史ある過酷なバストーナメント、米国B.A.S.Sの数千時間を共に戦うエルゴノミクスから生まれた、「メガバス3Dダイナミクス・パフォーマンスグリップ」。
勝つための釣りが生み出したカタチは、過酷なトーナメントの戦場とウエイイン会場に持ち込んだ数々のハイスコアフィッシュによって現出されたカタチ。メガバスならではの美しいカーボンファイバーの造形は、使い込むほどに手に馴染み、「獲る」ためのグリッピングパフォーマンスと直感性能をもたらすリニアな操作性を発揮します。
The "Megabass 3D Dynamics Performance Grip" was born from the ergonomics of competing together for thousands of hours in the world's oldest and toughest bass fishing circuit, B.A.S.S.
The "fishing for victory" has given birth to a shape that has emerged from the harsh tournament battlefields and the many high-score fish that have been brought into the weigh-in venue.
The shape of Megabass' unique and beautiful carbon-fiber makes you feel more and more comfortable in your hand as you keep use it, and it also provides high gripping performance and the linear operability that brings intuitive performance for your fishing.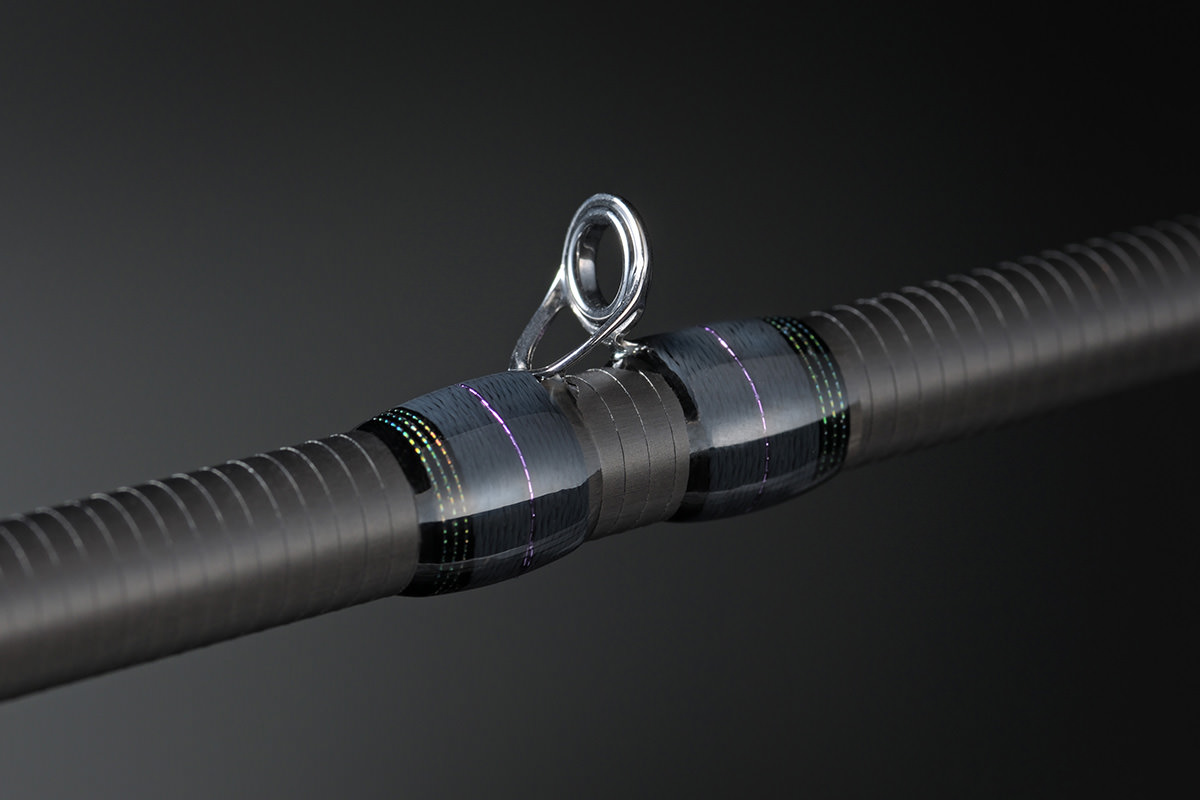 デストロイヤー オリジナル・タイトスレッディング
Fuji チタンフレーム・SiC-Sガイド DESTROYER ORIGINAL TIGHT THREADING
Fuji TITANIUM FRAME SiC-S GUIDE
ブランニュー・デストロイヤーでは、ガイドフットの長さを最小限の長さで最大限プロテクトするスレッド(糸)使用量について、極限まで低減化。ガイドまわりのオーバーラップコートによるシャフト自重の増加をとことん抑え、シャフトのたわみが発生させる揺れ戻し、スプリングバックの収束性を早め、スムーズなロッドベンディングをもたらすこだわりのマイスターハンドラッピングです。特殊繊維を採用したNEWスレッドは、通常のスレッドよりも線径が細く、ガイドとブランクスの密着性を高め、ブランクスの曲がりによる密着強度を向上化させています。
To further reduce unnecessary weight and improve performance, the Destroyer® utilizes a smaller-diameter thread made of special fiber, which allows for tighter, more effective guide wraps. This not only minimizes the wrap area and associated epoxy to reduce weight—it minimizes any negative impact that hard epoxy guide wraps can have on the natural bend-curve of the blank. The result is a smoother, more intuitive blank with minimalistic threading for maximum strength and performance.