UOZE SWIMMER
Megabass / FRESHWATER / JIG HEAD 

Price

メーカー希望小売価格(税別)1,020 ~ 1,170

円

Main Specification
Type
3/16oz. (Hook : #3/0)
1/4oz. (Hook : #4/0)
3/8oz. (Hook : #4/0)
1/2oz. (Hook : #4/0)
5/8oz. (Hook : #5/0)
3/4oz. (Hook : #5/0)
Other
3/16oz. : ¥1,020
1/4oz. : ¥1,050
3/8oz. : ¥1,080
1/2oz. : ¥1,110
5/8oz. : ¥1,140
3/4oz. : ¥1,170
ウオズスイマーは、メガバスが提案する必釣のニューコンセプトベイト。
リアルヘッドは、ノーズ形状を極限まで薄く細く絞り込み、岩盤やウィード、オダなどのすり抜け性能を徹底的に向上化。また、エラ周りを意図的に張り出させることによって適度な巻き感を生み、低重心形状と相まって安定したレンジキープ性能を実現。接合された「形状記憶チタンワイヤー」に装着されたタイトブレードは、ウィードジャングルなど視界の効かない環境下でフラッシングと波動による広範囲へのアピールを発揮。
フレキシブルな形状記憶チタンワイヤーは、バイト時にフッキングを妨げず、本体よりも先にブレードがボトムやストラクチャーと接触しそれを感知することで、障害物に突っ込み過ぎないデリケートなトレーシング&リトリーブを可能とします。
フックはロングシャンク・ワイドゲイブの特性フックを搭載。モンスターのアゴを的確に貫き、確実にランディングに持ち込むスキの無い設計です。
※画像はプロトです。
The UOZE SWIMMER is a new surefire concept bait proposed by Megabass. The realistic head features a nose section narrowed down to the limit, allowing it excel at slipping through obstacles such as rocks, branches, and weeds. The protrusions around the gills allow it to generate an optimal amount of water stirring, which combined with the low center of gravity design provide for stable range keeping ability. the tight blade attached to the titanium shape memory wire make wide ranged appeals through flashing and vibrations possible in areas of low visibility such as weed jungles. The flexible titanium shape memory wire does not interfere with hooking bites, and by allowing the blade to make contact with the bottom and structures before the body of the lure, the lure is prevented from diving too deep into obstacles, making delicate tracing and retrieves possible. The UOZE SWIMMER is equipped with a custom long shank wide gap hook. This foolproof design pierces through the jaws of monsters with accuracy, reliably landing them.
* The photograph is a prototype.
Technology
Detail 1
Detail 1
※チタンワイヤーに関するご使用上の注意
チタンワイヤーの特性上、低温環境下では弾性が低下します。0℃以下の環境下では弾性が著しく低下し本来の性能が発揮できません。予めご了承下さい。チタンワイヤーにクセがついた場合は、曲がっている側と逆方向にゆっくりと曲げて修正して下さい。クセの修正を繰り返すと金属疲労により折れる恐れがありますのでご注意下さい。
* Caution related to use of the titanium wire
Due to the characteristics of titanium wire, in low temperature environments its elasticity will decrease. In sub-zero degree Celsius (under 32 degrees Fahrenheit) environments its elasticity will noticeably decrease, preventing it from exhibiting its full performance. Please be aware of this. If the titanium wire becomes bent, slowly bend it in the opposite direction to correct the issue. If this type of correction is repeated there is a danger of the wire breaking due to metal fatigue, so please be careful.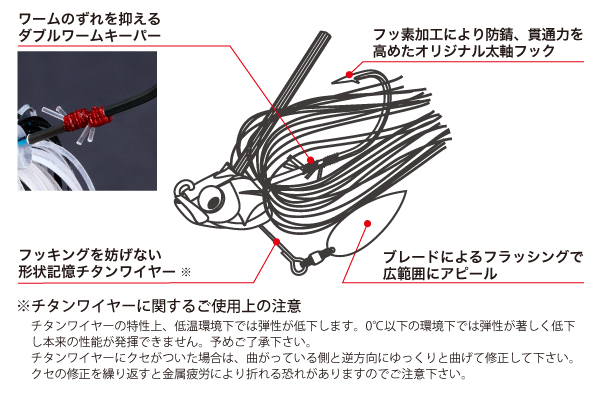 Detail 2
Detail 2
The double worm keeper prevents worm dislodgement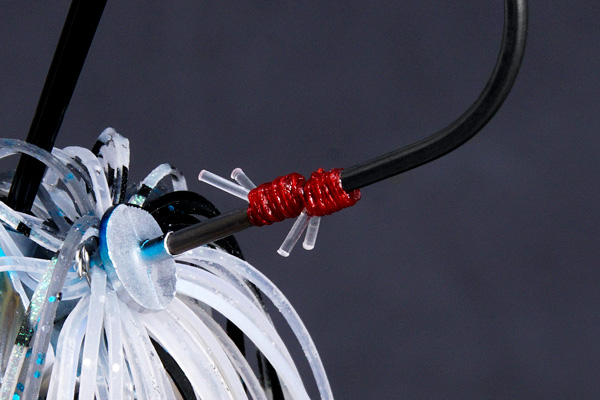 SPEC
SPEC