トライザが、ゲームを変えた。
The TRIZA has changed the game.
TRIZA

Dragoon
F7-72XTZ
トライザ「ドラグーン」は、「エクスクルーシブ・ティップ」採用モデル。カスタマイジング・パターンとしては、①「レギュラーテーパー」で使用するエクスクルーシブ・ティップ、②「ファストテーパー」で使用できるティップがもたらす2つの釣りを広域に展開できます。①の「レギュラーテーパー化」するカスタマイズでは、ビッグベイト、スイムベイトで快適な釣りをこなす、メガバス初のマルチピースによるストロングゲームを展開。マルチピースロッドの常識を覆す、ハイトルクゲームで活躍。②「ファストテーパー化」するティップを装着すれば、ヘヴィカバーを撃ち抜く、ジグ&テキサスロッドにスイッチ。セカンドベリーセクションへのパワー伝達を連動させた独自設計のファストティップが、ジグ&ワームの釣りに必要なテンションを生み出し、確実な感度の伝達性をもたらす「センシティビティ」を発揮。一本のベースモデルで、異種のゲームに対応する、新感覚のトランスフォーメーションを可能としています。
※画像はプロトタイプです。
The TRIZA DRAGOON is equipped with the "Exclusive Tip." The customization patterns include the ① "Regular Taper" tip and the ② "Fast Taper" tip which allow for a wide array of fishing methods. The ① "Regular Taper" tip is perfect for powerful fishing using big baits and swim baits. It realizes high torque games that far surpass what past multi-piece rods were capable of. The ② "Fast Taper" tip turns the DRAGOON into a jig and Texas rod that's expertly suited for striking at heavy cover. The unique design of the tip effectively transmits power to the second belly section, generating the tension needed for jig and worm fishing, as well as achieving excellent sensitivity and vibration transmission characteristics. With one base rod, the DRAGOON transforms to excel at many different applications.
* The photograph is a prototype.
SPEC
Other.1

Closed Length : 76cm

Other.2

エクスクルーシブティップ対応モデル

Price

メーカー希望小売価格
42,000 円 (税別)
TECHNOLOGY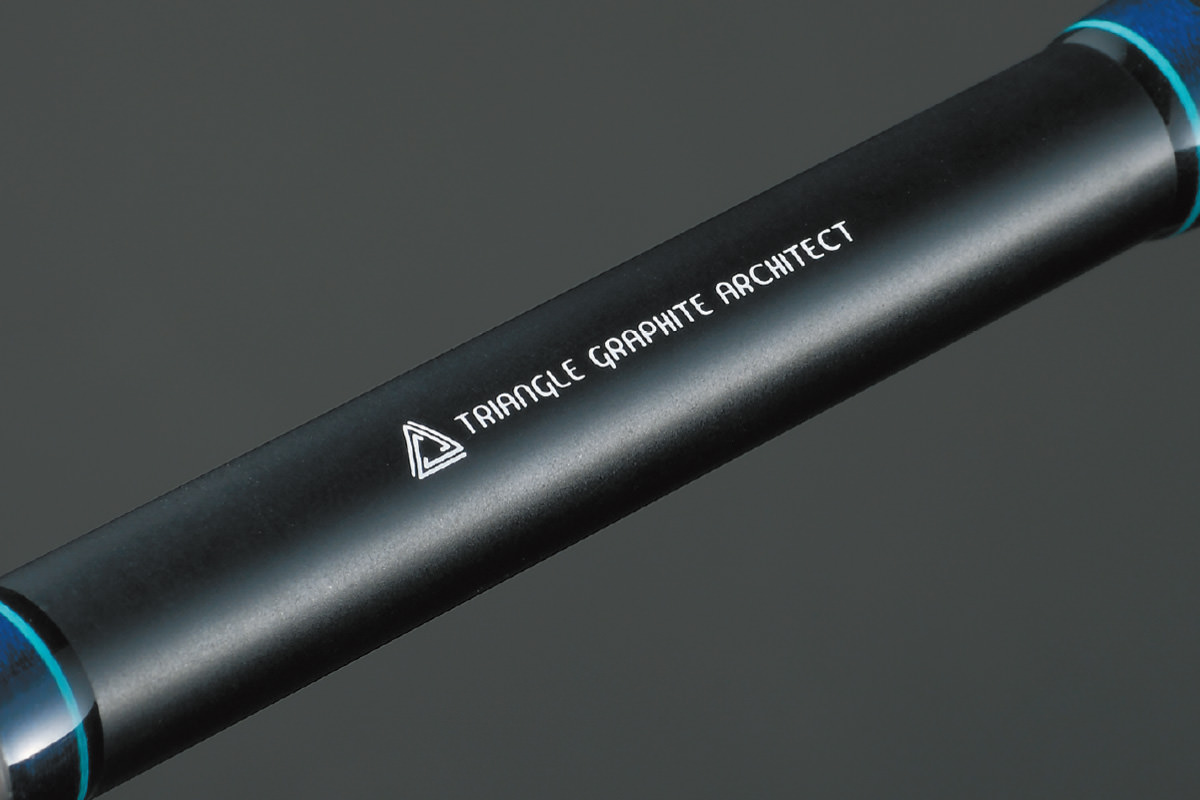 T3-TRIANGLE CONCEPT
T3-TRIANGLE CONCEPT
「TENTION(張り)」=「TORQUE(引張強度・粘り)」=「TORSIONAL RIGIDITY(ネジレ剛性・耐負荷強度)」の3つのT要素を3ピース・ジョイントコネクター各部位にそれぞれ特化させ、ロッドブランクストータルのパフォーマンスを引き上げるコンセプト。ファストムービングロッドと喰わせのソフトベイトロッド、テンションを重視したライトジグロッドでは、それぞれのシャフトに必要とされるT要素配列を変えて、各部位ごとに合理的にシャフトエンジニアリング。テーパーデザインによっても組み合わせを変えています。結果、1ピースロッド作成時の重複レイヤードが削減、驚異的な軽量バランスフィールを実現。
The T3 Triangle concept aims to increase the total performance of the blank by having each one of the three pieces specialize in one of the three "T" elements: TENSION, TORQUE, and TORSIONAL RIGIDITY. This logical shaft engineering allows the flexible arrangement of T elements needed to accommodate different missions, adapting to when you need a fast-moving rod, soft bait rod, or light jigging rod, etc. The arrangement also changes depending on the taper design. As a result, overlapping duplicate layers of one-piece construction are eliminated, creating an extremely lightweight, balanced feel.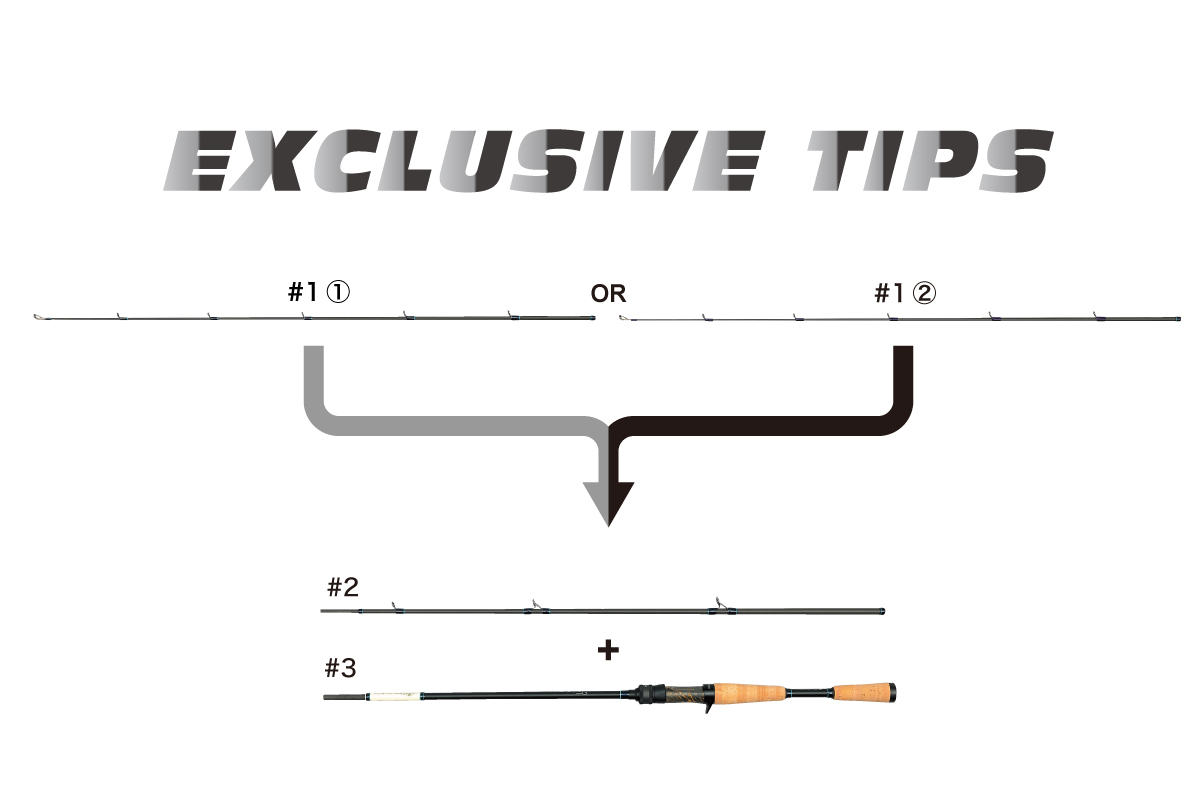 Exclusive Tip System
Exclusive Tip System
ただいま開発中のロッドの長さを変える、トライザ「EXTENSIONシャフト」に先駆けて、まずはトライザロッドの対応メソッドをカスタマイズできる「EXCLUSIVEティップ」が登場!
EXCLUSIVEティップを換装すれば、一つのモデルで対応するメソッドの幅を広げることができるのです。トライアングルパフォーマンスを発揮するトライザならではのエンジニアリングが可能とする、トライザだけのカスタマイジングをお楽しみください。
The TRIZA "Exclusive Tip" system offers two tips with different tapers to enable users to transform their rod for the adventure at hand. By exchanging the "Exclusive Tip," one rod model can support wide-ranging applications for a truly unique travel experience. Please enjoy the customization potential unique to the TRIZA's triangle performance!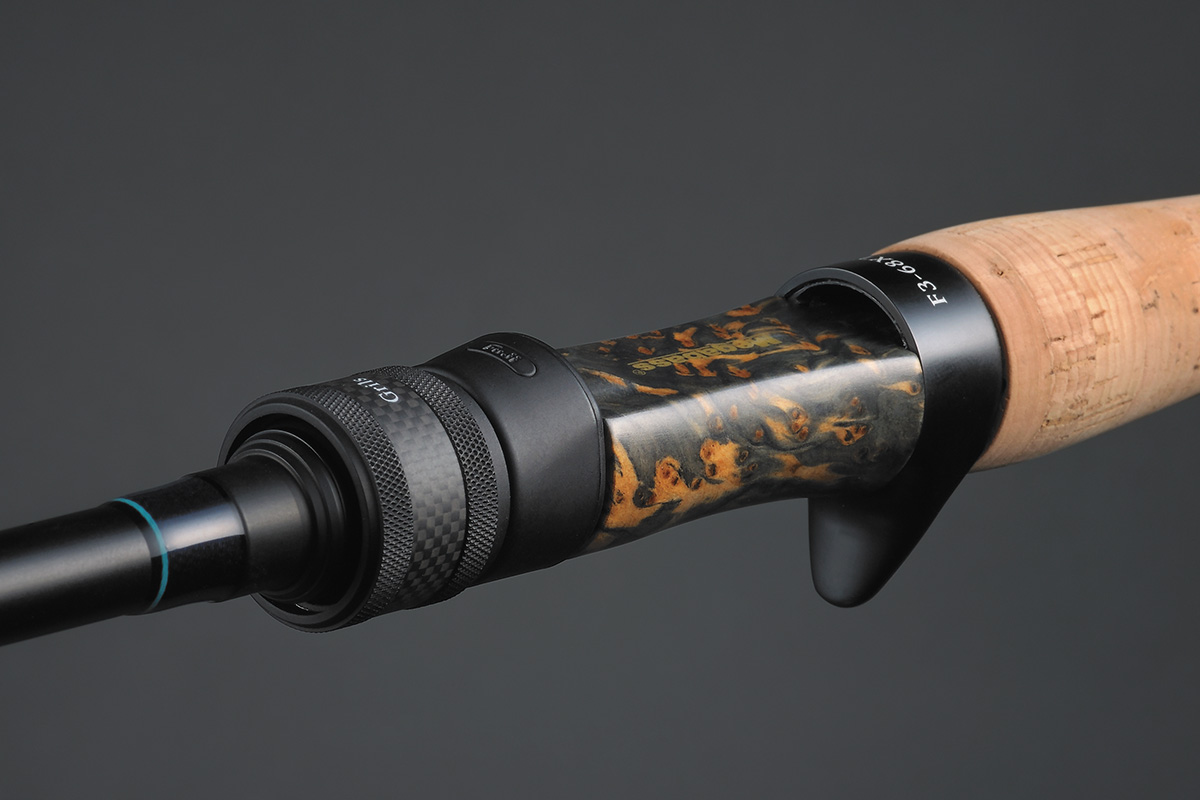 天然ウッド・バーズアイピーコック削り出しリールシート
Natural bird's eye peacock carved reel seat.
希少な天然鳥目樹木「バーズアイウッド」を一本一品削り出し、独自のステイン処理を施し耐水性と耐久性を高めています。その高比重特性を生かしてリール装着時にはロッド重心を手元に寄せる、良好なバランシングをもたらすための機能性部材として採用。(※樹木ストック、調達時期などによっては生産数が限定されたり、受注をお受けできない時期がございます。)
Rare bird's eye wood is utilized in each rod with a unique stain applied to increase water resistance durability. The high density of the wood serves a functional aspect as it allows for a good balance that favors the butt section. *Please note: depending on stock and procurement schedules there are times when production will be delayed due to limited material availability.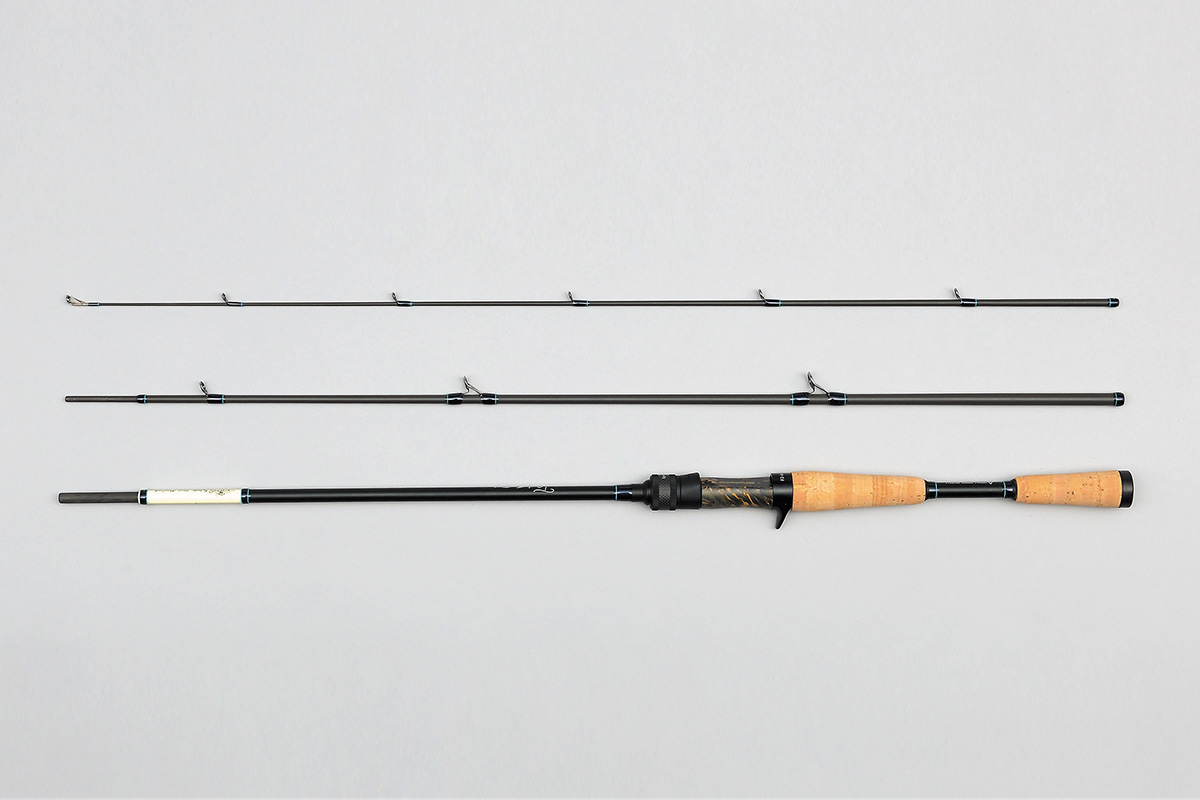 印籠継ぎ3ピースモデル
All models feature a three-piece design
ステンレスポリッシュガイドフレーム+fuji SICリング
Fuji® Stainless Steel SiC Guides