CK-101MS

全国のサーフ、大規模河川河口等のオープンエリアで真価を発揮する、10'1"のマルチパーパス・ミドルロングシャフト。広大なエリアを攻略すべく、ロングディスタンスのプラッギングにおける遠投性をとことん磨き込んで開発。110~140mmクラスのミノーゲームから40g前後のビッグミノーまで的確にこなし、20~30gクラスのバイブレーションやメタルルアー、ヘヴィシンキングペンシル、ヘヴィバイブなどの重量級ルアーまで幅広く対応。
5D グラファイトシステムが誇る、比類なきシャフト剛性と鋭い瞬発力がキャスト時に絶大な推進力を発生させます。スペシャルガイドセッティングと5Dグラファイト工法による最新のブランクスが示す、スプリングバックの素早い収束性がライン放出時のブレ抵抗を低減化。オープンエリアで遭遇する強い横風や向かいの爆風をものともしない、矢を射るようなシャープなライナーキャストを実現しています。
軽快なロッドバランスはアングラーの疲労感を軽減し、カレントや地形変化を直感的に感じ取れる、遠くのバイトを確実に捉えるダイレクタビリティは、Cookaiならではのもの。 モンスターシーバスを素早く寄せる屈強なバットパワーを併せ持つロングシャフトは、稀代の遠投性能を活かした青物のプラッギングやフラットフィッシュゲームにおいても存分にパフォーマンスを発揮します。
The CK-101MS is a 10'1" multi-purpose shaft that unleashes its full potential in open areas such as surf zones and large estuaries. Developed with long casting at the forefront, it can be used for minnow games up to 40g (110-140mm class), vibration lures (20-30g class), metal lures, heavy sinking pencils, and many others. The rod's 5D graphite system boasts palpable blank tension and crisp power to generate tremendous propulsive force when casting. Special guide settings and the latest 5D blank construction enable whip-quick black recovery rates to reduce shake and associated power loss. COOKAI can make sharp, linear shooting casts as if loosing an arrow, punching through strong crosswinds or head-on gusts in open areas.
COOKAI's light and balanced construction reduces angler fatigue and provides intuitive feel for precise casts and clear transmission of current and terrain changes. The long shaft is bristling with potential energy to power outsized casts and dominate hard-charging targets in challenging surf, making the CK-101MS an indispensable tool for seabass, bluefish, and flatfish plugging.
SPEC
Other.1

Closed Length : 158cm

Price

メーカー希望小売価格
60,000 円 (税別)
TECHNOLOGY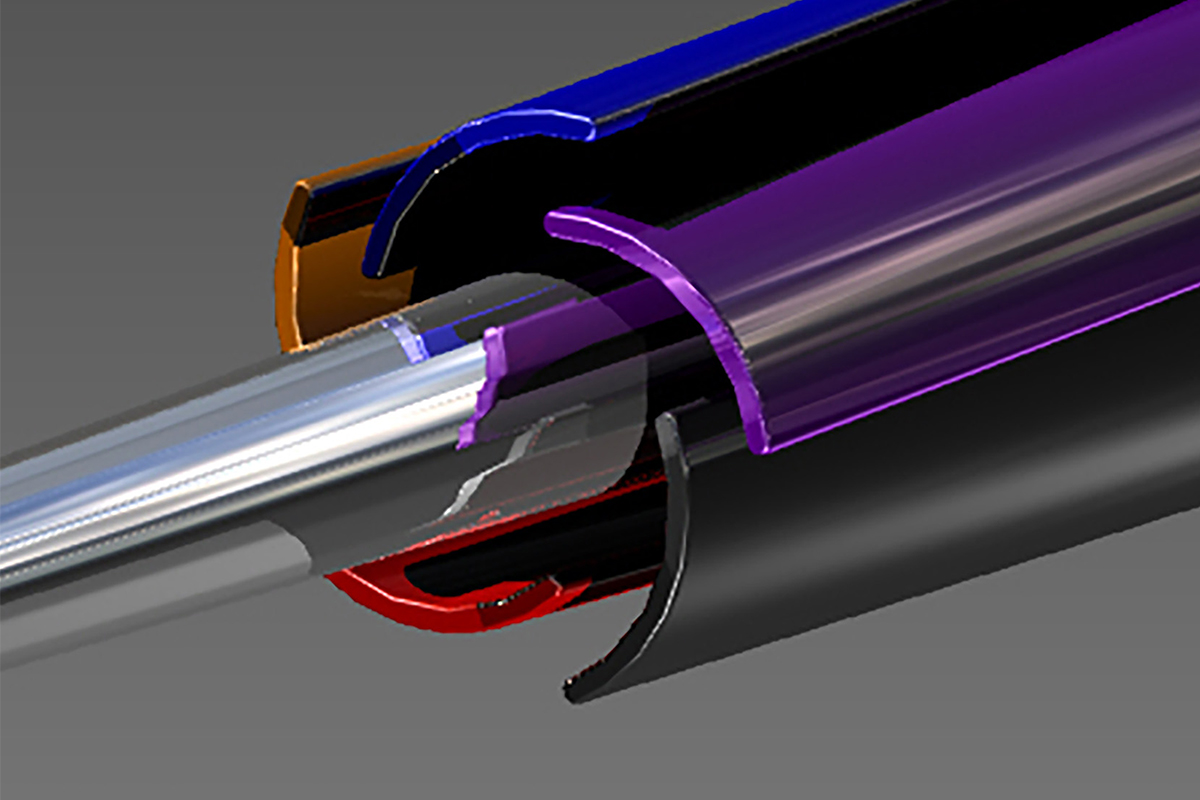 5-Dグラファイトシステム
DESTROYER 5-D GRAPHITE SYSTEM Version-S
世界のトーナメントを席巻するDestroyerシャフトが確立した新世代のシャフトテクノロジーが、5Dグラファイトシステムです。その名が示す通り、5つのエレメント(タテ方向、ヨコ方向、斜角方向、伸度、弾性)にそれぞれ特化させて独自設計された5つのプリプレグ・カッティングパーツを、あたかもパズルワークのように組み合わせ、1シャフトへとプレス融合。これまでのレイヤードシステムがもたらしたプリプレグのオーバーラップ(重ね巻きによる重複)を低減化させたことで、細密なロッドアクションと高い強靭性を圧倒的な軽量シャフトで現出させることに成功。過剰なグラファイトレイヤーが無いため、最大のロッドパフォーマンスを最小のマテリアル使用量で実現しています。Cookaiが新感覚のソルトウォーターゲームをもたらします。
The 5D Graphite System Version-S is an adaptation of the shaft technology pioneered by the Destroyer P5, which set a new standard in bass rod angling around the globe.
As the name implies, five prepreg cutting parts, each specializing in one of the five shaft elements (vertical, horizontal, diagonal, elongation, and elasticity), are combined as if they were puzzle pieces and pressed together into one shaft. By reducing the overlapping of the prepreg, we have succeeded in creating an overwhelmingly lightweight shaft with superb action and astonishing strength.
5D construction gets to the essence of the rod building ideal, eliminating un-needed graphite layers and overlap for maximum rod performance with minimum material usage, allowing COOKAI to bring you to new heights of the saltwater game.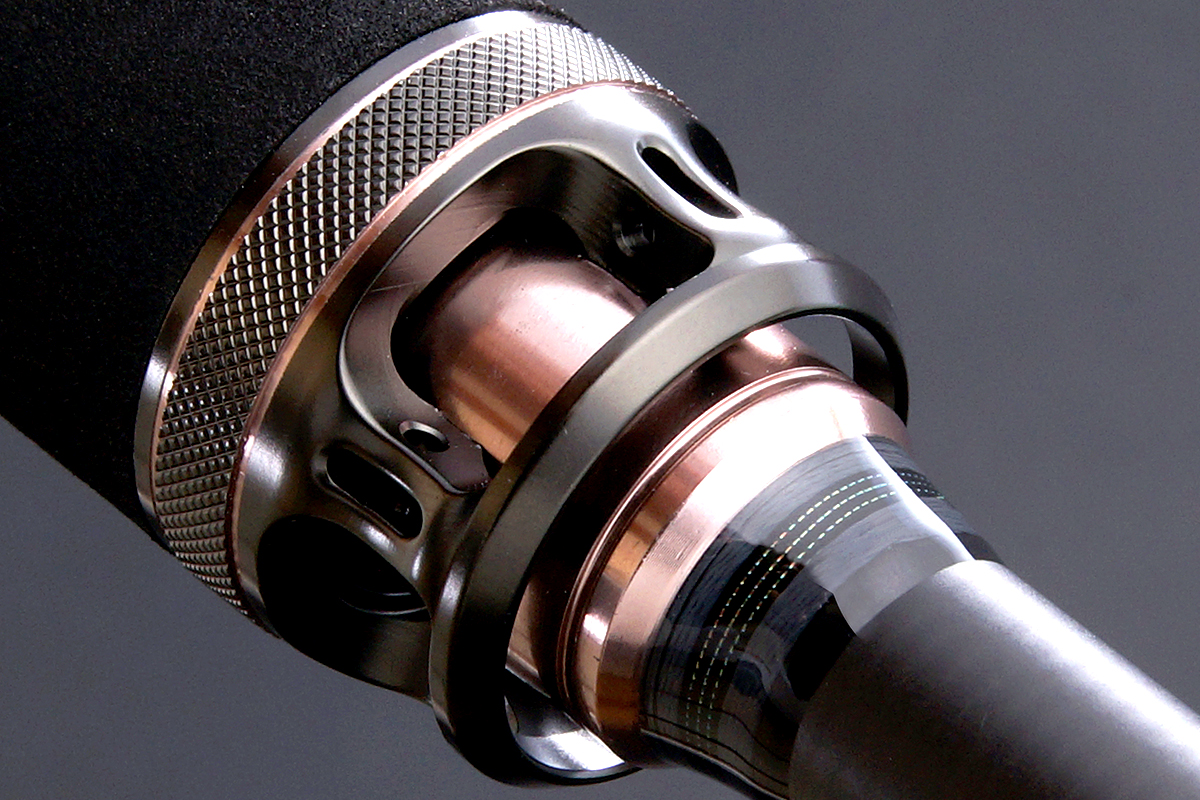 ヘッドロッキングシステム(PAT.P)
ITO ENGINEERING HEAD LOCKING SYSTEM (PAT.P)
Destroyerシリーズで進化を遂げた、無垢のアルミブロックから削り出すヘッドロッキング構造をベースに、海のパワフルなターゲットにアジャストする剛性体として最適化しデザイン。リール装着時のブランクスバットセクションの支軸剛性を格段に高めます。また、ミノーやジグに触れるような微小なアタリやルアーアクションの変化もロッドティップからリールシートに至るまでロスのない振動伝達がされるため、適確にアングラーの手元に増幅して伝えます。アングラーの体幹、腕、指先、感覚のすべてがロッドシャフトとリニアにつながる新感覚のダイレクタビリティを追求しています。
The head locking structure is machined from a solid aluminum block, optimized for rigidity to engage powerful targets in the sea. When fitted with a reel, it improves the rigidity of the butt section of the blank as well.
Light bites and subtle changes in lure action are transmitted from rod tip to reel seat with minimal loss of vibration, sending vital information to the angler's hands. The angler's senses are connected to the rod shaft in a direct manner, pursuing a new sense of equipment integration.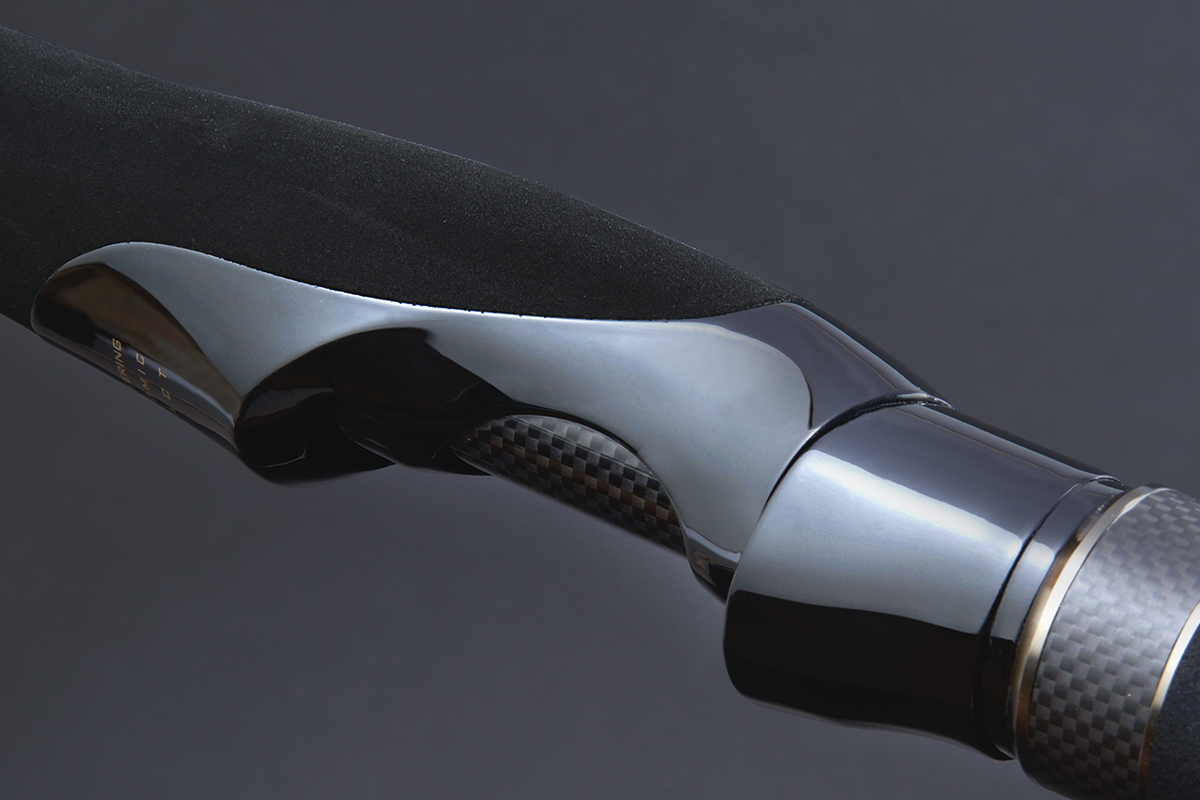 IESリールシート(D.PAT.P)
ITO ERGONOMIC-CONTACT SHEET(D.PAT.P)
ファストバックするブリッジのハンプがパーミングハンドに深くフィット。ITOエンジニアリング独自の釣行検証データによって3D化されたエルゴノミックデザインが、ハイインパクトシャフトの振り抜きがもたらすスプリングバックを抑え込み、快適な握り心地とストレスを徹底軽減化させたアグレッシブなゲームを実現。ミノーやジグのリニアなコントローラビリティとボトムゲーム時に必要とされる直感性能を両立して発揮。エアリーな造形が露出するブランクスに直接触れることが出来るため、ロングキャスタビリティによるコンタクトやボトムの釣りにおける感度の解像度も高めています。
3D ergonomic design based on ITO Engineering's own test data provides an agile grip and comfortably manages the extreme forces generated by the high-impact shaft in aggressive casting maneuvers.
Allows for confident controllability, improved feel for minnows and jigs, and the kind of intuitive performance required for bottom fishing. Encourages direct contact with the exposed blanks, which increases the resolution of sensitivity for long casting contact and bottom fishing.
チタンフレームSiC-Sガイド
TITANIUM LIGHT FRAME/SiC-S GUIDE
メガバス独自のセットアップによる厳選された超軽量・高強度のチタンフレーム/SiC-Sガイドを全機種搭載。多様なメソッドとシチュエーションを想定し、ITOエンジニアリング・デベロップメントチームと全国のメガバスソルトウォータースペシャリストチームが共同で実釣検証したセットアップデータをあますことなくフィードバック。ロングディスタンスキャスタビリティ、ルアーのコントローラビリティ、ダイレクタビリティ、ラインマネジメントによるインターフェース、ファイト時による0°θ~130°θまでの耐荷重の応力分散化など、あらゆる現場検証によって導き出した現時点における最適解を導入。最新のガイドシステムです。
All models are equipped with ultra-lightweight and high-strength titanium frame SiC-S guides carefully arranged to maximize the potential of Megabass' unique 5D construction.
We have introduced the ideal solution at this point in time, which is derived from test data spanning long distance castability, lure controllability, directability (sensitivity), line management, and stress dispersion of load capacity from 0°to 130° during the fight. This is the latest guide system.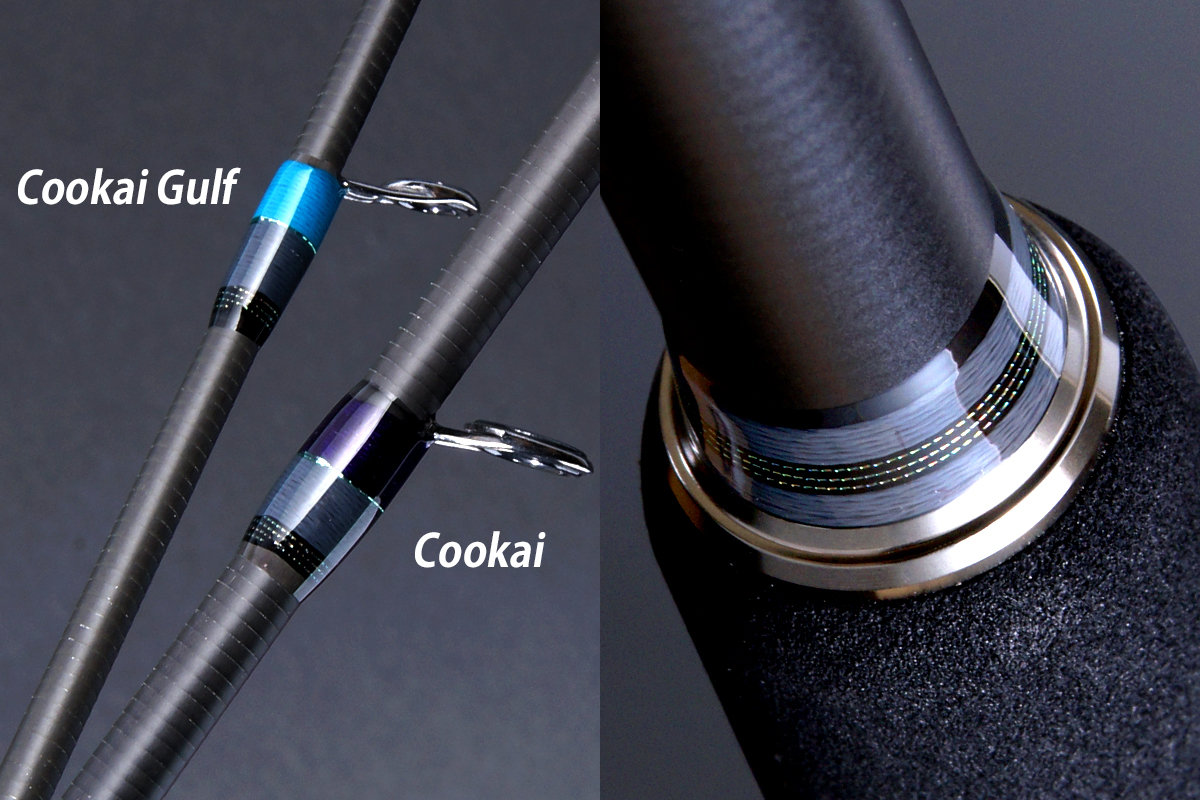 ハンドビルディングby メガバスファクトリー ArtWorkスレッド
ARTWORK : HANDBUILT by MEGABASS FACTORY
メガバスファクトリーのマイスターが丹念に巻き上げるアートワークスレッド。伝統のデストロイヤーロッドビルディングが息づく美しいカスタムスレッディングは、予期せぬモンスターとの遭遇にも存分に対応する強靭性も秘めています。
GUIDE THREAD COLOR(Cookai)
■INNER THREAD:BLUE SCOZIA(ブルースコッチア)
■OUTER THREAD: AIRFORCE-SCURO(エアフォース スクーロ)
■OUTER TRIM : STREAM GALAXY(ストリームギャラクシー)
GUIDE THREAD COLOR(Cookai Gulf)
■INNER THREAD:YACHTING BLUE(ヨッティングブルー)
■OUTER THREAD: AIRFORCE-SCURO(エアフォース スクーロ)
■OUTER TRIM : STREAM GALAXY(ストリームギャラクシー)
SHAFT THREAD COLOR
■BASE : AIRFORCE-SCURO(エアフォース スクーロ)
■CENTER PINLINE :BLUE Cookai(ブルー空海)
■OUTER TRIM : STREAM GALAXY(ストリームギャラクシー)
Artwork thread, painstakingly applied by Megabass Factory's Meister.
Beautiful custom threading with traditional destroyer rod building is also tough enough to handle unexpected encounters with saltwater monsters.
GUIDE THREAD COLOR(Cookai)
■INNER THREAD:BLUE SCOZIA
■OUTER THREAD: AIRFORCE-SCURO
■OUTER TRIM : STREAM GALAXY
GUIDE THREAD COLOR(Cookai Gulf)
■INNER THREAD:YACHTING BLUE
■OUTER THREAD: AIRFORCE-SCURO
■OUTER TRIM : STREAM GALAXY
SHAFT THREAD COLOR
■BASE : AIRFORCE-SCURO
■CENTER PINLINE :BLUE Cookai
■OUTER TRIM : STREAM GALAXY