世界を席巻しているポニーに、待望のジュニアサイズ登場!!
Introducing a junior size model of the pony that's sweeping the world!
PONY GABOT Jr.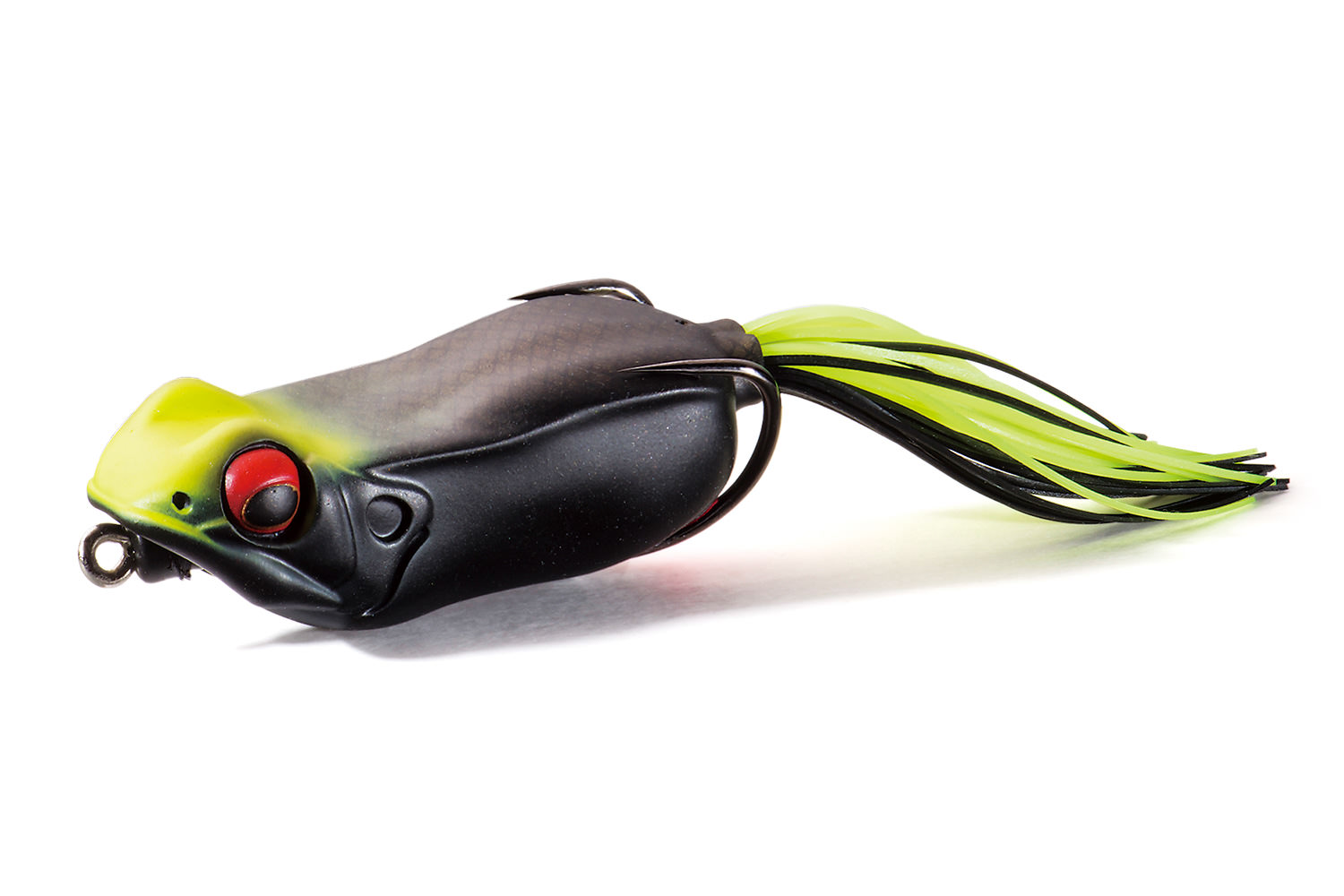 デビュー以来、日本各地のマットステージで大ブレイク!いまや、世界各地でニュージェネレーションフロッグとして絶賛されるPONY FROGシリーズ。中でも、ポニーガボットは、ヘヴィカヴァーのスキマで、POPXを彷彿させる「ピンポイント・ドッグウォークアクション」でクレバーフィッシュの闘争本能を着火させてしまう、デリケートな生物アクションが魅力。新たにファミリーに加わることになったガボットジュニアも、オリジナルサイズ同様に芸達者。ウェイトはオリジナルと同様でキャスト飛距離を落とすことなく、サイズのみをコンパクトに仕上げました。そのコンパクトなボリューム感がもたらすイメージは、マットのスキマを繊細に動かせる「虫パターン・ルアー」のようでもあり、アバウトなバキュームバイトでも一撃で喉元へと到達させてしまう「フローティング・ラバージグ」のようでもある、ということ。
メガバス独自のおなじみのカタマランカップが、刺激的なスプラッシュシャワーと生命感あふれるバブルサウンドを発生し、静寂のマットカヴァーを狂騒のステージへと変えていく。
※画像はプロトタイプです
Since its debut, the PONY FROG series has become a smash hit in mat stages around Japan. Now its popularity as a next generation frog has spread worldwide. Within the PONY series, the PONY GABOT's delicate, lifelike ability to perform pinpoint dog-walking maneuvers in the breaks between cover is especially alluring, and will light a fire under even the most clever big fish. The new GABOT Jr. is just as capable as the original. The compact size gives the impression of an insect-type lure that can skillfully maneuver through breaks in cover, but also of a floating rubber jig that's easily sucked into the mouths of striking fish. Megabass' original CATAMARAN MOUTH (PAT.P) emits stimulating splashing and lively bubbling sounds, turning quiet mat cover into a roaring battleground. This is the ultimate soft skin frog, perfect for anglers in Eastern Japan.
SPEC
Price

メーカー希望小売価格
1,350 円 (税別)
TECHNOLOGY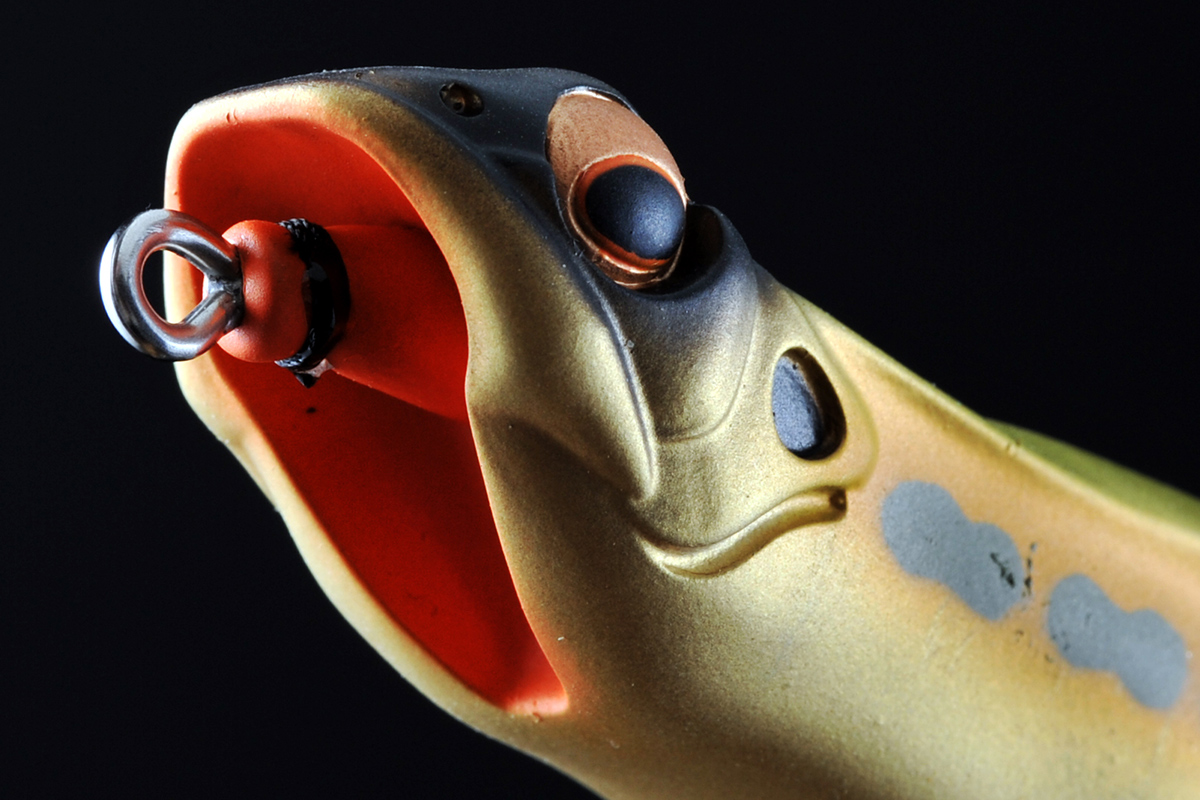 カタマランマウス
Catamaran Mouth
「カタマランマウス(D.PAT.P)」が、フックセットの妨げになるオーバーロールを抑えたドッグウォークを実現。
The "Catamaran Mouth(D.PAT.P)" design uses its high stability to reduce the excessive midair rolls that can lead to missed bites, and give the lure the ability to perform pinpoint turns. The unique mouth design draws from the design of catamaran boats, and creates lifelike, airy popping sounds. While dog walking, this design also creates water-penetrating sound waves along with splashing.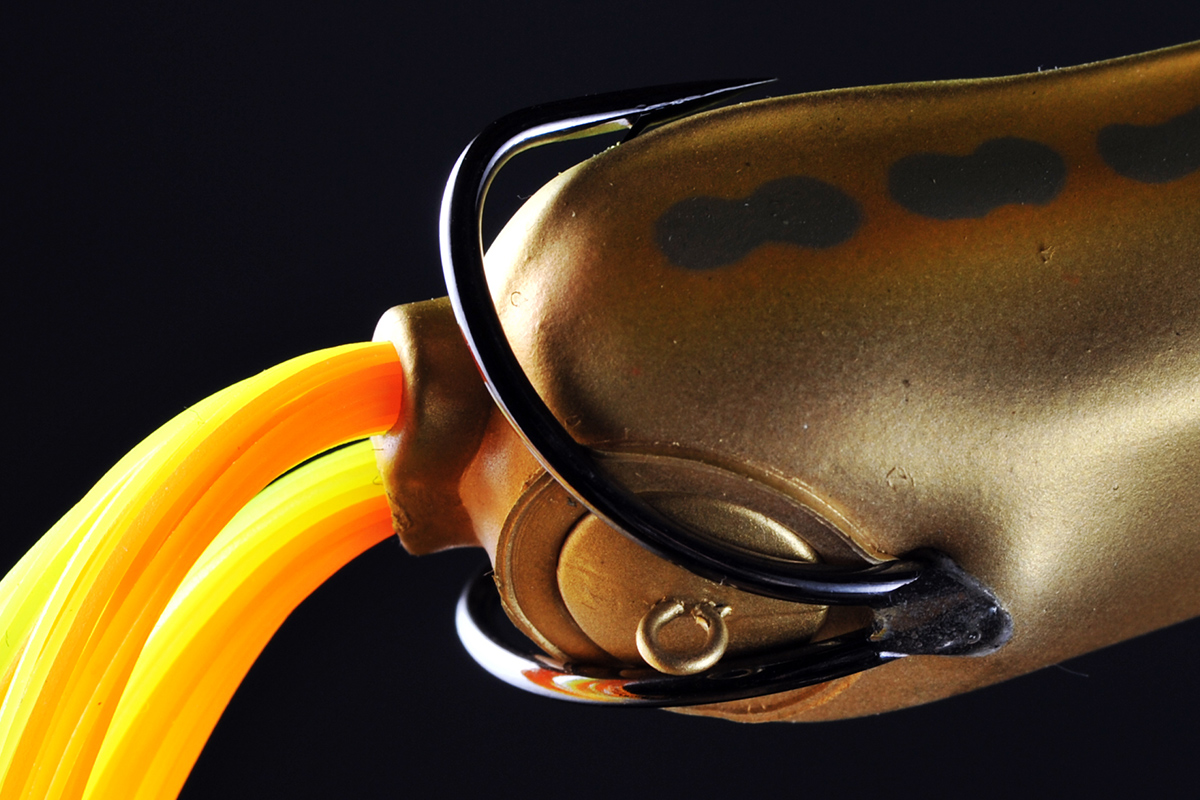 オリジナルフック
The original hook
オリジナルフックは、フローティングカバーをかわし、高確率でフッキングに持ち込むためのデザイン。ストレスフリーなヘビーカバーアプローチを実現。またウエイト部にリングを設置。ブレードチューンなどのカスタマイズに対応します。
The original hook design evades floating cover, and boasts high hookup rates, allowing for a stress free approach to heavy cover.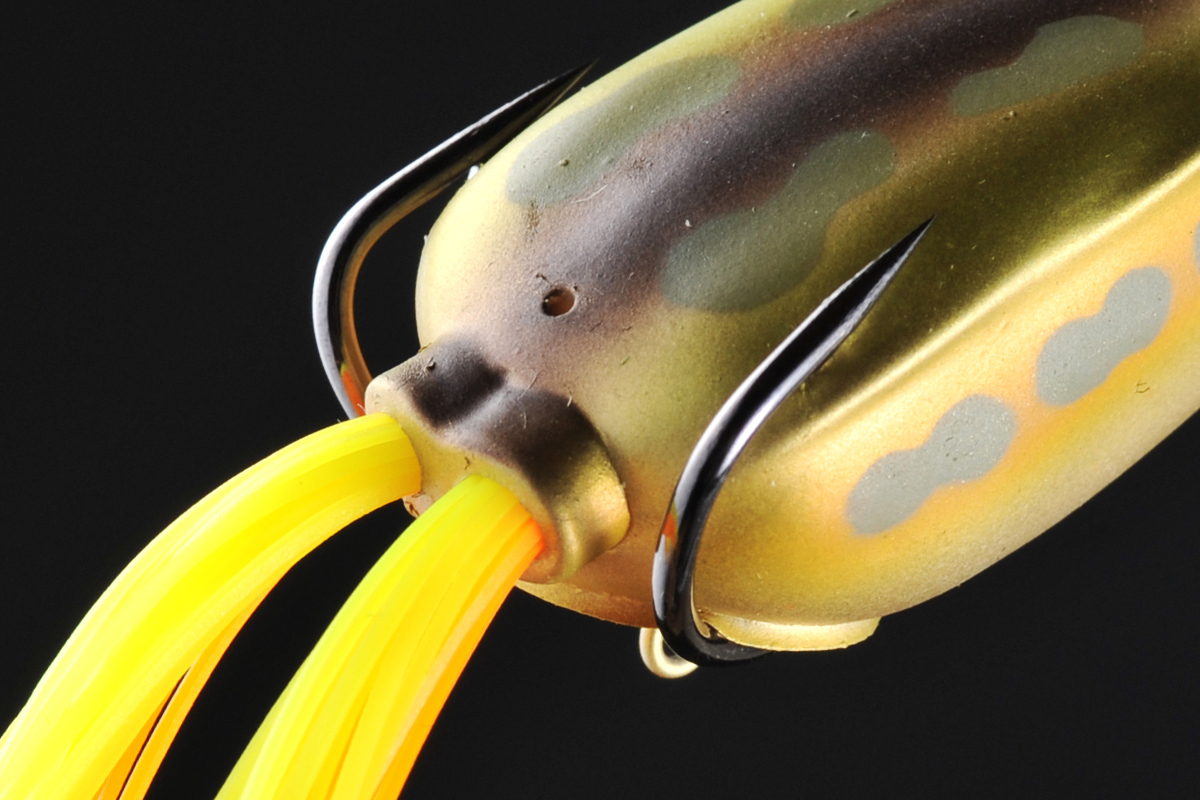 ポニーテールスカート
The pony tail skirt
ポニーテールスカートは、スカートの水面接触抵抗を軽減し、ドッグウォークを妨げません。首振りアクションに対して1テンポ遅れて追従し、バイトチャンスをメイクします。
The pony tail skirt reduces contact and resistance on the water's while not interfering with dog walking. It follows the swinging motion of the body with a slight delay, making an extremely appealing target.