BLADING-X
Megabass / FRESHWATER / METAL VIB 

Price

メーカー希望小売価格(税別)960 ~ 1,120

円

Main Specification
Type
1/4oz.(39.0mm)
3/8oz.(45.5mm)
1/2oz.(49.5mm)
3/4oz.(49.5mm)
1oz.(49.5mm)

Other
1/4oz. : ¥960
3/8oz. : ¥960
1/2oz. : ¥960
3/4oz. : ¥1,070
1oz. : ¥1,120
厳寒期の低活性なバスの"最終兵器"として用いられるメタルバイブレーション。この種のルアーの多くは、ハイピッチなバイブレーションを売りにしていますが、メガバスではリアクションバイトをより多く得るため、ハイパワー&ハイキックな撹拌能力を持たせました。その秘密が、ボディの下部ギリギリに配置された重心と、高くデザインされた体高にあります。これによって、ロッドを大きくあおったときにラインアイを支点としたボディの揺れが大きくなり、強いキックアクションを生み出すのです。このルアーの威力が最も発揮するメソッドは、リフト&フォール。3つあるラインアイポジションのうち一番後方にセッティングすると、リフト時にボディが水面と平行に近くなり、強抵抗が加わって強烈なバイブレーションを発生するのです。野池のモンスターフィッシュ狙いに、リザーバーのディープレンジ攻略に、ぜひお使いください。
●3モードのラインアイを採用
●超低重心ナローバランサー
※写真はプロトタイプです。
※Gカラーは1/4oz.タイプと3/8oz.タイプのみです。
This bladed jig is our secret weapon against the inactive bass of midwinter. Many lures of this type hype their high pitch vibration, but we at Megabass have added high kick and high power agitation in order to increase the number of reaction bites. The secret behind this agitating action lies in the balance between the tall body and the BLADING-X's extremely low center-of-gravity. Due to this design, swinging the rod causes the body to sway greatly, creating a strong kicking action. This lure's performance is best exhibited when using the lift and fall method. When using the rearmost of the three line-eye positions, the body becomes close to parallel with the water's surface during lifting, and the strong water resistance creates powerful vibrations. Use the BLADING-X for targeting monster fish in ponds and for deep range fishing in reservoirs.
●Adjustable three-position line eye
●Super low center-of-gravity balancer
Technology
ナチュラルさを一切排除したリアクション専用設計。厳寒期の低活性なバスに思わず口を使わせるハイパワー&ハイキックアクションです。
A design focused on functionality and performance rather than natural appearance. The high power and high kick action will elicit bites from low activity bass in the wintertime.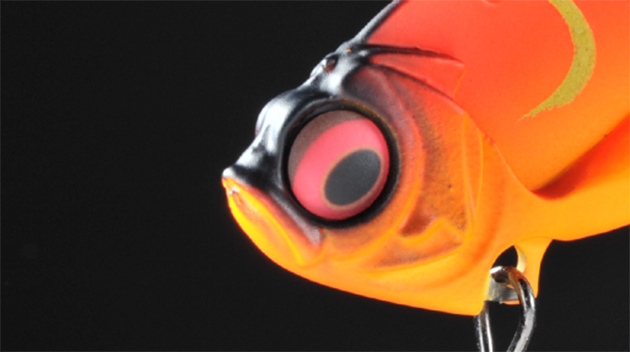 ボディ下部ギリギリに配置されたウエイトは、スイミング時にはバランサーとしての役割を果たします。ラインアイを一番前方にして、ファストリトリーブで攻めてください。
The weight positioned at the very bottom of the body acts as a balancer during swimming. Try using the forward line eye and attacking targets with fast retrieves.